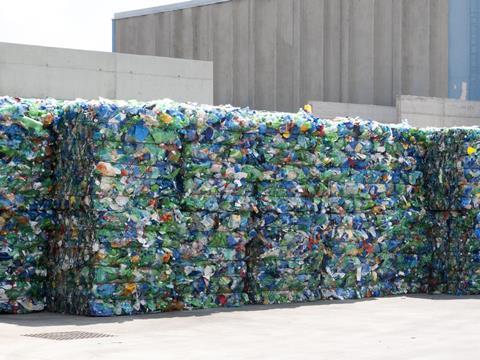 According to data from Plastics Recyclers Europe, the total installed plastics recycling capacity in Europe increased by 1.1MT in 2020, compared to the previous year, representing a 13% rise. The organisation says that these figures demonstrate the plastics recycling industry's resilience in the face of challenges including the COVID-19 pandemic, supply shortages, and rising prices.
Opportunities and challenges for PET
In 2020, Plastics Recyclers Europe identified over 650 recycling facilities across Europe, with the dataset encompassing the 27 EU countries, as well as the UK, Norway, and Switzerland. This corresponds with an installed capacity of approximately 9.6 million tonnes and an annual turnover of €7.7 billion. Germany, Italy, Spain, the UK, and France reportedly have the highest capacities for plastic waste recycling.
PET had the highest installed capacity overall with 29% attributed to this polymer in 2020, Plastics Recyclers Europe claims.
According to another report released earlier this year by Plastics Recyclers Europe, PETCORE Europe, Natural Mineral Water Europe (NMWE), and UNESDA Soft Drinks Europe, the net demand for PET in Europe was 5.1MT in 2020, with consumption of PET across applications increasing. Around 1.3MT of this demand was supplied from recycled PET production. As noted by Zero Waste Europe (ZWE), beverage bottles account for 47% of overall PET demand in the EU.
"PET is a valuable resource uniquely positioned to be recycled back into its original form," claimed Antonello Ciotti, president of PETCORE Europe, in an interview with Packaging Europe earlier this year. While considered widely recyclable, ZWE estimates that only around 23% of all PET placed on the market is recycled in Europe, which suggests a significant proportion is still being landfilled, incinerated, or is entering the environment as pollution.
The challenges facing the beverage industry provide a useful lens through which to understand PET's struggle for circularity. Representatives from the European beverage industry have expressed concern over the potential downcycling of PET into non-food-contact applications such as textiles, where products are difficult to recycle again and often end up in landfills, incinerated, or in the environment.
The same organisations have called for a "right of first refusal" for food-grade PET to allow the beverage industry to secure enough rPET to meet EU legislation, such as the Single-Use Plastics Directive (SUPD) which will require all bottles to contain 30% recycled content by 2030. As such, despite the installed capacity for PET recycling, there are ongoing challenges in terms of how rPET is distributed across applications and how this impacts its ability to be recycled indefinitely.
This year, ICIS also announced that rPET prices had reached a "record high", with prices rising to €150 per tonne in January 2022 compared to December 2021. Alongside this, as demand for rPET surges and supply struggles to catch up, ICIS cautions that contamination of bales is increasing. Bale yields have also decreased, meaning recyclers have to buy more to get the same volume of usable material.
This suggests that, despite the available recycling capacity for PET, more holistic solutions are needed across the value chain. A solution supported by a number of organisations representing the beverage industry is enhanced Deposit Return Schemes (DRS), with ZWE finding that a 96% average collection rate is achieved for countries that have a DRS in place – at present, 11 EU countries. Improving the collection rate of PET could help to address issues such as tight supply, high prices, and contamination levels, enabling the installed recycling capacity for this polymer to be used to the fullest advantage.
Notably, as reported by ICIS, some plastics recycling projects were delayed in 2020 as the industry attempted to respond to the COVID-19 pandemic, which required production to be scaled back in some cases as lockdowns were enforced. This suggests that the installed recycling capacity for PET could grow in the near future, with projects including Plastipak's expansion of its Luxembourg site and ALPLA Group's plans to increase PET bottle recycling capacity in Germany by 75,000 tonnes annually set to come online over the next few years.
Highest increase in capacity for rigid plastics
Plastics Recyclers Europe say that flexible PO and rigid HDPE and PP retain the largest overall share of plastic recycling capacity. These plastics, together with PET, represent nearly 80% of recycling capacity in Europe.
Rigid HDPE and PP registered the highest increase in recycling capacities with a growth rate of more than 23%, Plastic Recyclers Europe claims. These polymers represent a 28% share of the 9.6MT installed capacity identified by Plastics Recyclers Europe, only slightly less than PET's share, with Italy and Germany leading for these streams.
HDPE is considered widely recyclable in many European countries, with kerbside collection offered in the UK alongside facilities run by Veolia and Biffa that apparently produce food-grade recycled HDPE. This is one of the reasons the retailer Morrison's announcement that it would be switching its HDPE milk bottles to Tetra Pak cartons drew some criticism. Like with PET, debates continue as to how to create a circular economy for HDPE that fully utilises its installed recycling capacity.
There have been some recent solutions aimed at boosting the recyclability of HDPE. For example, Colgate has unveiled an HDPE toothpaste tube that can reportedly be recycled alongside other HDPE packaging, while Müller, in partnership with Waitrose, is trialling clear caps on its HDPE milk bottles from April 2022, replacing coloured milk caps that are not easily recycled back into food-grade packaging.
As for PP, AMI says that it expects demand for rigid PP packaging will remain relatively level until 2026. Despite the apparent rise in PP recycling capacity, AMI claims that recyclates will only cut into overall PP demand by around 0.7% per annum – a lower figure than anticipated by some other industry figures. The uncertain availability of PP recyclates is likely to limit their impact on the PP market over the next five years, according to AMI.
Nonetheless, demand for recycled PP could increase as more solutions enter the market, which would likewise boost demand for PP recycling capacity. L'OCCITANE recently revealed a refill tub for its body cream range made with 100% rPP. Meanwhile, NEXTLOOPP has been working to boost the availability of food-grade rPP, with an ongoing partnership with INEOS aiming to build a demonstration plant and validate its manufacturing process.
Progress for flexibles recycling
Flexible polyolefins took a 22% share of overall installed recycling capacity reported by Plastics Recyclers Europe. Installed recycling capacity for flexible PE and PP apparently increased by around 10% in 2020.
While flexibles are generally considered difficult to recycle, new technologies for collecting, sorting, and recycling are being introduced in a bid to improve recycling outcomes. The Ellen MacArthur Foundation has stated that a €2 billion investment is needed to increase recycling capacity for flexibles fourfold by 2025, a call supported by CEFLEX.
According to CEFLEX, only 17% of flexible PE is sorted and recycled in Europe. The group says that collection will be key to boosting the recycling rate, adding that a separate stream for flexible packaging is preferable and, as per its Designing for a Circular Economy (D4ACE) guidelines, mono-material PE and PP applications should be prioritised.
CEFLEX was recently awarded funding by UK Research and Innovation (UKRI) to further develop and update its D4ACE guidelines, ultimately with the goal to deepen its understanding of how specific design elements impact sorting and recyclability. Alongside this, CEFLEX is set to complete its next-generation waste processing plant by 2023. This plant will bring together the four steps of its mechanical recycling solution, QRP, which is intended to improve the recycling of flexibles.
By 2025, CEFLEX is aiming for all flexible packaging to be collected, and for over 80% of materials derived from post-consumer flexible packaging to be channelled into valuable new applications as substitutes for virgin materials. The emergence of these projects targeting the recyclability of flexibles suggests that installed recycling capacity in this segment will continue to expand, helping to build a model around demand as proposed by CEFLEX.
Ton Emans, president of Plastic Recyclers Europe, comments: "New business models open a wide array of opportunities in our industry. This is the case for film to film recycling – once deemed difficult and today a testament of the market maturing."
Is there a limit to recycling's potential?
In 2021, AMI says that the European mechanical recycling rate was 23.1%. SYSTEMIQ proposes a slightly lower recycling rate of 14% for plastic waste in 2020. Overall, this shows that there is still some way to go in improving recycling rates in Europe.
According to SYSTEMIQ, the current measures being taken to adapt the European plastics system will not be enough to meet sustainability goals set by companies and governments. The organisation highlights the need to continue developing emerging technologies, with the next three to five years apparently representing a "critical window" for industry action.
Chemical recycling has been proposed as a potential solution to some of these challenges. The Consumer Goods Forum (CGF) recently published the results of an independent Life Cycle Assessment (LCA) that suggested chemical recycling could reduce the climate impact of hard-to-recycle plastic waste when compared to waste-to-energy incineration. SYSTEMIQ estimates that 50% of plastic waste in Europe is incinerated for waste, which – while preventing it from entering the environment in its solid form – removes it from circulation and thus potential reuse.
John Sewell, secretary general of Chemical Recycling Europe, says: "Chemical recycling is essential for implementing circularity in the plastics value chain and for meeting the recycling targets ahead of us in 2025, 2030, and beyond." With players across the value chain looking to improve recycling rates, especially for difficult-to-recycle plastics, RaboResearch reports that there could be 140 chemical recycling plants worldwide, with a total capacity of three to four million MT, by 2025. Again, this points to a future expansion of installed recycling capacity.
However, critiques of chemical recycling draw on the wider concern that recycling alone cannot address global plastic pollution. WWF warns that chemical recycling could undercut proven mechanical recycling technologies and lead to competition over feedstock. The organisation says that recycling is a relatively small solution to plastic waste, proposing that the focus should be on reducing the amount of plastic made and used in the first place.
Plastics Recyclers Europe says that European recyclers are "an essential part of the puzzle in addressing plastic waste and have a significant potential in contributing towards a carbon-neutral Europe". The organisation predicts that plastics recycling activities could triple by 2030 with the right legislative support, additional collection, high-quality sorting, and the advancement of recycling technologies – solutions the plastics value chain already appears to be working on, despite some concerns and challenges.