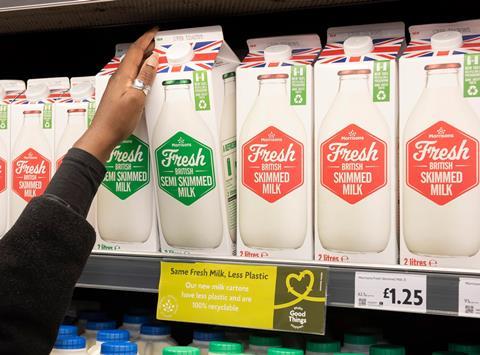 From mid-February, UK retailer Morrisons will move its own brand fresh milk products from HDPE bottles to 'carbon neutral' Tetra Pak cartons – a move it estimates will eliminate 100 tonnes of plastic per year.
The new solution will not, however, be plastic-free. It is partially made from plant-based paperboard which is FSC certified, but features a layer of plastic coating and twist caps made from polyethylene derived from sustainably sourced sugarcane.
According to the latest figures from WRAP, HDPE bottles (which are, like Tetra Pak's solution, kerbside recyclable) have a recycling rate of 76% in the UK. Meanwhile, there are currently no reliable statistics in terms of the percentage of these specific Tetra Paks that are actually recycled.
Hugh Jones, managing director of advisory at the Carbon Trust, said: "We welcome this move by Morrisons towards reducing the environmental impact of its milk packaging. Our Carbon Trust 'Carbon Neutral' label, which will feature on these milk products in their new Tetra Pak packaging, recognises the CO2 reduction of this move and certifies that the cradle-to-grave carbon footprint of the packaging is in line with targets."
Morrisons has committed to a 50% reduction across its own brand primary plastic packaging by 2025. Since 2017 Morrisons has reduced its own-brand plastic packaging by over 8,000 tonnes a year and replaced another 7,000 tonnes so that it is fully recyclable.
The move to milk cartons is the latest initiative from Morrisons to remove plastic packaging from its stores and follows other commitments. Morrisons was the first supermarket to introduce paper carrier bags at checkouts in 2019. Morrisons is also the only UK supermarket to own its own recycling plant in Fife, which will reprocess hard-to-recycle soft plastic.
The response from the packaging industry has, it's fair to say, been mixed. Plastics resource efficiency and recycling charity, RECOUP, is one of the organisations that has questioned the move. Anne Hitch, its head of citizen and stakeholder strategy, comments: "This change has certainly sparked debate. The question of drinks carton recyclability is one that is regularly asked by citizens, and we must consider whether it is right to signpost a product as '100% recyclable' when we know that so many consumers are unable to place the item for recycling kerbside.
"This claim sends the opposite message to consumers with the likely unintended consequence of mixed dry recycling contamination."
Would you like your opinions on this news to be featured on our website? If so, get in touch with us via email at: editor@packagingeurope.c