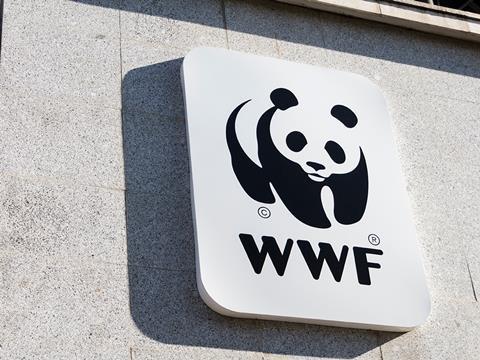 There has been a lot of discussion in recent years about the potential of chemical recycling technologies to help address the issue of plastic waste by managing plastics that were previously thought of as unrecyclable. But WWF argues that there is currently limited evidence to indicate whether chemical recycling can provide additional benefits to mechanical recycling, or that these technologies are safe to begin with.
A position paper published recently by the organization states that not only is there not sufficient evidence that chemical recycling will have a positive impact on plastic waste management, but that the evidence that does exist suggests that it may pose hazards to the health of humans and the environment. The paper argues that the available evidence does not yet prove that chemical recycling will provide any extra advantages to existing mechanical recycling systems, and that there is some danger that such technologies could even weaken the systems already in place.
WWF's No Plastic in Nature strategy aims to address the plastics problem by 2030 through government policy, working with the private sector, and focusing on public engagement. "Through these pillars, we work with all stakeholders over a variety of industries to really reach a common vision, and that's to reimagine how we source, design, dispose of and reuse the plastics we depend on every day," said Erin Simon, head of plastics and business at WWF-US.
"To address the growing plastic pollution crisis, we need this holistic change," Simon explained, "and that enables us to eliminate really what we don't need in the first place, shift to sustainable inputs for the plastics that we do need, and then make sure that any of those materials are being collected, recycled and reused." She went on to add that while this may include chemical recycling in combination with other key steps, there is currently not enough evidence to indicate whether this is the case.
The position paper suggests that focusing on the issue of chemical recycling in the first place might "divert attention away from upstream solutions, and create an incentive to keep generating plastic waste, by building new supply chains that are dependent on this waste for inputs". If this happened, the paper argues, it could minimize the incentive to invest in key reduction and reuse solutions.
The reason that competition for feedstock between mechanical recycling and chemical recycling may occur is partly because of the scale of chemical recycling plants. "Once the plant is in operation, it will need that flow of input material on a regular basis," Simon said, "and so that could definitely lead material that is usually mechanically recycled into being diverted to chemical recycling."
In fact, the paper proposes that recycling on its own will never be sufficient to tackle the plastics problem. It suggests that recycling is only one- arguably small, though important - part of managing a complex crisis, adding that "it is important to recognize that only 9% of all plastic waste ever produced has been recycled". Again, Simon points out that a set of changes are needed to address the issue of plastic waste, and that recognizing this is more important than narrowly focusing on a single solution.
More research is also needed to fully comprehend the impacts that chemical recycling can have on the health of humans and communities. "This really goes back to the availability of credible public information about these technologies," Simon said, "there just isn't much available today on the potential impacts of how communities could be affected." She went on to add that "We want this to be an area where we see more reports from independent sources available soon, because we often take for granted the communities that are already being disproportionately impacted by some of these major global crises." WWF's position paper outlines the importance of observing environmental justice principles when adopting chemical recycling technologies.
Simon went on to argue that at the end of the day, chemical recycling is still recycling, and it will have to reckon with similar obstacles faced by mechanical recycling regarding issues such as collection, feedstock flow and problems with the overall process. "The broken system that we have today, that's not working for existing mechanical recycling, we're going to have those same challenges, because it's a shared system that requires infrastructure, policy, and a steady stream of investment to keep the doors open," she added. "Those are the things that mechanical recycling is already faced with, so those don't just go away with a new technology."
According to Simon, it is important to prioritize the steps that we already know we need to take to tackle this issue. "Rather than just fixating on innovative recycling technologies- while they could be helpful in some cases- we really need to focus on the types of solutions that drive that systems change I was talking about," she said, "and then what we need to do to scale to that." A key step is to reduce the amount of plastic that we produce and expect the system to deal with- something that it has not been able to do. Creating more recycling capability and being able to reuse the plastic we produce are also necessary steps towards improving how we manage plastic.
Another step that WWF supports is a global treaty for plastic waste, which is on the table at the fifth session of the United Nations Environment Assembly (UNEA-5.2) taking place on 28 February- 2 March 2022 in Nairobi and online. UNEA is hosted by the UN Environment Programme and sees representative from Member States as well as various other stakeholders come together with the common goal of tackling environmental challenges. This year, the theme of the Assembly is "Strengthening Actions for Nature to Achieve the Sustainable Development Goals".
"We're really supportive of a global treaty on plastic," Simon said. "At the end of the day, our goal is to solve this issue and we know that no major international issue has ever been tackled at scale without the help of a global treaty, especially when it comes to tackling issues that plague our planet, these individual country actions on their own are just not enough." Without the harmonization that the adoption of a global treaty could provide, it will likely prove difficult to respond to the crisis with "the speed and scale that we need", she explained.
Simon went on to add that there has been indication that progress will be made on this issue at UNEA-5.2. "We've seen so much momentum in the recent months," she said. "On January 17th you had more than 70 leading businesses and financial institutions release a pre-UNEA statement calling for a legally binding treaty on plastic pollution; that was really the first-time industry leaders had advocated for such a robust policy on plastic pollution, including virgin reductions," she said.
"Those companies were joined by more than two million people around the world who signed a petition in support of the treaty," she added, "and then I think the biggest element is we know that over three quarters of UN member states have already backed those calls, including the United States."