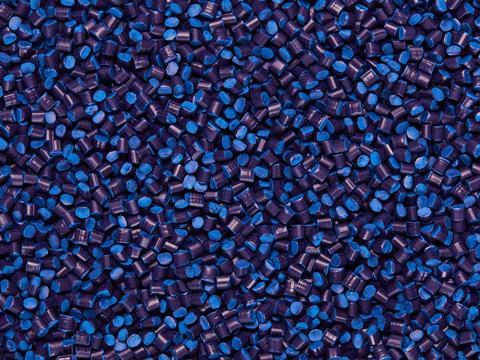 In its latest report, AMI sets out its predictions for the PP market over the next five years. The organisation suggests that the availability of recyclates and other sustainability initiatives will have less impact on the PP market than expected, although it does anticipate an increasing shift in focus to mono-materials and designing for recyclability. Overall, AMI says that monitoring individual markets will be key to understanding the PP industry's future challenges, which range from the lingering uncertainties of COVID-19 to war in Ukraine.
The role of recyclates in the PP market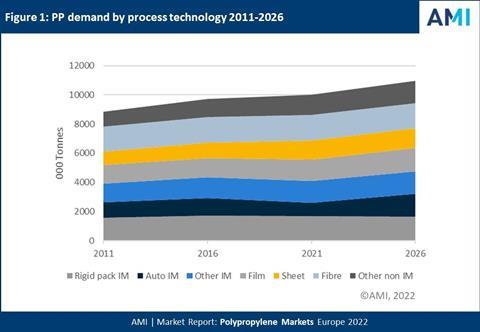 According to the 2022 edition of AMI's Polypropylene Markets Europe report, the total volume of PP on the European market was 10 million tonnes in 2021. In the report, AMI suggests that PP demand between 2011 and 2026 will remain level for rigid packaging applications, while the automotive sectors, films, sheets, and fibres will see some increase in demand towards the end of this time range.
This total figure excludes recyclates, which the organisation predicts will have a relatively limited impact on the PP market over the next five years, reportedly only cutting into demand by around 0.7% per annum. This appears to be much lower than some industry figures are anticipating, which AMI partially attributes to the uncertain availability of recyclate.
In addition, even where recyclate is available, AMI suggests that companies are in the early stages of developing the technical knowledge and ability to incorporate PP recyclate into products, particularly food-grade packaging.
A key project in this area is likely to be NEXTLOOPP, which includes Nextek's PPristine high-performance decontamination process that is aimed at removing contaminants from PP waste to allow recycled PP to meet food-contact requirements set by the FSA, EFSA, and USFDA. Partners of the NEXTLOOPP scheme include Schur Flexibles, which is looking to the mechanical recycling of PP as a way to reduce its carbon footprint, and INEOS, which is helping with the development of a demonstration plant in the UK to provide food-grade rPP.
Interestingly, some major players from the cosmetics and personal care industry have announced the introduction of rPP into their portfolios in the last couple of months. This includes L'OCCITANE en Provence, which is set to offer its Shea Ultra Rich Body Cream in a refill tub made from 100% post-consumer rPP. Meanwhile, L'Oréal and Texen have developed a cap made from 100% rPP for Biotherm's skincare collection.
Past and present PP trends
In terms of past and future trends in the PP industry, AMI point to COVID-19 as a key influence in the last two years. Sectors seem to have reported different experiences of COVID-19 depending on how their applications relate to changes in global economies and consumer behaviour during the pandemic. Automation saw a decline due to COVID-19, AMI reports, perhaps as consumers were more cautious about spending and as travel was very restricted during initial lockdowns.
For the hygiene and packaging sectors, AMI says there have been positive impacts, especially as companies responded to the increased demand for personal protective equipment and even the supply of vaccines, with speciality plastic applications playing an important role in biopharmaceuticals as just one example.
At the beginning of the pandemic, in particular, there were also concerns about the spread of COVID-19 through surfaces like packaging. Although research now points to this being very low risk, consumer awareness around hygiene – and the role packaging can play in protecting products from this perspective – remains high, even as sustainability-orientated debates continue over the need to keep products like fresh fruit in plastic wrappers.
Sustainability will likely be the PP market's main driving force going forward, according to AMI. On the one hand, AMI notes that single-use plastics legislation could impact both the rigid and flexible PP packaging markets. This includes the Single-Use Packaging Directive (SUPD), although some reports claim this policy has been unevenly implemented between EU countries, and France's controversial ban on single-use plastic packaging for fruit and vegetables, which came into effect at the start of this year.
On the other hand, AMI says there are limited alternatives to some plastics, especially for applications such as food and beverages, which require companies to meet strict standards enforced by the EU and other organisations. AMI therefore predicts that legislation will focus on the simplification and redesign of packaging with the goal of promoting mono-materials and improving recycling outcomes.
Industry players have begun to try and facilitate this shift to designing with sustainability and circularity at the fore from the beginning. For example, the Ellen MacArthur Foundation has recently released a report on single-use flexible packaging that states that where elimination is not possible, upstream innovation is needed to transition to mono-materials (multi-material flexibles represent approximately 40% of all flexibles, according to the organisation) and to promote the goal of keeping plastics within a closed loop.
There have also been calls to improve collection to include even those plastics that are currently considered hard to recycle, like flexible packaging, with claims that this will be the key to improving recyclability alongside design. Others report that novel technologies like chemical recycling and carbon capture will be needed to support existing infrastructure – although this approach has also garnered criticism.
Compounding challenges
AMI says that there are likely to be challenges ahead for the PP market. This includes the ongoing uncertainties of the COIVD-19 pandemic, which coincides with – and has contributed to – a global supply chain crisis. The plastics industry has experienced significant raw material shortages, linked with production shutdowns due to COVID-19 and extreme weather events in 2021, and intense price hikes. At a meeting hosted by the European Plastics Convertors (EuPC) and Polymers for Europe Alliance (PEA) in February, the last year was described as the plastic industry's "Annus Horribilis".
These logistical and supply complications could continue, further compounded by Russia's invasion of Ukraine. A major impact of the war in Ukraine could be the ripple effect of energy prices, which are surging as Europe imposes sanctions on Russian oil and gas; the plastics industry is energy-intensive, as well as largely reliant on petrochemical feedstocks.
AMI concludes that it is crucial to look at individual markets, taking into account different applications, technologies, grades, and geographical regions when monitoring the European PP market. The report highlights the significant diversity between different sectors of the PP industry – and the PP industry's outcomes will also vary, in both predictable and unpredictable ways, in the future