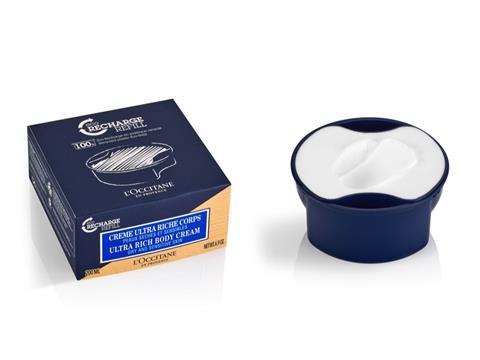 L'OCCITANE en Provence has partnered with VPI, part of the Faiveley Plast group specialising in injecting plastic parts for use in luxury goods, on a new refill tub for its Shea Ultra Rich Body Cream made from 100% post-consumer recycled polypropylene (rPP).
L'OCCITANE says it tasked VPI with both harnessing a new material, rPP, and instilling a new refilling methodology for its 200ml Shea Ultra Rich Body Cream. This apparently required VPI to ensure the traceability of batches of recycled material and produce the container within a tight turnaround time.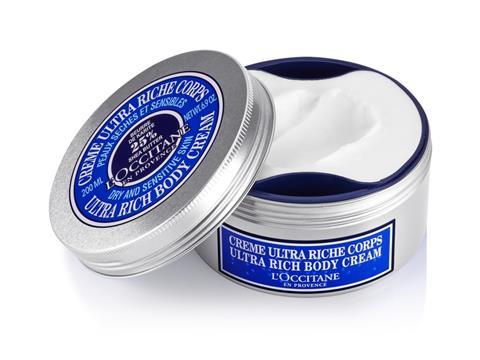 The companies say that the 100% post-consumer recycled PCR reuses fossil resources, thus reducing the use of virgin fossil-based plastics. In addition, the lightweight rPP reportedly offers a lower carbon footprint across the entire supply chain.
According to the companies, the refill method means consumers initially purchase the tub along with aluminium packaging that the tub fits inside. The heat-sealed tubs can then be replaced and reloaded into the aluminium packaging for future purchases.
In terms of consumer experience, the companies also studied the design of the grip to create an unsnapping and re-snapping closure, which reportedly ensures a user-friendly and pleasant mode of use.
Marc Beltrami, head of sales at VPI, comments: "We are grateful to the teams on site who think ahead about eco-design and, when it comes to developing and mass-producing products, invest so that they can oversee wonderful, genuinely eco-designed projects.
"We are proud to have been able to complete such deep research on recycled materials and to have helped bring such ambitious action plans to fruition."
David Bayard, packaging research and design manager at L'OCCITANE en Provence, adds: "The Shea Ultra Rich Body Cream refill enables us to substantially reduce our dependency on plastic.
"Compared to the old product, it accounts for an annual saving of more than 40 tonnes. It also helps us to fulfil our ambition of using post-consumer recycled plastic."
L'OCCITANE is a supporter of the Carbios C-ZYME technology for depolymerising and bio-recycling PET, with Indorama Ventures planning to build and operate a manufacturing plant using the process at its production site in France by 2025.
Another Carbios partner, L'Oréal, recently worked with Texen to develop a 100% rPP cap that can be adapted to different container shapes for Biotherm's new skincare collection.