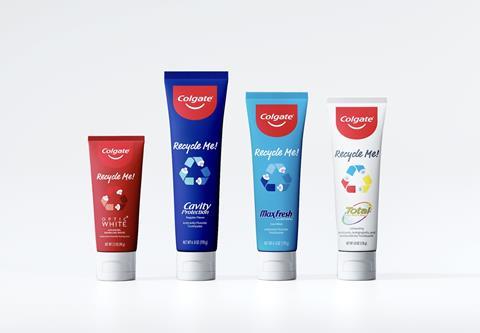 Colgate is rolling out its recyclable HDPE tube with limited edition 'Recycle Me!' graphics to ensure consumers are aware that the tube can be placed in the recycling bin without any additional steps like cleaning and to act as signposts for Materials Recovery Facilities (MRFs).
The tube, developed by Colgate-Palmolive, is made from HDPE, a rigid, widely recycled plastic also used for applications such as milk bottles. While developing the tube, Colgate's packaging engineers realised that they could use more than one grade of HDPE to achieve a soft enough structure to comfortably squeeze out all the toothpaste while protecting the integrity of the product – overcoming the challenge of HDPE's rigidity.
In addition, the Colgate tube is recognised as recyclable by the Association of Plastic Recyclers (APR) and RecyClass respectively. Colgate says that the tubes can be recycled alongside plastic bottles with no extra steps, such as rinsing, cutting, or cleaning, required by the consumer.
However, most toothpaste tubes are made from mixed-plastic laminates with a layer of aluminium inside to protect the flavour and fluoride content, which makes them very difficult to recycle through conventional methods. Colgate has identified the potential of using the design of its tube to make it clear to consumers, who may be used to unrecyclable toothpaste tubes, that the new HDPE tube can be placed in the recycling bin.
Colgate will therefore roll out limited edition 'Recycle Me!' graphics on select tubes of Colgate Optic White Advanced Sparkling White, Colgate Cavity Protection, Colgate Max Fresh Cool, and Colgate Total Whitening. The tubes will initially be sold in the US.
According to Colgate, the goal of the 'Recycle Me!' packaging design is to build awareness of recyclable tubes among consumers, as well as among operators of the MRFs that sort plastic, reprocessors that make resin from recycled plastic, and other recycling stakeholders.
Dana Medema, vice president and general manager of oral care at Colgate-Palmolive in North America, explains: "As the global toothpaste leader with a brand found in more homes than any other, we want to lead in waste reduction and, in particular, making toothpaste tubes a part of the circular economy.
"The Recycle Me! tube is designed to educate and engage consumers and the recycling community who are both essential to progress, and we are excited to initiate and learn from our upcoming pilot program."
Colgate-Palmolive's recyclable tube pilot will focus on one county or municipality in the US to test how educational efforts can build tube recycling rates and assess the quality of the tube material that is collected for reprocessing. The data will apparently be used to identify easy-to-action best practices for tube recycling, which the company adds will be shared widely with communities and recyclers.
Colgate acknowledges that, for recyclable tubes to be a success, it requires a critical mass of tubes on the shelf that meet recycling standards. This will reportedly encourage recycling facilities to add tubes to their lists of acceptable materials and support consumers in developing a habit of recycling toothpaste tubes.
Colgate has shared its recyclable tube knowledge with other companies, including competitors, through packaging forums and individual meetings. The intention is to accelerate the industry's transition to recyclable tubes.
The recyclable tube will be rolled out across the rest of the Colgate toothpaste line by 2023, according to the company.
Other major brands have made similar commitments. Henkel said in 2020 that it would transition all of its oral care brands to recyclable HDPE packaging by 2021 in collaboration with its supplier Albéa, which also worked with Colgate on its recyclable tube.
Meanwhile, both P&G and Unilever have committed to converting their oral care portfolios to recyclable HDPE tubes by 2025. Unilever initially plans to launch its recyclable tube in France and India. P&G has also reached an agreement with Albéa to use its proprietary tube technology.
During the transition phase, Colgate notes that there might be some limitations in terms of facilities accepting tubes for recycling. It urges consumers to check with local community facilities when recycling toothpaste tubes.