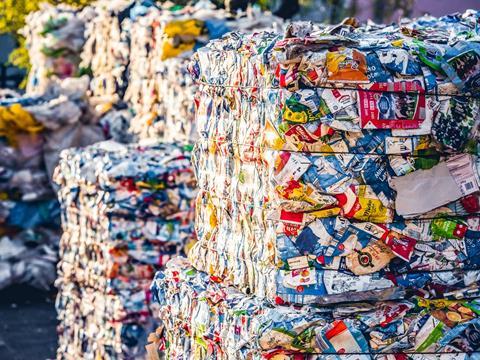 Following market and efficacy research, the Circular Economy for Flexible Packaging (CEFLEX) has announced plans to develop a next-generation waste processing plant based on its Quality Recycling Process (QRP), with a commercial launch slated for 2023.
The CEFLEX project involves more than 180 companies, associations, and organisations from across Europe. Members include BASF, Dow, EMSUR, ExxonMobil, Solvay, and Total, with stakeholders agreeing that the collecting and sorting of flexible packaging will be an essential part of achieving a circular economy.
QRP is a mechanical recycling solution for increasing the recycling rate of flexible plastic packaging from household waste. CEFLEX is aiming to combine four existing technologies that have apparently been trialled and implemented at different European facilities – advanced sorting techniques, hot washing, extrusion with extra filtration, and deodorisation – in one commercial site, which it says has not yet been done.
The consolidation of these technologies in a single plant could enhance the efficiency and reliability of circular materials, claims CEFLEX. According to Dana Mosora, technology workstream lead at CEFLEX, this will "make it a fully blown Quality Recycling Process and enable the highest quality recyclate possible from flexible packaging".
For example, CEFLEX's research into the QRP reportedly observed that a minimum of 20-25% of high-grade PE recyclate could be produced from a 310 bale of flexible packaging, which is often made up for different types of PE film. At present, CEFLEX says that only 17% of PE is sorted and recycled in Europe.
The remaining 55-60% of the material processed from one 310 bale during the QRP would then be available for rigid commercial activities, such as the manufacture of bottle caps, according to CEFLEX.
Further research from CEFLEX has apparently examined the economic viability of the plant and suggests that any investments made into the project could be offset by its long-term profitability. Initial investments would likely involve the cost of equipment, such as the machinery required for advanced sorting and hot and cold washing, alongside general operating costs.
A model was created by researchers working with CEFLEX, in order to predict how much it would cost to put a 310 bale of flexible packaging through a QRP plant and what revenue might be generated via this process. The model conceptualises the material composition of each bale, thus producing data on its separation, the value ranges of the reclaimed materials, and the prices of subsequent recyclates.
CEFLEX says that the economic model found that, if there was enough demand for the plant's output materials, it could generate revenue upwards of €600 per tonne, resulting in a net profit of €80 per tonne due to the processing cost of around €520 for each 310 bale. This is reportedly enough to "guarantee" a long-term profit for investors and stakeholders, with CEFLEX adding that similar results were found for bales of flexible waste consisting of other materials such as polyolefins (PO) and polypropylene (PP).
Professor Steven De Meester, a researcher from Ghent University who worked with CEFLEX to model the affordability of the QRP, explains: "This is a very important conclusion because it shows that it's actually worth the effort."
CEFLEX's researchers also examined which markets would benefit from a supply of circular materials that, it claims, can compete with virgin plastic. CEFLEX notes that some plastic businesses are calling for a 30% minimum threshold of recycled materials in packaging, with Plastics Europe calling for the EU to make this a mandatory target by 2030.
According to Professor Kim Ragaert, chair of circular plastics at Maastricht University in the Netherlands: "A PE collation shrink film has been made with 30% recycled content blended from the QRP materials." This reportedly functioned well when wrapped around a bundle of Pepsi bottles, appearing to build on earlier research by CEFLEX's Sustainable End Markets workstream.
Ragaert adds that a similar 30% recycled content threshold was demonstrated for resealable PP pouches, which is "very promising". The team allegedly examined applications for PO and PP, as well as how recycled polymers could be used for high-value rigid applications, to give a full picture of the markets for QRP materials.
"We are now looking at irrigation pipes, we are looking at pallets, we are looking at home and gardening applications," Ragaert says. The CEFLEX research team has planned further trials to examine the supply and demand of circular recycled flexible packaging from its QRP.
The research into both the practical and financial viability of a QRP plant is intended to support CEFLEX's goal to run such a facility commercially by the end of 2023.
Mosora concludes, "This will help us demonstrate the economic viability of the solution at a large industrial scale.
"We need to incorporate more partners in order to build the demo at an industrial scale and achieve better quality, quantity, and, most importantly, to validate the business model."
In a position statement released earlier this year, CEFLEX said that it was essential for all flexible packaging to be targeted for collection and sorting, especially in countries such as the UK where it is not yet collected, and that this should be through a separate stream that excludes paper, board, or glass for maximum recycling quality.
CEFLEX is partnering with PCEP, Petcore Europe, Styrenics Circular Solutions, and MORE Recycling for "Europe's first in-depth analysis" of household packaging waste – a key component for developing an effective and viable waste stream for flexible packaging. While collection is an important part of the circular economy and CEFLEX has set a 100% collection target, the group also acknowledges that upstream innovation is needed to incentivise and facilitate the recycling of flexible packaging.
The plans for a QRP facility are a major step by CEFLEX in providing the capacity for effective collecting, sorting, and recycling of flexible packaging across Europe. CEFLEX has meanwhile called on the Packaging and Packaging Waste Directive (PPWD) to encourage innovation and collaboration on packaging design and recycling infrastructure.