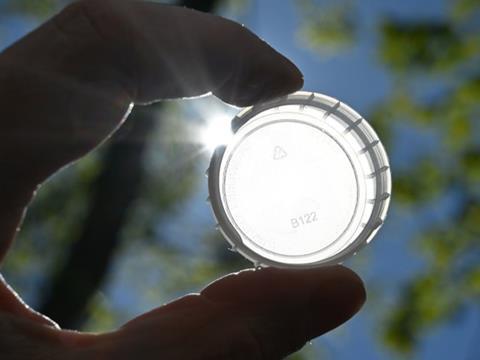 Müller will partner exclusively with Waitrose on a trial to replace the blue, green, and red caps used for HDPE milk bottles with clear caps in all of its supermarkets from April 2022, which it says will enable the retention of the material for food-grade applications within the food sector.
According to the companies, coloured milk caps cannot currently be recycled back into food-grade packaging, although the HDPE bottle itself is fully recyclable. Introducing clear caps will reportedly retain the material for reuse within the food sector and could boost the availability of rHDPE on the market by 1560 tonnes annually as part of a 'closed loop' system, helping also to reduce dependency on virgin plastic.
Müller says it has conducted research to gauge the attitude of consumers to the potential change. The company found that just over half of shoppers look for the colour of milk caps when selecting their milk in-store, while others either use different coloured labels, remember the milk's previous location in the fridge, or use the fixture signage.
Eight out of ten shoppers said that they would choose a bottle of milk with a clear cap that could be recycled into food-grade material over a coloured one that could not be, Müller claims. Therefore, the company concluded that consumers would support the change to clear caps if it further improved the availability of food-grade recycled plastic material.
Following a successful in-house trial, Müller and Waitrose will trial the clear caps in all 331 of the retailer's shops from the 4th to the 30th of April 2022.
Liam McNamara, commercial director at Müller Milk & Ingredients, comments: "Everyone is thinking more about what they buy, the nutritional benefits, the value it represents and the packaging used.
"As the first dairy company in the UK to trial clear caps on fresh milk, we are working hard to innovate and lead in issues that are not only important for customers, but for consumers too.
"In an industry that needs access to more rHDPE, we are really excited to collaborate with Waitrose across all of their shops and trial this additional solution. Our fresh milk bottles already contain up to 40% recycled material, but with access to more, we can partner with our customers to increase this further.
"But we will not stop there, we are also looking at ways to add recycled content into our clear-caps."
Karen Graley, packaging innovation lead at Waitrose, says: "As food businesses, we need to do more to protect our planet from unnecessary plastic waste so we're delighted to be involved in this trial.
"We have a proud heritage of being first to trial step-change innovations in this space - from rolling out the UK's first refillables in-store to removing single use plastic toys in children's magazines, and we are proud to be working alongside Müller to show that leadership again."
Waitrose recently joined the "world's largest" multi-retailer Refill Coalition alongside Marks & Spencer's, Morrisons, Ocado, and CHEP. The group intends to co-design and scale an end-to-end refill solution for staples like rice and pasta, with both in-store applications and options for bulk home deliveries.
Last month, Morrisons announced that it would transition its own brand of fresh milk products from HDPE bottles to Tetra Pak cartons, which it claims are carbon neutral and will eliminate 100 tonnes of plastic per year. However, the Tetra Pak milk cartons, which are reportedly kerbside recyclable, are not entirely plastic-free, being partially made from plant-based paperboard with a plastic coating and PE twist caps derived from sustainably sourced sugarcane.
WRAP estimates that HDPE bottles have a recycling rate of 76% in the UK, but there is no similar statistic available on the percentage recyclability of the Tetra Pak cartons. The move by Morrisons was met with intense debate within the packaging community.
Writing for Packaging Europe, Jonathan Wragg, owner of CAP Environmental, argued that "in some cases, moving away from plastic packaging will do more harm than good, and corporate decisions by some of the largest supermarkets will have long-standing consequences around reducing waste". He suggests that companies are making sustainability commitments to appease consumers, so that they "feel the company is doing its best" for the environment, rather than consulting packaging experts.
Wragg adds that the solution by Morrisons and Tetra Pak creates a downstream challenge in that the cartons appear to only be recyclable at the latter's facilities and are likely to be downcycled. Additionally, life cycle analysis data comparing the carton's performance against PET, LDPE, or HDPE is seemingly unavailable. In 2021, Morrisons cancelled a move to glass bottles for its own brand milk; Wragg concludes that the retailer should also cancel the transition to Tetra Pak cartons and "stick with its current solution".
The clear cap set to be trialled by Müller and Waitrose aims to keep the current HDPE milk bottle solution while boosting its overall recyclability.