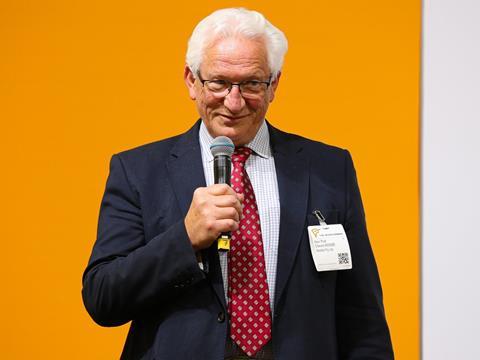 In September we announced the winners of our 2021 Sustainability Awards. Amongst a crowd of ground-breaking innovations Nextek's NEXTLOOPP project, which creates food-grade packaging from recycled polypropylene, was crowned the overall winner. We caught up with Edward Kosior, Nextek's CEO and founder, to learn more about the potential of the project.
---
First things first, congratulations on being crowned the overall winner at our Sustainability Awards 2021! What does this win mean to your organisation?
Winning the overall Sustainability Award on top of 'Driving the Circular Economy' category award has been a wonderful validation of what we have been working on for close to nine years now - we are all very proud!
For those who might be unaware – could you introduce the project and talk a bit about the reasons behind its development?
NEXTLOOPP's mission is to close the loop on food-grade recycled Polypropylene (PP) by creating circular food-grade PP from post-consumer packaging. Our focus is on assisting our NEXTLOOPP participants to put PP back into new packaging before 2025.
Stakeholder engagement is a key part of the project. How does this work in practice?
Participants in NEXTLOOPP are involved in the following activities:
Testing of their packaging in all the labelling and sorting trials using the PolyPRISM markers just as recently happened at the TOMRA R&D Centre tests where we demonstrated it is possible to reach >99.9% food packaging.
Testing of the food-grade rPP in their packaging for processability , mechanical properties, organoleptics (taste and smell), and food contact migration compliance for specific and overall migration for a range of food types. We expect the participants to have over 50 packaging variants tested with rPP content of 30% and greater.
Participating in the bi-monthly workshops where a progress update is made on the three workstreams on food-grade resin manufacture and EFSA/FDA compliance, label and sorting development, and demonstration plant design and construction.
Joining in on workshops on design for food-grade recycling and the latest developments in sorting and recycling.
In an ideal world, how would upstream value chain players make it easier for organisations like yours to process packaging waste?
Designing the food package to be recycled back into the same food-grade package is a key change that could be made. This has only happened for a few packages like PET water and soft drink bottles and also HDPE milk bottles. This means the product needs to be designed keeping in mind all the steps that it will go through in recycling and any residues that travel with the recycled plastic such as adhesives, labels and inks and any associated attached materials.
Adopting PolyPRISM labels that allow sorting back into food-grade would also help. The rest is accomplished by the recycling system.
Since NEXTLOOPP's win at the Sustainability Awards, the project has announced that its trial to sort food-grade plastic packaging waste using a label marker achieved 99.9% sorting purity at maximum production speed. Could you tell us a bit more about this?
In September we ran our tracer-based sorting trials at TOMRA (Germany) to specifically sort food-grade plastic packaging waste. These trials achieved a resounding 99.9% sorting purity at maximum production speed.
This demonstrates that our unique technology efficiently differentiates food packaging from non-food packaging to meet the standards required by the Food Standards Authorities in the UK and EU.
Ultimately, being able to identify and sort any number of pack variants from bleach bottles to milk bottles in any plastic type is a world-first that will transform the way we recycle the prolific volume of single-use post-consumer food packaging waste back into circular applications.
Looking ahead – what's next for the project?
The trials will be further extended in early 2022 with a fully developed series of commercially ready labels on the product to take the next step in confirming the performance of the PolyPRISM sorting technology.
There are global targets that can be met with our three-tiered approach, the technology is ready and the funding to invest is available. The packs are being made every day, they just need an invisible, integrated PolyPRISM label.
The next stage is adoption by the supply chain to join the ends of the circle.