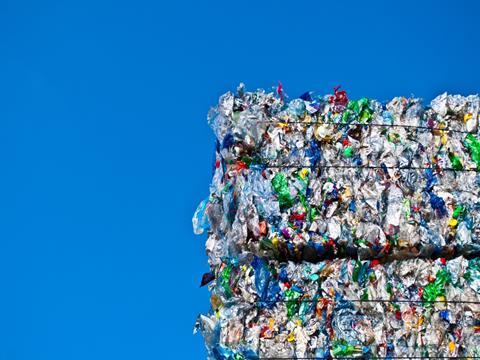 According to a new report by SYSTEMIQ, the current measures being taken to adapt the European plastics system will not be enough to meet agreed climate goals, circularity policies, and the European Green Deal. The organisation says that recycling alone cannot fully enable a circular economy or mitigate carbon emissions and calls urgently for innovation, investment, and policy support across the value chain. In particular, the report emphasises the need to develop less mature pathways, such as green hydrogen, chemical recycling, and carbon capture, to support existing measures.
The precedent
In the 'ReShaping Plastics – Pathways to a Circular, Climate Neutral Plastics System in Europe' report, SYSTEMIQ says that, in 2020, around 14% of plastic waste was recycled. This is a slightly lower figure than that suggested by AMI, which put forward the figure of 23.1% for the overall mechanical recycling rate in Europe in 2021.
However, both groups concur that a significant amount of plastic is lost either to landfill or incineration, or uncounted for due to gaps in waste data.
SYSTEMIQ, for example, estimates that 50% of Europe's plastic waste is incinerated for energy recovery, while around 8-15 million tonnes of plastic are unaccounted for because of gaps in waste data. While some of this could be attributed to the plastic being 'in use' within the economy, the organisation says that this explanation does not encompass all of the missing data. "This data gap presents a major challenge to the understanding of the environmental and climate impacts of plastic," the organisation warns.
No silver bullet
SYSTEMIQ emphasises that current efforts to foster a circular economy and reach net-zero emissions will "still leave a highly resource inefficient system, and are not yet fast enough to align with the goals of the Circular Plastics Alliance, European Green Deal, or the Paris and Glasgow climate agreements." There is no "silver bullet", the organisation says, and warns against recycling as a catch-all policy – echoing similar calls from WWF, which says that reduction and reuse must be the priority going forward.
For example, in SYSTEMIQ's 'Current Actions Scenario' – one above the baseline scenario – which involves all current commitments, such as European legislation and voluntary company commitments, being implemented and enforced, the system circularity rate would be around 33%, corresponding to 92Mt of CO2 and 44Mt of virgin fossil plastic use. This is only just double the baseline scenario, which gives a figure of 14% for system circularity based on current measures alone.
The report identifies "a collaborative, systematic approach needed across all stakeholders" with partnership between upstream and downstream solutions being essential and "most effective when deployed together". While this would significantly reduce GHG emissions and plastics waste in the next decade and beyond, the organisation claims it is also not enough to reach the target of net-zero carbon emissions by 2050.
For SYSTEMIQ's 'Reduction & Substitution Scenario' wherein plastic use is significantly reduced through elimination, substitution (e.g., to compostable packaging), reuse, and the introduction of Deposit Return Schemes (DRS), the system circularity rate in Europe would be around 52% by 2050.
In the next scenario, where collection, sorting, and recycling – including chemical recycling – is rapidly expanded and scaled, SYSTEMIQ places system circularity at 69% in 2050, alongside 41Mt of CO2 emissions and 24Mt of virgin fossil plastic use. This scenario would rely on the upstream innovation in the previous scenario, as well as downstream solutions like Extended Producer Responsibility (EPR), but would still not reach net-zero emissions.
Jyrki Katainen, president of the Finnish Innovation Fund Sitra and chair of the SYSTEMIQ report's steering committee, says: "One of the report's key findings is that the European plastics system is already adapting to address the challenges of climate change mitigation and circularity but commitments on behalf of industry and policymakers do not go far or fast enough. We must adapt and we must do so at pace."
The potential of emerging technologies
Therefore, SYSTEMIQ puts forward the need to develop multiple, less mature technologies, innovations, and approaches – alongside existing efforts to foster a circular economy in Europe – to decarbonise the plastics industry, further decrease GHG emissions, and enhance circularity. The organisations identify the next three to five years as a "critical window" for industry action. The decisions made now will determine whether the European plastics system will achieve circularity and net zero emissions by 2050, according to the report.
SYSTEMIQ identifies what it calls "less mature pathways" to a circular economy as an area requiring significant support, innovation, and investment. This includes green hydrogen, the use of carbon capture and storage (CCS) technologies, shifting to bio-based polymers, and electrifying stream crackers. These solutions would reportedly "decouple plastic from fossil fuel feedstocks" and are "critical" to achieving the established targets alongside existing circular economy measures.
Some of these solutions are beginning to appear on the packaging market – in both plastics and other segments – in very early iterations. Some companies, including The Coca-Cola Companies, Suntory Group, Braskem and Sojitz Corporation, have begun the process of commercialising bioMEG technologies to allow for the production of bio-based PET beverage bottles. Meanwhile, Essity announced last year that it would be using green hydrogen instead of natural gas to enable CO2-free tissue production at a pilot plant in Germany.
There is also a dearth of chemical recycling technologies beginning to emerge. A report from ecoprog identified more than 90 chemical recycling projects focused on plastics worldwide; while around 20 plants appear to be operational, this is mostly for research and development at present. Some examples include Eastman's $1 billion investment in a polyester renewable plant in France and Mura Technology's HydroPRS hydrothermal advanced recycling technology for plastics deemed unrecyclable.
In a scenario suggested by SYSTEMIQ where carbon-intensive fuels are substituted for low-carbon hydrogen alternatives and CCS technologies are scaled, system circularity would be approximately 78%, while CO2 emissions and virgin fossil plastic use would be 25 and 20 Mt respectively. This scenario, SYSTEMIQ notes, would also require chemical recycling to improve its carbon profile; again, such solutions are emerging, such as Dow's collaboration with Plastogaz on a hydrocracking technology that is reportedly less energy-intensive than other forms of advanced recycling.
'Net-Zero System Change Scenario', the last scenario presented by SYSTEMIQ, relies on the introduction of alternative feedstock, including bio-based options, and the electrification of steam crackers. Combined with the measures involved with all the other scenarios, by 2050, this would allegedly put circularity at 78% with virgin fossil use dropping to 11Mt and CO2 emissions reaching net-zero.
Recycling isn't the solution – but what is?
Expressing support for the report, Virginia Janssens, managing director of Plastics Europe, which commissioned the report, says: "Plastics Europe welcomes the report. It is insightful and thought provoking and will make a valuable contribution to informing and guiding the decisions of Plastics Europe, our members, and all stakeholders.
"Plastics Europe's members have been investing and innovating to support the EU's net zero and circularity ambitions for a long time, and this has accelerated in recent years.
"However, we support the report's central finding that faster systemic change is essential, and that circularity is the most important medium-term lever of the European plastics system's transition."
A recent report from the Ellen MacArthur Foundation has likewise called on urgent action from the industry and from policymakers, specifically in relation to facilitating the transition to a circular economy for single-use flexible packaging. However, the report emphasises that elimination must be a priority, followed by upstream innovation. The organisation cautions that the substitution of materials, such as using compostable plastics in the place of fossil-based options, could have unintended consequences like removing the material from the market by its very nature.
Meanwhile, the WWF's chemical recycling principles begin to suggest a framework for the industry. The principles stipulate that chemical recycling should complement mechanical recycling, avoid competing for feedstock, and demonstrate a reduced carbon footprint compared with the production of virgin resin. The organisation adds that only material-to-material applications where the recycled product is recyclable itself should be considered by the chemical recycling sector.
The WWF's overall stance, however, appears to warn against yet-to-mature technologies like chemical recycling, which it says are untested and likely to introduce the same challenges as existing systems. Erin Simon, head of plastics and business at WWF-US, told Packaging Europe: "The broken system that we have today, that's not working for existing mechanical recycling, we're going to have those same challenges, because it's a shared system that requires infrastructure, policy, and a steady stream of investment to keep the doors open. Those are the things that mechanical recycling is already faced with, so those don't just go away with a new technology."
The UN Environment Assembly's recent announcement that it would begin the process of creating a legally binding treaty on plastic waste could push investment and innovation in the novel technologies touched on in SYSTEMIQ's report. The treaty is set to be complete by the end of 2024 – which places it near the periphery of the "critical" period SYSTEMIQ identifies for action needed to meet existing circularity goals by 2050.
These arguments largely share the same thread as SYSTEMIQ's report: recycling, by itself, cannot be the solution. This doesn't mean, however, that there is not a great deal of uncertainty surrounding whether emerging technologies can fill this gap.
"How close the system comes to transformation will depend on the level of leadership shown by key decision makers across all stakeholder groups," concludes Yoni Shiran, programme director and partner at SYSTEMIQ. "A new plastics system is within reach but will require bold action. It needs industry, public sector, investors, and civil society to come out of their "trenches" and collaborate in a deeper way based on a shared fact-base – that was the main objective of this programme."