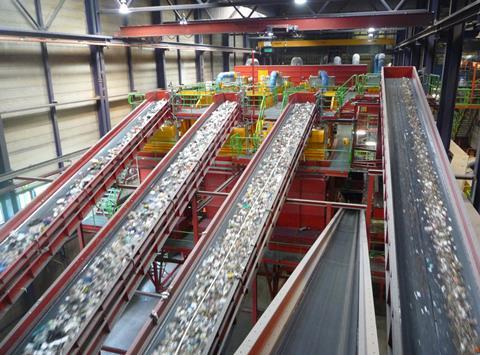 CEFLEX recently launched plans for a next-generation recycling plant that it hopes will be complete by the end of 2023. This marks the creation of the first commercial waste processing site based around its Quality Recycling Process (QRP).
We spoke to project coordinator Graham Houlder about the prospects for new end market applications, a dedicated polypropylene stream, implications for chemical recycling and more.
First things first – could you introduce the new project and put it into context in terms of CEFLEX's wider mission?
A circular economy needs the appropriate quality recycled content and – more importantly – a wide range of sustainable end markets to use it again and again. Improving mechanically recycled household flexible packaging is central to achieving this, which led us to look at getting the best possible quality recycled materials from sorting, washing, extrusion, and deodorization in detail. Along the way, we have developed lots of insights and established a four-step 'Quality Recycling Process' (QRP) recommendation.
If QRP's four steps were all at the same plant, it could create a more efficient and steadier supply of circular materials for the marketplace. CELEX believes that having such a plant would also send a powerful economic current across the sector and incentivise greater collection for recycling of flexible packaging, providing even more recycled materials in the range of qualities different end markets demand.
For those not yet familiar with the details of QRP, what is it, and who developed it?
A dedicated action team of stakeholders from across the value chain defined our principal objectives for this process as: to increase volume, quality and value – delivering recycled flexible packaging materials to meet a wider range of end-market demand; and improve sorting and recycling, for the right quality outcome fit for purpose of any pathway.
Together, convertors, recyclers, material producers, and an EPR scheme have collaborated to run five semi-industrial trials harnessing new possibilities from existing technologies. During these trials we processed over 150 tons of flexible packaging post-consumer materials and produced "right quality" materials for further testing.
In the QRP project, several CEFLEX stakeholders have collaborated to produce pouches, shrink films and labels using PE and PP recyclates. As a breakthrough, the process also demonstrates that rPP from flexible packaging can be recycled into high-end film applications as with rPE.
Based on these trials and demonstrators, we conclude that the Quality Recycling Process offers a promising way to mechanically recycle a higher proportion of PE film and mixed Polyolefins (PO flexibles) bales than is currently possible or practiced today – with an emerging business case for investment in infrastructure to support it.
CEFLEX believes QRP can be an important asset in achieving the circular economy for flexible packaging materials. So, to move this work to an industrial scale and show proof of principle, we are exploring with the Alliance to End Plastic Waste and other potential partners the start of a QRP-enabled facility in 2022. These discussions are in the early phase but are generating a lot of interest.
Let's drill down into some of the key parts of the announcement. Firstly, what's the significance of QRP in terms of establishing an effective recycling stream for flexible polypropylene packaging?
Polypropylene (PP) is the second-largest fraction, after PE, in the flexible packaging waste stream. Today it is used as a mono-material but is also used in combination with PE. PP's increased melting point and other interesting properties also offer consumer flexible packaging designers more design space than is generally possible with PE.
The main drawback from a designer's point of view is that there is no PP flexible packaging sorting and recycling pathway available today – meaning that perfectly recyclable and valuable material is going into the PO rigid stream or is unused. The QRP process recognises this and enables the sorting of the PP mono-fraction from the PO flexibles stream so it can be effectively recycled in its own stream.
Could you unpack the significance of the announcement in relation to meeting different kinds of end-market demands for the recycled materials from flexible packaging?
QRP enables high/right-quality recycled PE and PP suitable for non-food contact film applications such as pouches, shrink films and labels. These end-market applications do not currently use recycled materials from household collected flexible packaging as this quality is not readily available.
The process means that a higher proportion of remaining PE and Mixed PO fractions can be recycled into recycled content qualities (rPE and rPP) that can be used in non-food film and targeted injection moulding applications to service the existing and new end markets for recyclate from flexible packaging.
And you believe the process is also well suited to benefit chemical recycling as well?
QRP's advanced processes give additional routes the remaining fraction for which there are no mechanical recycling quality end-market applications or when these low-hanging fruit applications are saturated. The remaining materials can be efficiently and effectively delivered to a chemical recycling pathway and be upgraded back to virgin and food contact quality.
What's next for the project – how do CEFLEX and its partners hope to achieve economic viability at a larger industrial scale? Is there a roadmap in place?
To date, our roadmap has been to trial the potential, prove the concept and show there is a business case for investment. Each of these steps has been achieved. We are now working with the Alliance to End Plastic Waste to commercialise QRP at an industrial scale where we hope the recycled materials will help expand recycled content use in many more and new applications.
This is very much a work in progress; but suffice to say there is a lot of interest from many potential partners to commercialise QRP. We are just waiting to see who steps forward first.