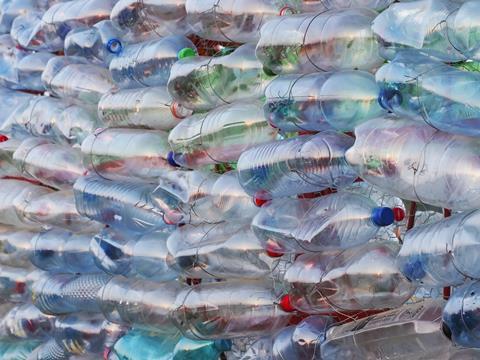 According to ICIS, the prices of both colourless bottles and post-consumer flakes reached a "record high" for the European market this month due to the ongoing challenges of COVID-19 and supply chain tensions.
ICIS says that the northwest European prices for post-consumer bottle prices has risen over €200 per tonne in January, with flake prices rising €150 per tonne compared to December 2021. Currently, colourless flake prices are between €1,600 and €1,700 per tonne, with some higher price requests reported – although these can be considered exceptions, ICIS adds, as there is a lack of clarity on whether the flakes were actually purchased at this price.
The escalation in prices brings northwest European prices in line with southern, central, and eastern Europe. These are the reportedly the highest prices observed by ICIS since it first began reported on the figures in 2006.
There are several challenges complicating the supply, demand, and price of recycled PET.
The European Union (EU) will require PET bottles to contain at least 25% recycled plastic from 2025 and at least 30% from 2030, while companies including PepsiCo and Britvic have pledged to eliminating all virgin plastic from bottles sold on European markets by 2022. This means that demand for post-consumer flakes is high, but the supply is somewhat more unstable.
The global supply chain crisis has been compounded by COVID-19 bringing production to a halt, as well as extreme weather events, shipping delays, a shortage of shipping containers, and a number of Force Majeures statements. Speaking to Packaging Europe last year, Renato Zelcher, president of EuPC, suggested that "more than 90% of the players in all [EU] member states have been negative affected by this situation", adding that while there were signs of improvement, supply remained uncertain enough that some companies have had to halt production because of a lack of materials or to avoid passing price rises along the value chain.
In addition, key players from the European beverage industry put out a statement in December 2021 calling for the European Commission to introduce a mandatory 'first refusal' policy to encourage a closed loop, bottle-to-bottle recycling system. The group claimed that high-quality, food grade rPET was being used for non-food contact products, such as toys and clothes, which it considers downcycling and a threat to the beverage industry's circularity targets.
Existing EU legislation, such as the Single Use Packaging Direction (SUPD), has also come under fire for a lack of harmony across member states. EuPC notes that some countries had failed to establish clear national rules on single-use plastic and that an uneven rollout risked fragmenting the single market. As such, both companies and governments face increasing pressure and scrutiny with the tightening of rules on packaging types, with suggestions that there is not enough support in place to feasibly meet targets.
It is difficult to predict how long these challenges will continue for, with some changes to the supply chain potentially being permanent. The ICIS acknowledges that many companies are taking a cautious 'wait and see' response, with changes to the situation perhaps not becoming obvious until Q2 of 2022.