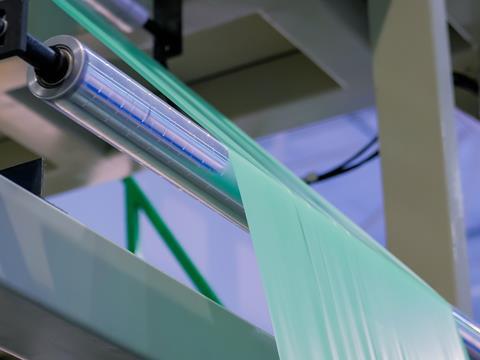 A new report from Plastics Recyclers Europe has noted an 8% growth in the recycling capacity of flexible polyolefins between 2018 and 2020 – apparently reaching a total of 2.7 million tonnes between an estimated 200 recycling facilities.
Reportedly, the capacity comprises an average of 10,000 tonnes between a range of small to medium plants; the biggest facilities are thought to reach over 40,000 tonnes. Two-thirds of the total installed capacity come from Germany, Spain, Italy, Poland, and Benelux, with larger populations seeing 'major' growth.
An estimated 1.9 million tonnes of polyolefin recyclates are thought to have been reached in 2020 and were said to represent 17% of the overall market demand for flexible films. Heavy-duty sacks and garbage bags, the most frequent end use for the recycled material, made up 38% of the total uptake.
Improvements in the collection, sorting, and recycling of flexible plastics have led to an increased uptake in recyclates for various end applications, Plastic Recyclers Europe explains, which has apparently resulted in a higher recycling capacity.
Going forward, Plastics Recyclers Europe anticipates that the Packaging and Packaging Waste Regulation will help decouple the prices of virgin and recycled polymers and instil more legal certainty for the industry – thus driving further investments in the flexible packaging sector.
It adds that a 7 million tonne recycling capacity for flexible plastics must be achieved by 2030 for the industry to achieve its set targets. To reach this goal, the organisation calls for a 'holistic approach' that increases the supply of high-quality recyclates by improving design for recycling alongside collection and sorting efficiencies.
"Legislation will continue to be one of the key enablers of a smooth transition toward a fully circular economy for flexible plastic films," stated Ton Emans, president of PRE and chair of the Polyolefin Films Working Group. "Moreover, value-chain collaboration is imperative and will determine the success of this transition."
Plastics Recyclers Europe noted a 13% rise in Europe's total installed plastics recycling capacity in 2020, with the figure reaching 1.1MT in spite of the COVID-19 pandemic, supply shortages, and increasing prices.
Meanwhile, the Circular Economy for Flexible Packaging, or CEFLEX, previously developed a 'Criteria for Circularity' checklist to keep track of Extended Producer Responsibility schemes, as well as testing the use of NIR sorting technology for multi-layer packaging structures and creating the ValueFlex sorting and processing model in collaboration with the Alliance to End Plastic Waste.
If you liked this article, you might also enjoy:
The Lidl approach to packaging sustainability
How did Brazil achieve its 100% aluminium can recycling rate – and can it be replicated in the EU?
Experts have their say on the EU's Packaging and Packaging Waste Directive revisions
A deep dive into the most important packaging sustainability trends and solutions