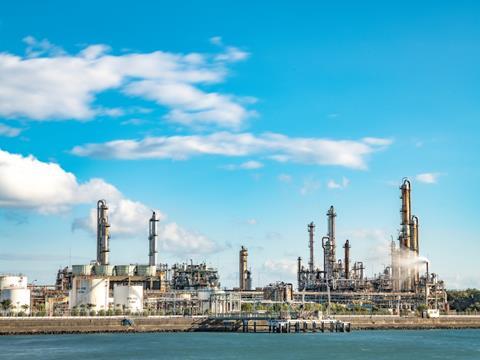 The Consumer Goods Forum's (CGF) Plastic Waste Coalition of Action has brought together 16 of its member companies to publish an independent Life Cycle Assessment (LCA) that reportedly demonstrates that chemical recycling has to potential to reduce the climate impact of hard-to-recycle plastic waste when compared to waste-to-energy incineration. Alongside this, the group has published a set of principles that it claims can help to guide the credible, safe and environmentally sound development of the chemical recycling industry.
The LCA
Conducted by Sphera, the Life Cycle Assessment (LCA) examines pyrolysis-based or related chemical recycling (Py-CR) processes. Py-CR allows the conversion of mixed hydrocarbon-based plastics, such as mixed PE, PP, and potentially polystyrene, into pyrolysis oil using a thermal process.
According to the CGF, pyrolysis oil can be used as an input material in existing chemical processes such as steam crackers. This enables it to produce the building monomers of plastic, namely ethylene and propylene, with the potential to then create new plastics.
The CGF chose Py-CR for its study as it considers it to be the most commercially advanced chemical recycling pathway for hard-to-recycle plastic. In this case, the CGF defines 'hard-to-recycle' plastic as those that are not suitable for mechanical recycling, including flexible packaging – which makes up around 40% of all post-consumer packaging in Europe by weight, based on data from the Ellen MacArthur Foundation.
The main finding of the LCA, according to the CGF, is that expanding Py-CR capacity for hard-to-recycle plastic packaging waste would reduce overall greenhouse gas (GHG) emissions compared to when residual waste is disposed of only through waste-to-energy incineration.
The scope of the study is mainly the European Union (EU), where demand for food-grade recycling plastic is reportedly the highest and where policy has shifted to phasing out landfill (where around 55% of residual waste currently ends up) in favour of waste-to-energy incineration (the disposal method for approximately 45% of residual waste). The authors of the LCA acknowledge that the methodology requires assumptions to be made about the collection and recycling rates of particular plastic packaging types, the electricity mix, and virgin plastic production processes in Europe based on current data and projections for 2030.
When balanced against these averages for landfill and waste-to-energy disposal in Europe, the life cycle GHG emissions are 25% lower overall for plastic films made from plastic waste using Py-CR, compared to plastic films manufactured from fossil-based films and based on this LCA.
Specifically for PE or PP post-consumer flexible packaging made from plastic waste through Py-CR (and potentially recycled again through Py-CR at its end of life), the LCA reportedly demonstrates that GHG emissions are 43% lower than for fossil-based plastic films disposed of through waste-to-energy incineration at end of life.
This figure rises to a 48% reduction if electricity were to be decarbonised in Europe, according to the CGF. This is because waste-to-energy incineration would apparently be considered a less attractive option for an energy grid that has made the shift to less carbon-intensive means.
For a scenario where hard-to-recycle plastics are disposed of through landfill instead of incineration, the LCA apparently shows that expanding Py-CR capacity could increase life cycle GHG emissions by 20%. The CGF cautions against misinterpreting this result, contributing it to the duration of time it takes plastics to degrade in landfills and thus release feedstock carbon back into the atmosphere. The organisation says that this result does not support increased landfilling of residual waste, as there are other impacts – such as the fossil resources depleted through landfill and leakage into the environment – that must be factored in.
It is important to note that the LCA does not cover other metrics such as eutrophication, ocean acidification, and ozone layer depletion. The CGF says that these are mostly driven by NOx emissions and that, at present, the methodology used to assess NOx emissions only covers mixed waste, of which plastics represents a fraction – meaning it is not comparable in this case.
In addition, the study assumes that pyrolysis oil and naphtha (the raw material used by the chemical industry in virgin plastic) are interchangeable chemical products and produce similar outputs when processed in a typical European steam cracker facility. The LCA relies on the assumption that pyrolysis oil would be kept separate from virgin naphtha during the cracking process.
Mechanical recycling is not included in the LCA because the CGF points to existing studies that demonstrate that mechanical recycling is less energy-intensive and more environmentally beneficial compared to Py-CR. Therefore, the CGF emphasises that the LCA is not intended to point to Py-CR as a "silver bullet" – it instead aims to demonstrate the potential of scaling Py-CR where energy incineration is currently being implemented, with the goal of reducing GHG emissions.
Discussing the LCA, Llorenç Milà i Canals, PhD, head of the Life Cycle Initiative Secretariat at the United Nations Environmental Programme, comments: "It is crucial to consider all potential environmental impacts across the life cycle of production and consumption systems when assessing technologies such as chemical recycling of plastics.
"A specific challenge with relatively new technologies is including the chemical composition of discharges, emissions and wastes from facilities, along with the need for additional pollution control equipment and management; these should form part of the assessment.
"Life Cycle Assessment is the standardised tool to do just that, assuring the necessary scrutiny by experts and interested parties; the Consumer Goods Forum has initiated a very useful process to shed light on many of these aspects in this report."
The principles
With the LCA pointing to the potential of scaling Py-CR technologies, the CGF has developed a set of principles intended to ensure this is done safely and with the best possible environmental, social, and economic outcomes.
There are six principles in total:
Source of input materials – Py-CR should increase overall recycling volumes by only including input material that would not otherwise be recycled, and thus should not detract from mechanical recycling input streams.
Material traceability – recycled content from Py-CR should be traced from plastic waste inputs through to recycled plastic using a mass balance protocol. This should avoid double-counting to ensure integrity.
Process yields – the priority of Py-CR processes should be plastic-to-plastic applications, with a clear and consistent minimum threshold for end-to-end yield based on standardised methodology. Other recycled outputs (such as bitumen, asphalt, and waxes) and non-recycled outputs like fuels should not be a priority. In addition, fitting with the second principle, energy carbon outputs should not be counted as part of a mass balance assessment when tracing materials.
Environmental impact – there must be credible evidence that the life cycle impact of chemically recycled plastics is equivalent to or lower than fossil fuel-based virgin plastics in a comparable system. The CGF commissioned and published the LCA already discussed based on the impetus of this principle.
Health and safety – the emissions and pollution from chemical recycling processes should be properly managed, with the view of safeguarding the health and safety of people and the environment.
Claims – there must be credible communication and transparency from companies selling, and in turn by companies purchasing, plastics produced by chemically recycling. This should be communicated clearly to support consumer decision-making.
Alongside these principles, the CGF says it is working to create and communicate a clear vision and narrative on Py-CR, which includes setting out consistent methodologies and definitions, and providing credible evidence on the potential of these technologies. The organisation is looking to engage critical stakeholders and address concerns, as well as build a picture of demand for PE and PP from Py-CR to offer confidence to petrochemical players, technology developers, and investors.
By 2025, the CGF is aiming for Py-CR to reach an industrial scale. By 2030, the organisation has set the goal of enabling the recycling of flexible and hard-to-recycle plastics into food-grade recycled plastics at scale, with the intention of helping to meet recycled content targets set by many companies and governments. The organisation suggests that this could help to meet the demand for recycled, food-grade PE and PP, which currently exceeds demand.
CGF also acknowledges the limitations of Py-CR, in line with some of the drawbacks outlined in the LCA. This includes the difficulty of yielding food-grade and high-quality plastics from the process, the potential build-up of contaminants that can decrease the quality and lead to losses, and the challenges of handling, sorting, and processing post-consumer plastic waste.
Overall, the CGF says that Py-CR should be a complementary technology – working alongside mechanical recycling rather than seeking to compete with it.
On the one hand, these principles closely align with those published by the WWF earlier this year, which also stipulate that chemical recycling should not detract from proven approaches to managing plastic pollution and should not compete for feedstock with mechanical recycling. WWF concurs that chemical recycling should be complementary. The group also highlights the need to safeguard communities and environments when developing chemical recycling processes.
However, WWF's position is that recycling alone cannot solve the plastic pollution crisis and that there should be particular caution exercised when implementing new, untested technologies like chemical recycling. Erin Simon, head of plastics and business at WWF-US, explains: "The broken system that we have today, that's not working for existing mechanical recycling, we're going to have those same challenges, because it's a shared system that requires infrastructure, policy, and a steady stream of investment to keep the doors open.
"Those are the things that mechanical recycling is already faced with, so those don't just go away with a new technology."
The coalition reacts
The CGF's Plastic Waste Coalition of Action includes Amcor, Barilla, Colgate-Palmolive, Danone, Ferrero, GSK, Henkel, Mars, Incorporated, McCain Foods, Mondelēz International, Nestlé, PepsiCo, Procter & Gamble, Reckitt, Tetra Pak, and Unilever.
Commenting on the LCA and position paper, Colin Kerr, packaging director at Unilever, says: "As we continue to reduce the use of virgin plastic, new technologies such as chemical recycling can help drive up recycling rates and increase the availability of food grade recycled materials.
"The principles and Life Cycle Assessment work from The Consumer Goods Forum is key to ensuring this can happen in a safe and environmentally sound way."
Barry Parkin, chief sustainability officer at Mars, shares a similar view on the publications: "Chemical Recycling is a critical complement to Mechanical Recycling as it will allow large quantities of flexible packaging to be recycled into food grade packaging. This study demonstrates that chemical recycling has a significantly lower carbon footprint than the current end of life of flexible packaging."
The CGF, like WWF, also recognises the role of reduction in managing plastic pollution, although Ignacio Gavilan, sustainability director of The Consumer Goods Forum, suggests that chemical recycling should not be ruled out yet: "Our focus must be to reduce dependency on plastics and improve packaging design, curbing the use of problematic materials and excess packaging. But where plastic packaging cannot be eliminated, reused or recycled using other methods, chemical recycling has a role within the circular economy.
"Used in the right way as part of a holistic approach, chemical recycling can contribute to a world where no plastic ends up in nature."
Sander Defruyt, lead of the new plastics economy at the Ellen MacArthur Foundation, concludes: "Recognising that reduction and reuse of packaging should be prioritised, and recognising the limitations of the technology, the paper puts forward the industries' position on what role Pyrolysis CR could play in the transition to a circular economy for plastics and what key principles and boundary conditions it should adhere to."