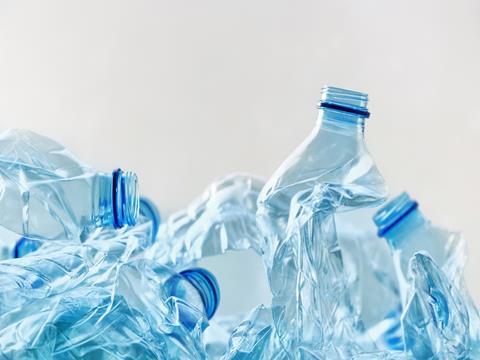 The European Fruit Juice Association (AIJN), Natural Mineral Waters Europe (NMWE), UNESDA Soft Drinks Europe, along with two NGOs, have renewed calls for the EU to implement a policy framework that would give the "right of first refusal" on food-grade recycled materials to beverage producers. In a new position paper, the organisations say that such a mandate, along with collection and a harmonised definition of high-quality recycling, is necessary to ensure the industry can meet its circularity commitments.
Beverage industry demand for rPET
Based on a recent report produced by Eunomia for Zero Waste Europe, beverage bottles account for 47% of overall PET demand in the EU. The report currently estimates a 50% recycling rate for both beverage and non-beverage PET bottles, determined by measuring the weight of PET post-washing and flaking against the weight of PET bottles placed on the market, which includes caps, lids, and labels.
In addition, the report suggests that, at present, PET bottles are made up of 17% recycled content. This recycled content represents 31% of the total PET flakes derived from bottles annually, with the report noting that the rest is used in other applications like textiles – and "considered a loss from the circular bottle stream".
The supply situation for rPET seems to be tightening across applications. Earlier this year, ICIS reported "record high" prices for rPET, alongside additional challenges such as increasing contamination of bales. For the beverage industry, this could mean contending with both premium prices and reduced availability of food-grade recyclates due to declining quality.
In December 2021, AIJN, NMWE, and UNESDA Soft Drinks Europe released a statement claiming that while the beverage industry helps to fund the collection and recycling of PET bottles, it does not receive enough of the recycled materials derived from these processes to facilitate bottle-to-bottle recycling, in part due to the downcycling of bottles into applications like clothing and toys that can end up in landfill after use.
At the time, the organisations proposed the solution of a first refusal mechanism in the revised EU Packaging and Packaging Waste Directive (PPWD) to ensure the beverage industry's access to food-grade recycled PET. This is ostensibly essential to meeting targets such as the 30% recycled content by 2030 mandate for beverage bottles set out in the Single-Use Plastics Directive (SUPD).
Now, alongside Changing Markets Foundation and Zero Waste Europe, AIJN, UNESDA Soft Drinks Europe, and NMWE are reinforcing previous calls for EU policymakers to introduce a system that will ensure efficient waste collection, closed-loop recycling, and access to recycled content for the beverage industry.
Closed-loop collection
According to the organisations, the EU Circular Economy Action Plan is aiming to facilitate the transition to a circular economy by altering how materials are collected, reused, and recycled, and how recycled content is then incorporated into products and industries. They add that the primary focus of this initiative should be a closed-loop, resource-efficient waste management system for all materials, including PET.
"The more closed-loop a system is, the more resource efficient it will be by delivering quality recycled materials which can be re-used multiple times for the same application," the organisations wrote in the recent position paper, published on Tuesday.
Patricia Fosselard, secretary general of NMWE, comments: ''For beverage bottles, the first elements of such an enabling policy framework already exist with the introduction of mandatory separate collection and recycled content targets in the EU Single-Use Plastics Directive.
"However, it is clear today that a number of additional policy measures are needed for beverage producers to be able to meet those EU targets and move further towards a closed-loop system.''
As such, the organisations have put forward the policy requirements they view as essential to further enhance collection within a closed-loop system.
The first policy condition is a mandatory minimum requirement for Deposit Refund Schemes (DRS), which they say is needed to achieve the EU's 90% separate collection target. Some countries have already implemented DRS, with Denmark, for example, reporting a redemption rate as high as 93% for beverage containers – with calls for other countries, such as the UK, to follow suit. A report developed by NMWE, UNESDA Soft Drinks Europe, PETCORE Europe, and Plastics Recyclers Europe estimated that 19 EU Member States will have DRS in place for PET bottles by 2025.
Notably, the same report said that, in some cases, PET trays are collected or placed in bales with PET bottles. The report cautioned that this could result in reduced recyclate quality, which can undermine its suitability for food-grade applications like beverage bottles, and so highlighted the importance of separate collection streams.
Right of first refusal
The next policy mandate presented by the organisation in the position paper is "a mechanism that grants beverage producers fair and necessary access to the recycled materials deriving from the beverage containers they put on the market and which were successfully collected".
According to the organisations, this would include a legal mandate guaranteeing "priority access" or the "right to first refusal" – seemingly meaning that beverage producers would be able to claim back recycled material derived from the PET bottles they had put on the market before any other sector.
Both this position paper and previous calls issued by the organisations emphasised concerns about recycled content derived from beverage bottles being used in other industries. Nicholas Hodac, director general of UNESDA Soft Drinks Europe, explains: ''Recent reports have illustrated that post-consumer recycled PET from beverage bottles is increasingly used by non-food sectors (textiles, automotive, etc.) to boost their environmental sustainability credentials.
"This means that bottles are being recycled ("downcycled") into other, lower grade applications. The new material created as a result of this process will no longer be recyclable for food grade applications."
This, according to Hodac, "goes against the very principle of circularity". In the EU Strategy for Sustainable and Circular Textiles, this is acknowledged in relation to sustainability claims made about textiles using recycled plastic polymers that are not sourced from fibre-to-fibre recycling processes: "Beyond the risk of misleading consumers, such a practice is not in line with the circular model for PET bottles, which are fit for being kept in a closed-loop recycling system for food contact materials."
As Hodac also notes, "it also creates an unfair situation because food and drink producers are obliged to comply with strict EU health and safety requirements for food contact material.''
Therefore, the organisations say that a right of first refusal policy would help to ensure that high-quality recycled plastics can be set aside for use in applications where food-grade standards are required, namely beverage packaging, and for which recycled content targets are being implemented over the next decade.
Alongside the SUPD's target for rPET content in beverage bottles, the organisations in the report have set "ambitious voluntary pledges". For example, UNESDA's Circular Packaging Vision includes the aim of achieving 50% rPET in 2025 and 100% in 2030, while NMWE has committed to 50% rPET by 2030. The organisations emphasise that a closed-loop system for food-grade PET, and particularly bottle-to-bottle recycling, is essential to meeting both mandatory and voluntary goals.
Defining high-quality recycling
A key part of the right to first refusal policy, the organisations explain, is "a harmonised definition of high-quality recycling and, based on this definition, a ranking of recyclability classes".
In such a hierarchy, the organisations say that the highest priority would be given to packaging that is less likely to pose issues during recycling in terms of quality. The aim of this model is to ensure further recyclability into the same quality applications, such as food contact, when reaching end-of-life.
This hierarchy would mean that a closed-loop system of rPET for beverage bottles would be prioritised over applications such as using plastic bottles as recycled polymers in textiles, which are difficult to recycle at end-of-life and often ends up in landfill or incinerated. The organisations note that this would align with the EU Strategy for Sustainable and Circular Textiles, which adds that its key industries should "prioritise their efforts on fibre-to-fibre recycling".
Joan Marc Simon, executive director of Zero Waste Europe, says: ''It is time to raise EU ambitions and define "high-quality recycling". Introducing such a definition in the EU legislation will incentivise investments in recycling infrastructure and foster resource efficiency across the whole production of products and packaging materials.''
According to the organisations, there is an opportunity to implement this recycling hierarchy, as well as the collection and closed-loop initiatives highlighted, during revisions to EU policies including the PPWD, the new Sustainable Products Initiative, the Recycled Plastics Regulation, and the Sustainable Textiles strategy.
In the position paper, the organisations conclude: "The shift towards truly circular products and packaging can only be successful if each producer invests in the design for recyclability, collection and incorporation of its own (recycled) materials, without free-riding on others' efforts.
"Food and drinks producers are already investing heavily into separate collection to enable good quality material to be recovered. It is time for everyone to play its part."