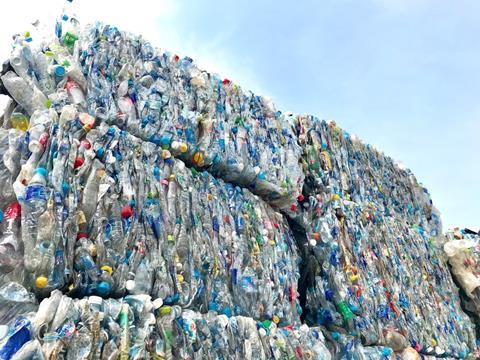 In this comment piece, Mark Victory, Senior Editor, Recycling, at ICIS, explores how price fluctuations and raw material shortages are affecting the recycling sector.
Rising energy and transport prices have seen the cost of collecting, sorting, separating, and recycling waste rise by as much as 70% year-on-year, mostly due to the energy intensity of the washing process.
Energy costs are variable from country-to-country depending on supply mix – France, for example, has seen the lowest levels of cost rises due to its heavy use of nuclear power.
While increased costs have been key factors in bale price rises since October 2021, it has predominantly been tight supply, strong demand, and structural availability shortages of sorted monomaterial bales that have been the key driver in price hikes throughout the year.
Post-consumer mixed coloured high-density polyethylene (HDPE) bale prices have increased by 344-480% in the past 12 months due to continued rising demand from the packaging sector and structural shortages of supply. PP post-consumer mixed-coloured bale prices have tripled in the past 12 months, while colourless post-consumer polyethylene terephthalate bottle bale values have more than doubled in northwest Europe.
There are multiple factors causing the current shortages, including:
Insufficient collection and sorting capacity to meet the fast-moving consumer goods (FMCG) market's growing sustainability needs
Delayed recycled polyolefin projects from 2020 coming onstream in 2021
Disruption to sorting centres caused by social distancing measures, which have lowered operating rates in the first half of 2021
Pre-existing low inventory levels
Changes to the waste input mix resulting from home working
A raft of new recycled buyers entering the market in 2021, particularly in southern Europe.
For PET, strong demand and shortages amid a scramble to hit ambitious brand recycling targets ahead of 2025 deadlines have led to increased contamination. PCB contamination levels have increased throughout 2021, with some countries seeing a 5-7% rise during the year. Working from home during lockdown has seen more trays entering the recycling stream in the UK, while in Germany, consumers started to use home appliances to carbonate their own water, reducing the amount of PET bottles they consumed as a result.
PET bale yields have also been dropping throughout 2021, with Spanish yields now around 40-45%, and UK yields estimated to be around 50%. This means recyclers must buy twice the number of bales to get the same volume of usable material compared with just a few years ago.
With a raft of new projects expected to come onstream in 2022, bale supply is expected to remain tight into next year. As a result, typical end of year destocking is unlikely to occur in 2021. Traditionally, waste management and recycling companies destock at year end to reduce working capital on Year End balance sheets and lower gearing ratios, to appear more attractive to potential investors.
Strong demand and lack of available bale feedstock supply has created shortages throughout the downstream chain and led to significant price rises across 2021. R-PP flake prices across all grades have, for example, more than doubled on average in the past 12 months. Prices of both R-HDPE and R-PP pellets are trading at record high levels.
High pellet prices are causing a shift to alternative lower quality pellet formulations among some users.
More widely, though, it is causing fundamental shifts in the industry as players explore ways to overcome bale shortages, particularly in the polyolefins market. Part of this has meant downstream players increasingly exploring, joint-ventures or acquisitions to vertically integrate up the chain. A recent example is Trinseo agreeing to acquire waste management and recycling company, Heathland, with access to bales given as a core reason for the acquisition.
Along with this, players have increasingly began exploring the use of previously ignored or economically unviable materials – such as flexibles and mixed plastic waste. Flexibles' collection capacity, for example, is expected to double in 2022 as waste managers increasingly look to sort and separate a material that previously would have wound up in reject bales, and as retail collection schemes proliferate.
New sorting capacity from waste managers and recyclers, targeting the use of mixed polyolefins waste, is also due to come onstream in 2022.
This is not the first time mechanical recyclers have explored mixed-plastic waste as a feedstock, with previous attempts considered unsuccessful because low yields and the complexity of sorting material made the process economically unviable.
Nevertheless, ongoing tight supply of mono-material bales and growing demand for recycled material have shifted the economic feasibility of using mixed plastic waste significantly.
With sharp increases in single material bale prices across 2021, ongoing structural shortages, developments in sorting technologies, and firm R-HDPE and R-PP pellet values, using mixed polyolefins waste as an input has become economically viable.
This has increased demand for mixed-polyolefins bales and added upward pressure on prices that have traditionally been involatile.
Increasingly, waste managers and mechanical recyclers are looking to extract the usable polyolefins from mixed polyolefins bales, leaving an RDF-suitable reject bale which can then potentially be sold onwards into the chemical recycling or RDF sector. RDF reject bales are currently selling at positive values for the first time in their history. This is amid increased interest from chemical recyclers, and because of increased demand for waste as a cheap source of energy given current costs.
Mixed-polyolefins bale availability is expected to further tighten in 2022, particularly in France due to new mechanical recycling sorting and treatment expected to come onstream in Q1 2022. RDF reject bale supply is also expected to tighten as an increasing number of chemical recycling - predominantly pyrolysis-based - pilot plants come onstream.
High prices for mixed polyolefins fractions and the desire to avoid competing with mechanical recyclers has meant that pyrolysis-based chemical recyclers are increasingly switching away from rigid and mixed rigid/flexible grades of mixed polyolefins. Historically, mixed polyolefins have been the preferred feedstock choice for pyrolysis-based chemical recyclers because of the need to limit polyethylene terephthalate (which oxidises, and does not depolymerise via pyrolysis), chlorine (which is corrosive), nylon and flame retardants content in its input material.