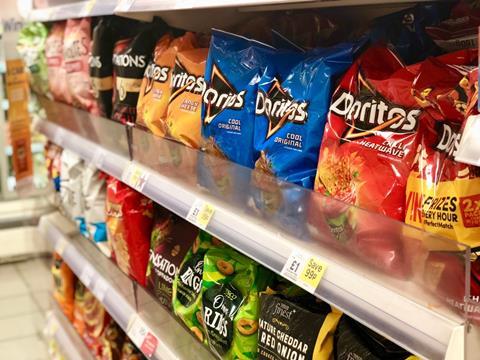 CEFLEX has announced a collaboration with UK Research and Innovation (UKRI) to co-fund research into how flexible packaging can be designed for optimal sorting and recycling, with a focus on updating the Designing for a Circular Economy (D4ACE) guidelines originally issued in 2020.
The original guidelines
The result of a collaborative effort from stakeholders across the flexible packaging value chain, the D4ACE guidelines aim to produce higher quality recycled materials, with the intention of keeping these within the economy and using them in a wider number of end markets it considers sustainable. The project aims to boost levels of collection, sorting, and recycling, drive investment, and give clarity to players across the flexible packaging value chain, with the end goal of making all flexible packaging circular.
The D4ACE guidelines focus on polyolefin-based structures, which represent over 80% of consumer flexible packaging on the European market. The guidelines include information and advice on design considerations such as materials used, barrier layers and coatings, size, shape, inks, and adhesives, with the view that designing for recyclability will aid the development and harmonisation of collection, sorting, and recycling.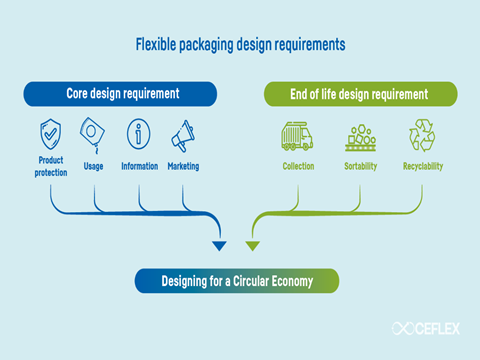 In the guidelines, CEFLEX presents a hierarchy of preference for recycling streams, with mono-material streams of PE and PP first, followed by polyolefin mixes and then mixed plastics including (but not exclusively) flexibles. The organisation only recommends mixed plastic streams where the stream types higher in the hierarchy cannot be achieved. In 2020, CEFLEX released further guidance saying that it "strongly recommends" the use of recyclable mono-materials for flexible packaging and, where possible, packaging should be redesigned with this in mind.
While mechanical recycling processes for flexible polyolefin packaging are already "proven and operated on a commercial scale" in some European locations, according to CEFLEX, a "significant expansion" of this infrastructure is needed to increase the volume and quality of recycling.
However, CEFLEX notes that compromising on the protective qualities of packaging to improve recycling rates "will typically have a higher cost and associated environmental impact than producing flexible packaging which is not recycled by which delivers the required product protection".
The next phase
According to CEFLEX and UKRI, an extensive testing programme will now be implemented as part of the collaboration announced today, drawing on a network of leading laboratories, universities, and industry experts to generate data for the improvement of the D4ACE guidelines.
The results of the study are intended to deepen understanding of specific design elements and their impact on sorting and recyclability. The groups say that this will further increase levels of collection, sorting, and recycling for flexible packaging, as well as improve the quality and quantity of recycled materials.
Graham Houlder, project coordinator at CEFLEX, explains: "By strengthening our efforts through collaboration with UKRI and increasing understanding of exactly how different materials and elements in a flexible packaging structure affect sortability and recyclability, we can address essential gaps in knowledge and apply this in practice."
Liz Morrish, design lead at CEFLEX, adds: "During the development of the initial D4ACE guidelines, a number of knowledge gaps were identified that need to be filled and supported by more testing and data.
"This phase 2 testing programme is a catalyst for pushing state of the art understanding forward.
"It will improve design choices by understanding how flexible packaging moves throughout end-of-life processes and generates value in a circular economy."
The UKRI has identified the CEFLEX design guidelines as an important part of the Smart Sustainable Plastic Packaging (SSPP) Challenge, a five-year programme that was granted an investment of £60 million by the UK government. The SSPP Challenge has committed to "a dramatic reduction in plastic waste entering the environment by 2025", with a focus on enabling design and technology innovations, encouraging collaboration, and sharing knowledge.
Paul Davidson, director of the SSPP Challenge, says: "Films and flexibles are the final frontier in the drive towards more sustainable plastic packaging, and higher recycling rates will be essential if we are to achieve the UK Plastics Pact's 2025 targets.
"I am delighted that SSPP Challenge funding will support and accelerate the testing and trials needed to provide the underpinning evidence base for CEFLEX's Designing for a Circular Economy guidelines."
To help prepare the programme, a peer review of existing data will be conducted by Queens University Belfast, University of Maastricht, and University of Gent. The peer review will seek to ensure the testing programme is targeted and effective at building on current understandings and data.
In addition, testing will be done to better understand flexible packaging structures that are not currently widely sorted and mechanically recycled in existing PE, PP, and mixed-polyolefin waste streams. CEFLEX stated that this would be a key area of research during Phase 2, with the aim of establishing how these flexible packaging structures can be technically sorted and recycled.
Overall, the project will be co-funded with up to £500,000 being made available by UKRI. This will reportedly be matched by CEFLEX stakeholder contributions.
Further proposals and plans from the flexible packaging value chain
Mars, Mondelēz International, Nestlé, PepsiCo, and Unilever yesterday announced a joint commitment to increasing investment with the goal of accelerating the transition toward a circular economy for flexible packaging in Europe. The initiative is calling upon the European Commission, as well as national governments, to incentivise circularity in packaging and to simplify disposal instructions for consumers to better support the collection of flexible packaging.
Like CEFLEX, the initiative emphasises the importance of the mandatory collection of all flexible packaging in Europe, adding: "Mandatory collection of all flexible packaging should be considered as soon and as widely as possible, in the upcoming revisions of EU packaging and waste legislations."
In January 2021, PepsiCo revealed plans to eliminate fossil-based plastic in its crisp bags by 2030, which will involve brands such as Lay's and Doritos. According to the company, it uses flexible packaging because it is lightweight and offers good product protection, and thus it intends to keep flexible packaging in its portfolio while making design and infrastructure changes. This will apparently include incorporating a greater proportion of recycled plastic like PP to create a mono-material flexible packaging structure, accounting for CEFLEX's guidelines.
Last year, a group of organisations that represent the European flexible packaging value chain – including CEFLEX – co-signed a position paper claiming that existing infrastructure was not yet ready to recycle flexible packaging at the capacity expected of EU initiatives, such as a proposed blanket threshold of 95% recyclability. The group says revisions to the Packaging and Packaging Waste Directive (PPWD) should avoid excluding packaging types, particularly flexibles where components like barrier layers can make up more than 5% of the packaging unit, "by definition rather than practice", according to Houlder.
In addition, the position paper called for the PPWD revisions to refer to D4ACE guidelines to better align the value chain in achieving improved recycling rates for flexible packaging. The group says that any definition of 'recyclability' must account for the properties of flexibles and their importance to applications like primary food packaging, while also acknowledging the potential of emerging technologies like chemical recycling in supporting recycling rates.
As for CEFLEX, the group is planning to develop a next-generation plant based on its Quality Recycling Process (QRP), a mechanical recycling solution for the production of high-quality recycled PP and PE for non-food contact film applications from household waste. The aim is to combine existing technologies such as advanced sorting techniques, hot washing, extrusion, and deodorisation in one site,
Discussing CEFLEX'S QRP, Houlder told Packaging Europe: "Based on these trials and demonstrators, we conclude that the Quality Recycling Process offers a promising way to mechanically recycle a higher proportion of PE film and mixed Polyolefins (PO flexibles) bales than is currently possible or practiced today – with an emerging business case for investment in infrastructure to support it.
"CEFLEX believes QRP can be an important asset in achieving the circular economy for flexible packaging materials."
CEFLEX is hoping to complete and commercially launch the recycling plant by 2023.