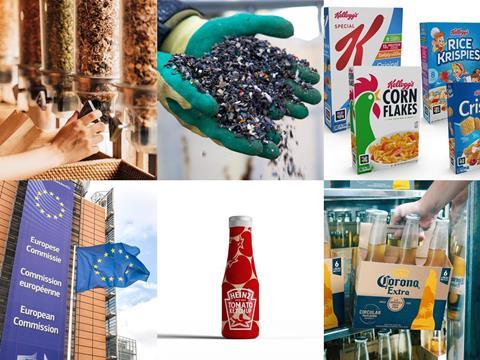 What will 2023 hold for the packaging industry? In this article, the Packaging Europe editorial team gives its predictions on the biggest challenges the sector will face during the year ahead.
Creating a sustainable future for packaging
The proposed revision of the EU's Packaging and Packaging Waste Directive, released on 30th November 2022, crystallized an existing sense that the European regulatory landscape is joining the dots between the European Green Deal, its circular economy plans, waste legislation and carbon agenda to create a more coherent, clear agenda than ever. And with clear signals about the business opportunities and risks.
It's clear that corporates face a more concrete and urgent set of demands in terms not just of recyclability of packaging (which will be subject to more prescriptive criteria) and minimum recycled content for plastics. Greater regulatory intervention in the areas of reuse and refill is another feature, which I'd argue industry has not yet fully woken up to.
As Mattia Pellegrini (head of DG ENV unit at the European Commission) shared at the Sustainable Packaging Summit in Lisbon last September, mandatory reuse targets will be introduced, probably featuring increasing levels between now and 2040. Reuse targets will be set according to primary, secondary, tertiary packaging and also per sector.
Together, these represent a gear change in environmental expectations of consumer packaged goods in Europe – and as progress toward coherence in global regulation is made through the UN Treaty on plastic pollution, we should regard this as the blueprint for worldwide advancement.
How do we tackle the barriers to reuse/refill? How can we accelerate progress and investment in circular materials? How can all stakeholders align and collaborate more effectively to optimize sustainable transformation? These will be fundamental questions for packaging in 2023.
They will also be central to our mission in helping to navigate the value chain toward a sustainable future for packaging, in all the initiatives and discussions culminating in the next edition of the Sustainable Packaging Summit (November 2023 in Amsterdam). Tim Sykes, Brand Director
Alternative packaging materials
The packaging industry has been looking for alternatives for materials made from fossil fuels.
In order to address the challenge of plants for bioplastics competing with food production, the industry is researching the use of non-food crops, such as cellulose and seaweed. Innovative technologies also focus on non-edible by-products of the production of food crops.
Development of such materials has so far been on a comparatively small scale, but in 2022, we saw some promising scale-ups and partnerships.
At our Innovation Horizon conference in Amsterdam, we heard some interesting pitches – for example from a start-up working with red seaweed, and another one extracting natural biopolymers from agricultural industry residues.
The sector has a lot of passion and drive, and we expect development momentum to gain pace in 2023.
Start-up Notpla recently partnered with packaging producer Coveris to launch seaweed-coated carton packs with grease and water-resistant properties. Collaborations like this boost scaling up, so we expect to see more developments in 2023.
Trees play an important part in reducing CO2 in the atmosphere. 2022 has seen interesting developments for alternative fiber materials.
A notable partnership was the collaboration between AB InBev & Sustainable Fiber Technologies producing a secondary packaging solution for Corona beer using leftover barley straw – a winner of our Sustainability Awards 2022.
Also, in the area of fiber-based packaging, Ukrainian start-up Releaf Paper developed a process for turning cellulose fibres derived from fallen leaves into paper packaging products. The company has been awarded a €2.5 million grant from the European Commission's EIC Accelerator 2022 programme, so we can expect the technology to be given a boost in 2023. Elisabeth Skoda, Editor at Large
Paper-based packaging
While we will not be seeing fibre-based packaging entirely replacing plastics anytime soon – or at all – we can expect a continuation of big and small brands alike migrating to paper solutions for certain applications. From what people in the know have told me, I think we may be seeing some particularly exciting technical advances in the confectionery and snacking sector over the next year. (A number of big players as Nestlé, Mars Wrigley and Ritter Sport have of course already introduced their own paper-based lines.)
We'll almost certainly hear more from the paper bottles space – Paboco's solution, which has been trialled by companies including Carlsberg, Coca-Cola and Absolut, is a notable example. This year we anticipate the roll-out of the next generation protype of this bottle which will also feature a paper closure from Blue Ocean Closures.
But there are other innovators in this space: Pulpex and Stora Enso's paper bottle solution is moving further towards full commercialization for 2023 with a partnership with Kraft Heinz on a potential paper-based ketchup bottle.
The development of more efficient – and more easily recyclable – barrier solutions for paper packaging are also ongoing and the coming year will no doubt see more examples in the field. Dispersion coatings to replace polymer-based coated board for paper barriers are an interesting area to keep an eye on, with companies such as Walki and Kemira leading the way.
Apart from enhanced material properties, machinability is also a challenge for paper packagers. This being the case, we will be looking to see increased collaboration between machinery suppliers and packaging producers to make it easier for brands to switch to these new paper solutions without compromising on performance or cost.
Innovations aside, there are still ongoing questions and controversies that the industry must look to address in the coming year and further ahead. For example: will products such as the above-mentioned paper bottles remain niche or can they really replace plastic at scale?
Even the most advanced paper solutions will still leave a certain residue of aluminium or plastic layers behind, so can the innovations currently in the pipeline really meet the huge challenge of full recyclability within the paper waste stream? We will see. Victoria Hattersley, Senior Writer
EU regulation on packaging and packaging waste
In late November 2022, the EU's long-awaited revisions to its Packaging and Packaging Waste Directive were finally revealed. But what do they actually mean for our industry, and how will the situation evolve throughout 2023?
The Directive is the cornerstone of the EU's drive towards packaging sustainability, and sets out numerous targets and requirements. It aims to deal with packaging waste, while removing barriers in the internal market caused by member states adopting different rules on packaging design.
The recently-announced revisions to the original Directive demonstrate the EU's desire to go further in order to meet its objectives of making all packaging on the EU market reusable or recyclable in what it describes as "an economically viable way" by 2030.
The key takeaway is a new target: a reduction in packaging waste by 15% by 2040 per member state per capita, when compared to 2018. The Commission says that this would lead to an overall waste reduction of 37%, when compared with alternative routes.
The revisions also focus on the banning of certain formats entirely, further implementation of DRS, and mandatory recycled content rates.
In addition, companies may have to offer a certain percentage of their products to consumers in reusable or refillable packaging, although this percentage is believed to be lower than initial estimates, following industry response to a leaked draft of the proposals.
So, where does this leave us in 2023? It's important to note that these revisions aren't final or binding – at least not yet. This year, the proposals will be presented to the EU Parliament, the EU Council, and all 27 Member States, in order for a consensus to be developed. During this process, they may be subject to change. We look forward to bringing you news and updates on this throughout the year – so stay tuned! Fin Slater, Digital Editor
Accessibility and interactivity
Accessible packaging and interactive design featured in products and as part of wider conversations around packaging design and inclusivity last year.
In a comment piece, Howard Wright, executive creative and strategic director for the UK, IE & Australia at Equator Design highlighted the need for brands to seek feedback from users and citied colour theory, font, and typeface for people who are colourblind, dyslexic, have learning disabilities or visual impairments as an example of the many variants of disability to be considered.
Lewis Moberly and Tropic Skincare developed the 'Susie Script' typeface for dyslexic and neurodiverse consumers, used in Tropic Skincare's packaging and website; Coca-Cola UK became the first beverage brand to pilot Navilens technology to help blind and partially-sighted consumers; and Mimica and UNITED CAPS partnered to create a cap to help 'visually impaired and cognitively challenged' people.
However, Liz Jackson, founding member of The Disabled List, emphasised to us that 'inclusive' packaging can often focus on mobility and blindness, and that disabled people can be erased through issues such as products not using the word 'disabled'; being too expensive; or not receiving a commercial launch. Jackson added that companies need to consider the ways disabled people have been 'hacking their own solutions for generations' when designing accessible packaging.
Hopefully in 2023 we will see more innovation in this area, and for a wider variety of disabilities and conditions. Frances Butler, Junior Journalist
Advanced recycling
Advanced recycling has been a hot topic this year, in discussion and in practice. Facilities are being planned and invested in across Europe and the US; several recent additions are attributable to Dow and its partners, although there were already over 90 plastic-oriented projects unfolding worldwide in early 2022, according to ecoprog.
As the construction of new plants continues or begins in 2023, I expect that other companies will follow suit. The EU's Packaging and Packaging Waste Directive has come under fire as its revisions apparently fail to address the downcycling of food-grade waste into non-food-grade applications, and mechanical recycling cannot produce food-safe materials in accordance with European standards – sustainability-minded manufacturers may take matters into their own hands to achieve full circularity for their packaging.
After all, as reiterated by Dr Geoff Brighty from Mura Technology, plastics are a global challenge when it comes to recycling, and beyond a general reduction in consumption, more effective recycling methods are crucial. This one isn't perfect; he admits that Mura is still looking for a means of recycling the processed gas used to heat the low-pressure boiler of its HydroPRS system, to name one example. Still, the industry's current interest in chemical solutions is irrefutable.
The rapid scaling of such processes will likely open the door to further conversations about their long-term sustainability. Papers, reports, and LCAs questioning their true benefits have already been published – WWF, for instance, fears that they could result in higher carbon emissions, potential threats to human health, and little extra benefit in comparison to their mechanical counterparts.
More recycling plants will lead to more data with which to respond to these concerns. Unless they are proven to be justified, though, the rise of advanced recycling will most likely continue into the foreseeable future. Emma Liggins, Editorial Intern