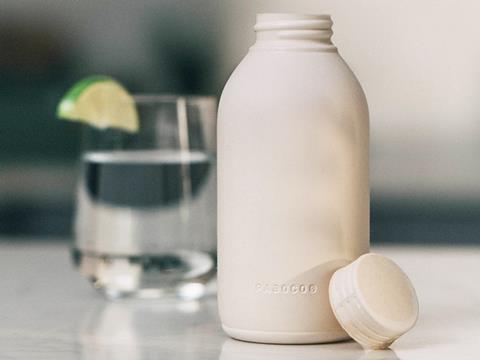 Paboco has announced the next-generation prototype of its paper bottle featuring a paper closure from Blue Ocean Closures, with the rollout for brand applications including cosmetics, home care, and still drinks expected in 2023.
A "logical" fit
In collaboration with Blue Ocean Closures, Paboco intends to include a recyclable paper closure that fits the paper threaded neck of its bottle prototype. This appears to take Paboco a step closer to achieving a 100% paper-based bottle; the first-generation prototype features a plastic closure alongside a plastic inner coating, which apparently allows the bottle to be recycled in paper waste streams – although the plastic is excluded from the recycling process unless it is taken to a particular facility by the consumer.
Blue Ocean Closures claims that its screw cap solutions are fully bio-based, with a top-seal barrier layer that can be biodegradable or adapted to any type of filled goods. Meanwhile, Paboco says its paper threaded neck allows for the cap to be screwed directly on the paper bottle, avoiding adding further processing steps or non-fibre materials.
Although the rollout of the next-generation bottle is slated to begin in 2023, Pabaco says that if the paper closure development takes longer, it will initially use standard closure solutions that can be applied directly onto the paper threaded neck. The type of closure will depend on the demands of the brand and product, but this could potentially include screw caps, pump dispensers, or peel-off lids.
Tim Silbermann, product development manager at Paboco, explains: "We are minimising plastic content with every development step, and to bring in a fibre based cap is the logical next step. The combination, our paper bottle and this closure looks and feels amazing."
Florian Müller, CTO at Paboco, adds: "We at Paboco are very proud to share the next generation bottles with a fitting fibre closure. This sets another milestone in our defined development journey towards a fully fibre-based bottle in every hand."
Plastic coating remains – for now
Paboco's paper bottle prototype will continue to feature a polyethylene (PE) coating on the inside of the bottle. The company claims that it has been focusing on the application method of the barrier coating, which apparently makes it suitable for products that need a good water vapour barrier.
The company adds that it will aim to replace the PE barrier with a biobased version in the future, as part of its goal to create a fully biobased and recyclable bottle. Currently, the company claims that the thin PE coating is a common barrier material for paper in the recycling stream.
Additionally, further development of the barrier will reportedly address the challenge of carbonated beverages and more sensitive products. The goal is to ensure a continuous layer of coating material is applied across the inside surface of the bottle without voids that can trap liquids.
According to Müller, "Next, we will start up our developed coating line and build manufacturing equipment to enable mass production for market introduction in 2023." Pabaco allegedly has its first coating line in place, which will enable the production of more bottles for quality testing by its brand partners.
Pabaco intends for cosmetics, home care, and still drinks to be some of the first-to-market applications for the next-generation bottle featuring the fibre-based closure. The company notes that it will also be appraising other potential applications for the new prototype.
Partners of Pabaco include The Coca-Cola Company, which set out to trial the first-generation prototype with the plastic lining and cap in Hungary in the summer of 2021, and Absolut, which is planning to conduct a pilot of the bottle in just over a year. P&G also has plans to trial a paper bottle for its Lenor brand in Western Europe this year. It is not yet clear whether the newly announced, next-generation prototype from Pabaco will now be used in these upcoming trials.
An expanding segment
The Pulpex consortium has also developed a proprietary paper bottle technology, which is reportedly 100% PET-free and recyclable in standard paper waste streams. The bottle features a spray-on coating inside that allows it to hold liquid products, including those that contain surfactants, fragrances, and other active ingredients, while BASF has partnered with Pulpex on food-grade barrier technologies.
Unilever is set to debut the Pulpex bottle in Brazil in 2022, with the aim of expanding the rollout to Europe and other countries soon after. The Estée Lauder Companies last year announced that it was joining the Pulpex consortium with the intention to explore how Pulpex could be scaled across its brand portfolio, which includes Estée Lauder, Clinique, DKNY, and Michael Kors.
Meanwhile, Frugalpac's Frugal Bottle is reportedly made with 84% recycled paper, with a plastic food-grade pouch inside that the company recommends removing before placing the bottle in the recycling bin. While Frugalpac says it has an EU certification to prove that its plastic liner is recyclable, it notes that it is currently unlikely to be recycled in the UK and some other countries as there is a lack of infrastructure in place for recycling flexible films. The pouch apparently offers over 12 months' shelf life to wines, one of the main applications of the Frugal Bottle, which has housed wines from Cantina Goccia and The English Vine.
Last month, HP announced its acquisition of CHOOSE Packaging, the inventor of a commercially-available, zero-plastic paper bottle. CHOOSE's patented technology can allegedly hold a variety of liquid products, with the company's existing clients including Accolade Wines, Henkel, and Malibu Rum.
Are paper bottles truly a sustainable option?
Paper bottle technologies have been controversial so far, sometimes met with accusations of greenwashing. In a recent LinkedIn poll, only 20% of Packaging Europe readers said that paper bottles have the potential to replace conventional alternatives, while 30% conceded that it was too early to say.
On the sustainability credentials of paper bottles, Sohrab Kazemahvazi, senior vice president for formed fibre at Stora Enso, one of Pulpex's partners, told Packaging Europe that Life Cycle Analysis (LCA) considering the paper bottle's complete lifecycle from manufacture through to distribution gave a carbon footprint 90% less than for glass and 30% less than for PET. Malcolm Waugh, CEO at Frugalpac, gave similar figures for the company's paper bottle solution: an 84% lower carbon footprint than a 440g imported glass bottle and a 34% lower carbon footprint than a bottle made from 100% recycled plastic.
In addition, Pabaco says it will be updating its LCA to show "what paper bottle production looks like at its starting scale", and will apparently share this "as soon as it is final". The consortium recently joined the 4evergreen alliance, adding that it is committed to the group's goal of raising the overall recycling rate of fibre-based packaging to 90% by 2030.
According to Jonathan Wragg, owner of CAP Environmental, notes that "a lot of what is coming to the market isn't new, it just didn't have a profit-making marketplace until now" – with consumers becoming more aware of issues like plastic pollution in marine environments, pushing up the demand for plastic-free packaging alternatives.
Wragg says that the question of whether these technologies are greenwashing isn't simple, often split by whether someone has a vested interest in the paper industry or the plastic industry. For consumers and packaging professionals alike, Wragg also identifies confusion over the loopholes of particular technologies, such as a "hidden layer" of plastic or a plastic cap.
Overall, Wragg calls for more investment in recycling technologies as we transition to novel material compositions: "Changing from a plastic bottle to a paper bottle may reduce the plastic waste but it won't reduce the waste. You're just swapping out one material for another." Ultimately, he concludes that companies need to be clear about if and how paper bottles can be recycled, and to avoid embellishing claims or manipulating data during marketing. However, Wragg says this is not an issue unique to the paper bottle industry – for all packaging producers, "clarity is the only way to stop greenwashing".