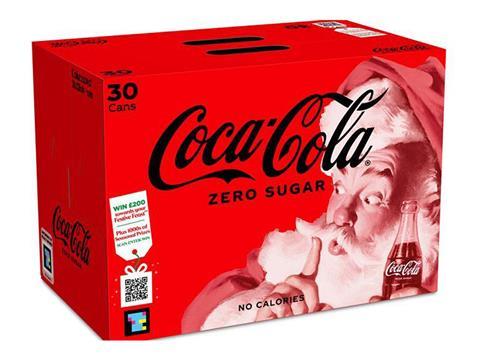 Coca-Cola has rolled out NaviLens codes across 24x330ml and 30x330ml packs of its Christmas can multipacks, which can be scanned with a mobile phone camera from distances of up to four metres to help blind and partially sighted consumers, and are readable even when unfocused.
The company says it is the UK's first beverage company to launch on-pack technology for visually impaired shoppers. This follows a successful pilot and roll out of the technology by Kellogg's (reported in the AIPIA newsletter in June 2021) and Aunt Bessie's, who rolled out packs with NaviLens codes in September 2022.
NaviLens is similar to a QR code but can be detected in a fraction of the time and up to three metres away. A smartphone can detect the optic, and playback information to the user. Coca-Cola Europacific Partners (CCEP) has incorporated the technology onto large Christmas can multipacks. The codes will feature on the cardboard outers.
Marc Powell, RNIB's Accessibility Innovation Lead, said: "People with sight loss should have the same access and choice as our sighted counterparts, but currently, important information on packaging can often be in very small print, making it difficult or impossible for us to read. Technology such as NaviLens is a game changer and allows blind and partially sighted people to independently access key information on packaging.
"This pilot with Coca-Cola, the first beverage company to launch NaviLens on its packs, highlights how big brands can put accessibility at the forefront of design and packaging decisions and be a real catalyst for change," he added.
Martin Attock, vice-president of commercial development at CCEP GB, said, "We are proud to be working with NaviLens this year to make our packs and the Coca-Cola brand more inclusive so everyone can enjoy their favourite beverage. This technology is making a huge difference to as many as two million people in the UK who are currently visually impaired."
Festive-themed sharing packs of Coca-Cola Original Taste, Coca-Cola Zero Sugar and Coca-Cola Zero Sugar Cherry are in store and feature the Sundblom Santa Claus to drive standout on-shelf. Canned multipacks and large PET bottles will carry QR codes offering shoppers the chance to win pre-loaded 'Festive Feast' gift cards worth £200 from Love2Shop – accepted by supermarkets, food aggregators, restaurant chains and more. There are 1,000 gift cards up for grabs.
This article was created in collaboration with AIPIA (the Active and Intelligent Packaging Industry Association). Packaging Europe and AIPIA are joining forces to bring news and commentary about the active and intelligent packaging landscape to a larger audience. To learn more about this partnership, click here.