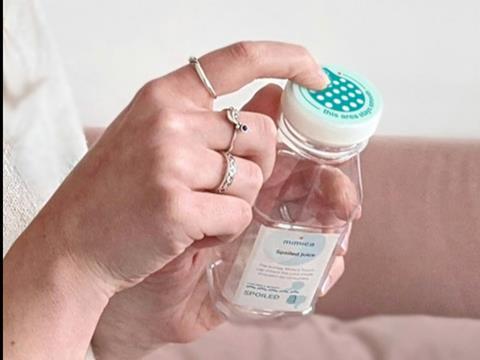 UNITED CAPS and Mimica have collaborated on a cap which is reportedly an accessible freshness indicator for all types of perishable products. The project aims to reduce food waste and increase consumer food safety.
UNITED CAPS CEO Benoit Henckes said: "We view this innovation from Mimica as a game changer, one that has a profound effect on how caps are used, their contribution to the reduction of waste and carbon emissions and their ability to drive purchase."
Apparently, the concept for Mimica TOUCHCAP began as a design project for Mimica's founder Solveiga Pakštaitė, to make expiry dates inclusive to visually impaired people, before the realisation that expiry dates drive large amounts of food waste.
According to the companies, she wanted to find a way to create a label that provided real-time information about the condition of food but could also be easily accessible to the visually impaired and cognitively challenged. The result was Mimica TOUCHCAP, a freshness indicator that changes from smooth to bumpy if a product is no longer fresh.
UNITED CAPS says through testing and experimentation, Pakštaitė calibrated a gel that avoids contact with the product but allows the label to change from smooth to bumpy based on storage conditions and food profile. The UNITED CAPS and Mimica teams allegedly developed a fully recyclable cap that does not affect bottle recyclability yet offers a way for a consumer to ensure food quality is still good.
The company says the cap is a sustainable closure that consists of a base cap and over cap from UNITED CAPS, the activator and gel invented by Mimica, a bumps tray and the top foil label that becomes bumpy as food deteriorates. The Mimica cap arrives at the filling line in two parts: The base cap, tested by filling line manufacturers and requiring minimal changes to the filling line; and the over cap applied after the filling process with a dedicated machine integrated into the production flow.
UNITED CAPS claims the top cap where the bumps will appear is dormant until it is activated by the consumer, which happens automatically when the cap is twisted open for the first time.
CEO Henckes added: "If just two days of shelf life could be added to food products, retail waste could be cut by 50%, and home waste of perishable products could be cut by 63%."
The company states the cap is currently undergoing a pilot project in the UK with an orange juice brand. UNITED CAPS say that through this pilot and other company research, it was determined that the total annual waste of juice in the UK was 121 million kilograms, with a Mimica TOUCHCAP waste reduction potential of 44%, equating to 53 million kilograms.
"Not only is reducing food waste important for the planet, but this alone also reduces greenhouse gas (GHG) emissions," said Henckes. "Estimations based on verified data predict increasing the shelf life of perishable food by even one day could save over 202.8 million tons of GHG from entering the atmosphere."
Mimica and UNITED CAPS are both finalists in Packaging Europe's Sustainability Awards 2022 with the Mimica TOUCHCAP.