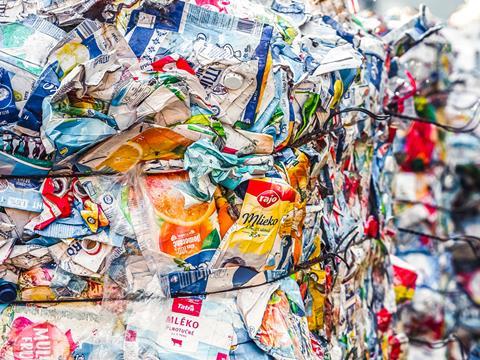 The European Commission has revealed landmark plans to introduce new targets aimed at reducing packaging waste, implementing reuse systems, and boosting the use of recycled material across all packaging formats.
The announcement, a revision of the Commission's Packaging and Packaging Waste Directive, unveils a number of proposals in these fields.
In a press release issued today, the EU justified its decision by saying that on average, each European generates almost 180 kg of packaging waste per year. Without action, it says that the EU would see a further 19% increase in packaging waste by 2030, and a 46% increase in plastic packaging waste.
The key takeaway is a new target: a reduction in packaging waste by 15% by 2040 per member state per capita, when compared to 2018. The Commission says that this would lead to an overall waste reduction of 37%, when compared with alternative routes.
A number of packaging formats will also potentially be banned outright – including single-use packaging for food and beverages when consumed inside restaurants and cafes, single-use packaging for fruits and vegetables, miniature shampoo bottles and other miniature packaging in hotels.
In terms of recyclability, the Commission proposes the setting of design criteria for packaging, the creation of mandatory deposit return systems for plastic bottles and aluminium cans, and ensuring which types of packaging must be compostable so that consumers can throw these to biowaste.
Mandatory recycled content rates have also been proposed. According to Reuters, new targets such as 30% recycled content for plastic drinks bottles by 2030, and 65% for some types of packaging by 2040 are on the cards.
However, in response to recent outcry from the industry following a leaked draft of the proposal, plans to enforce ambitious reuse targets are believed to have been watered down.
Earlier this month, companies and organisations across the European packaging value chain criticised a leaked draft of new revisions, expressing concerns that they were not based on sufficient evidence and may have led to greater environmental impacts.
Companies may still have to offer a certain percentage of their products to consumers in reusable or refillable packaging, although this percentage is believed to be lower than initial estimates.
The leaked draft proposed that 30% of hot and cold beverages, 20% of takeaway food, and 20% of alcoholic beverages should be offered in reusable of refillable packaging by 2030. In today's announcement, these numbers have been adjusted to 20%, 10%, and 10% respectively.
By 2030, the EU expects the proposed measures to bring greenhouse gas emissions from packaging down to 43 million tonnes compared to 66 million if the legislation is not changed.
In addition, water use is projected to be reduced by 1.1 million m3, and costs in terms of environmental damage to economies and societies is estimated to be reduced by €6.4 billion, relative to the 2030 baseline.
The next step is for the proposals to be presented to the EU Parliament, the EU Council, and all 27 Member States, in order for a consensus to be developed. The proposals are, of course, subject to change during this time.
Industry responses to follow…