The next entry in our Pre-Commercialized Sustainability Awards, nominated in the 'Recyclable Packaging' category, is a collaboration between AB InBev & Sustainable Fiber Technologies (Belgium) - a secondary packaging solution for Corona beer using leftover barley straw.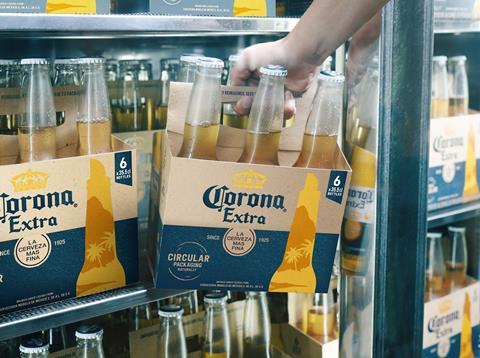 You're a finalist in the Sustainability Awards 2022. Congratulations! To start off, could you summarize your entry in less than 50 words?
The barley pack is a radical packaging solution. By upcycling an agricultural co-product, we created a new type of packaging carton using a new technology and leveraging a new novel straw pulping method, developed by Sustainable Fiber Technologies using surplus barley straw to create a high-resistance carton.
Why do you think the judges were impressed with your entry?
Not only are we using a product that could otherwise be discarded, we are also using a new technology and are working together with partners to come to sustainable solutions for our consumer demands. The pack itself is also recyclable (as per standard cardboard). We are upcycling straw and recycled fibers to create this new pack.
Tell us about what is innovative about your project and/or about its impact on packaging sustainability.
We're already using what's available to create a sustainable and circular solution. No virgin trees were used for the packaging, and we are upcycling straw fiber and recycled fibers to create this pack. In addition to the circularity benefits, this new packaging solution can provide value to local farmers. It could potentially create a new opportunity. Farmers in markets where the pack exists will be able to sell the straw and help create a micro-economy around the collection, transportation and delivery of the biomass material across the supply chain.
When and how do you intend to launch/commercialize this innovation?
The pilot was successful and with the learnings we are at the moment fine-tuning the packaging recipe and testing at scale, aiming to have a solid global roll-out of this solution by 2024.
What do you see as the key demands, challenges and opportunities in relation to renewables in packaging?
Corona has the ambition to reduce its environmental impact and keep waste out of Nature. Its sustainability strategy is based on circularity and on replacement of hard-to-recycle plastics in its supply chain. The Barley Pack is a great example of how the brand is supporting circularity – the packaging is made out of the combination of recycled fibers and upcycled barley straw, which in some geographies would be burned. With this new recipe, the target is to reduce the needs of virgin tree-based resources for the production of packaging materials, while incentivizing local recycling chains and ultimately bringing economic incentives to barley farmers. By scaling up this solution, we also hope to incentivize the replacement of hard-to-recycle secondary packaging across industry, preventing plastic from getting lost for centuries in the environment. As any new packaging material, the biggest challenges rely on 1) the development of the right recipe that can guarantee the appropriate product usage while reducing its environmental impacts, 2) the development of a proper (new) supply chain to allow for this packaging to reach scale in the market.