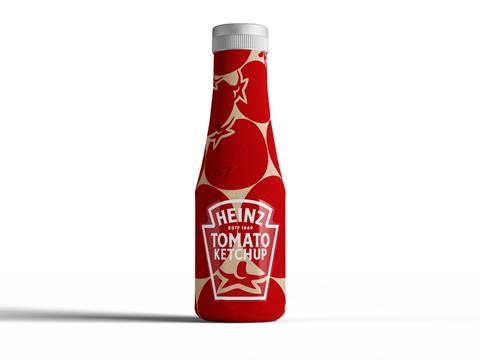 The Kraft Heinz Company has today announced plans to partner with Pulpex to develop a prototype paper-based bottle for its HEINZ Tomato Ketchup range.
Kraft Heinz and Pulpex say they will develop the prototype bottle to test how the solution functions for the company's condiment packaging, as well as for other packaging formats in the future. The next step in the process will reportedly involve assessing the performance of the prototype before testing with consumers.
By 2025, Kraft Heinz is aiming to make all of its packaging recyclable, reusable, or compostable. The company has previously introduced recyclable caps for its plastic squeezy sauce bottles, which it adds contain 30% recycled content in the EU. According to Kraft Heinz, its partnership with Pulpex will be the latest initiative to drive progress toward its sustainable packaging goals.
Miguel Patricio, CEO of Kraft Heinz, comments: "Packaging waste is an industrywide challenge that we must all do our part to address.
"That is why we are committed to taking steps to explore sustainable packaging solutions across our brands at Kraft Heinz, offering consumers more choices.
"This new HEINZ bottle is one example of how we are applying creativity and innovation to explore new ways to provide consumers with the products they know and love while also thinking sustainably."
Scott Winston, CEO of Pulpex, adds: "We are delighted to work with HEINZ to bring our patented packaging technology to such a famous name in food and are excited about the potential of this collaboration.
"We believe that the scope for paper-based packaging is huge, and when global household names like HEINZ embrace this type of innovative technology, it's good news for everyone – consumers and the planet."
One of the major challenges facing the paper-based bottle industry, led by Pulpex and its competitor, Paboco, is the lining used to protect the contents of the bottle and maintain the integrity of the bottle material. These linings are often made from plastic, which can disrupt the recycling process.
Pulpex is collaborating with BASF to develop proprietary, food-grade barrier coatings for its paper-based bottles, with the companies claiming that the coatings will enable the bottle to still be considered PET-free. Stora Enso, which supplies the formed fibre for Pulpex bottles, notes that the coatings are sprayed on internally and "designed to be compatible with the products they are holding". There is no confirmation yet of what lining material the prototype Pulpex bottle for HEINZ Tomato Ketchup will use.
While Kraft Heinz says that the paper used in the prototype bottle will be made from 100% sustainably sourced wood pulp, it is unclear how the companies intend for the bottle to be disposed of due to the potential lining. The Absolut paper-based bottle developed by Paboco, for example, can be recycled in some paper streams, but this means its plastic lining is not recycled.
Pulpex has previously claimed that its paper bottles can be recycled in standard paper and cardboard waste streams or will otherwise degrade in the natural environment. At present, the companies have not confirmed whether the prototype HEINZ Tomato Ketchup bottle can also be disposed of in this way, and other considerations such as the material of the cap, also unspecified, could prevent it from being fully recyclable in its first generation.
On the issue of materials, Pulpex says its current data indicates that the carbon footprint of its bottles is "materially less" than glass and plastic on a bottle-by-bottle basis. As noted by Jonathan Wragg, owner of CAP Environmental, while discussing paper bottles, there are conflicting viewpoints on the sustainability of different materials between industries, and substitutions such as plastic for paper rarely reduce or eliminate the amount of waste produced.
In the absence of life cycle assessment data, it is difficult to know whether the CO2 emissions of Puplex paper bottles are lower at scale, rather than just at a bottle-to-bottle level. However, it is also difficult to gather data on the overall environmental performance of Pulpex paper bottles against plastic or glass alternatives until they are widely available on mainstream markets.
According to Kraft Heinz and Pulpex, paper-based bottles are expected to be widely recyclable in paper waste streams once they are in use. This nonetheless suggests that there are still barriers to overcome in scaling paper-based bottles in general, which are likely to impact how soon the Kraft Heinz prototype can be made viable and commercially available.
Rashida La Lande, EVP & global general counsel and chief sustainability and corporate affairs officer at Kraft Heinz, concludes: "We hope to bring this bottle to market and to be the first sauce brand to provide consumers this choice in their purchasing decisions, as many consumers today are looking for more sustainable packaging options.
"We're eager to continue discovering more sustainable packaging for our beloved and iconic brands."