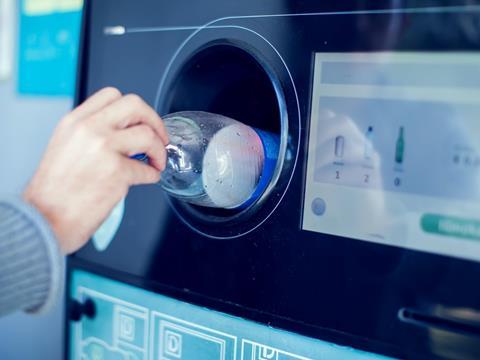 With over 40 states and countries having deposit return schemes (DRS) in place, and more set to follow in the coming years, TOMRA says that such systems will play a key role in boosting collection rates, improving the quality and quantity of recycled materials, and helping companies to adhere to legislation on plastic waste. What can DRS offer governments, companies, and consumers now and in the future?
The current DRS landscape
"A deposit return system (or deposit return scheme or DRS, known as a container deposit scheme or bottle bill in some parts of the world) motivates people to recycle by placing a small deposit on the sale of beverage containers, which is refunded when consumers return the empty containers for recycling," explains Wolfgang Ringel, senior vice-president of group public affairs at TOMRA, a company that works in 40 deposit markets.
Some European countries have been running successful DRS for years. Sweden's DRS, which is operated by Returpack, was first launched in 1984 and reportedly captures 85% of target materials, which includes aluminium cans and PET bottles. Norway, Finland, and Denmark are likewise considered pioneers of DRS – with the latter's redemption rate of 93% for drinks containers being hailed as a key example to follow in an open letter addressed to the UK Government from a group of cross-party politicians, NGOs, and academics.
Meanwhile, Germany launched its DRS in the early 2000s, but this year expanded the system to include beverage types that have previously been exempt, including alcoholic beverages and juices sold in one-way plastic packaging and cans, and milk-based mixed drinks in cans. TOMRA suggests that this expansion could result in approximately 85,000 tonnes of additional plastic and aluminium being collected.
According to TOMRA, the last decade has seen a significant expansion of DRS. While return and reuse schemes for containers are not necessarily new – historical versions of such systems have been present in the UK, for example, since at least the 19th century – DRS are increasingly becoming part of government policies to reduce or eliminate packaging waste.
In January 2022, Slovakia became the 11th European country to launch a DRS, which will be overseen by Sensoneo. In the first five months, the scheme reportedly facilitated the return of 100 million plastic bottles and metal cans. Latvia has also gone live with a local DRS this year and uses TOMRA's reverse vending technology to automate the collection of beverage containers.
Ringel adds: "Elsewhere, Australia, which already has multiple state-level DRSs in operation, will become the first entire continent to operate a DRS in all jurisdictions, with Tasmania and Victoria recently committing to establish deposit systems.
"In the US, nine states proposed adding a new bottle deposit system in 2021 and all ten states with existing deposit systems filed legislation to update their programs to be more effective. The Canadian province of Quebec recently committed to modernizing its existing deposit system in several ways, including adding deposits to popular beverage categories and making the deposit value more meaningful.
"Singapore, Jamaica and Guadeloupe are also having open conversations about DRS."
TOMRA claims that, if implemented, upcoming plans to create or update DRS could give nearly 600 million people access to DRS for recycling empty beverage containers. This would apparently be double the number of individuals covered compared to 2018, when 290 million people were estimated to have access to DRS.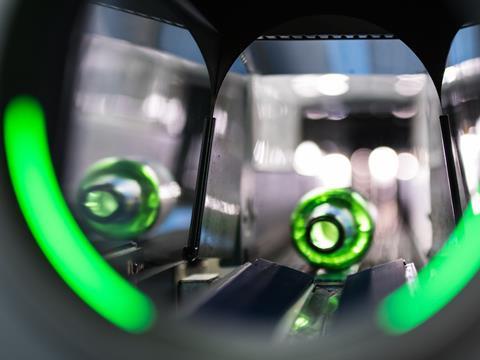 Policy pressure
TOMRA attributes the expansion of DRS partially to policy shifts. According to Ringel, "the collective behavioural and political shifts of governments, policymakers and consumers, combined with the environmental impact of plastic pollution, have created a demand for improved waste handling systems to be introduced."
TOMRA says that Romania, Turkey, Greece, Malta, Portugal, Ireland, and Scotland have all passed legislation that will see DRS for plastic packaging created over the next few years in response to the EU's Single-Use Packaging Directive (SUPD), which was adopted in 2019. The SUPD will require EU member states to separately collect 90% of plastic beverage containers by 2029.
In addition, the SUPD will require beverage bottles to be made from 30% recycled PET by 2030, which representatives from the European beverage industry warn will require higher collection rates and a closed loop system to achieve. Jean-Pierre Deffis, president of the European Federation of Bottled Waters, says that "a well-designed DRS can greatly help deliver" on the objectives of the SUPD and has urged the EU Commission to introduce "guiding principles for DRS". UNESDA Soft Drinks Europe similarly expressed support for DRS in its review of the EU Packaging and Packaging Waste Directive.
"Currently, beverage producers are struggling to reach commitments to manufacture containers with more recycled content – because there is a shortage of supply of the high-quality, food-grade material that can be used for this purpose," Ringel says. "The separation of container materials in a DRS reduces contamination from other types of household recycling or waste, where such contamination makes containers more complex or costly to recycle."
On a more global scale, a resolution to implement a legally-binding treaty on plastic pollution was backed by 175 nations and adopted at the UN Environment Assembly in March 2022. More than 70 organisations, including TOMRA, The Coca-Cola Company, Mondelēz, Nestlé, Procter & Gamble, PepsiCo, and Unilever, released a statement calling for the treaty before the Assembly. The treaty is set to be delivered by the end of 2024 and is likely to include both legally binding and voluntary approaches.
Other regulatory shifts identified by TOMRA include China's National Sword policy, enacted in January 2018, which banned the import of most plastics to the country. According to E360, the policy aimed to address the contaminated materials overwhelming Chinese processing facilities, and China's plastic imports fell by 99% in the year following the policy's implementation. Prior to the National Sword policy, 95% of plastics collected in the EU were reportedly sold and shipped to China for processing.
With plastic waste being classified as hazardous by the Basel Convention – which was amended in 2021 with the aim of further controlling "transboundary movements of plastic waste" – imports and exports of plastic are under increasing scrutiny. In December 2021, for example, Greenpeace, the Basel Action Network (BAN), and Zero Waste Europe contested some of Germany's plastic waste exports to Turkey, claiming the EU Member had failed to claim the waste even when it had been confiscated and deemed illegal – an apparent violation of the Basel Convention.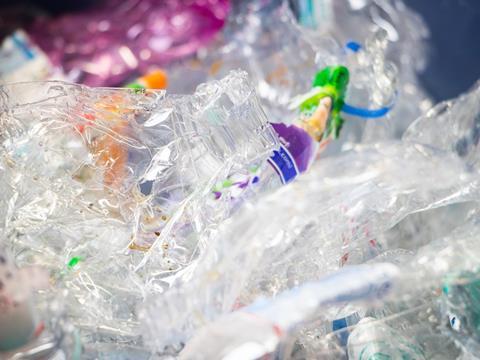 What will DRS offer?
Notably, according to the Ellen MacArthur Foundation, only 14% of all plastic packaging is collected for recycling after use. Therefore, DRS could potentially help countries that have previously exported, landfilled, or incinerated large volumes of plastic waste to enhance local collection rates, create more structured waste streams, and boost recycling, as current and upcoming policy demands.
"The negative environmental impacts associated with extracting virgin natural resources and manufacturing new containers are repeated if waste management systems are not sufficient to capture used containers and recycle them back into a closed loop," cautions Ringel.
As TOMRA says, the way that DRS separates materials during collection can help to prevent contamination and enhance closed loop recycling, wherein a material is reprocessed or recycled into the same product it was originally derived from, such as bottle to bottle. With ICIS reporting that some countries have seen a 5-7% rise in the contamination levels of post-consumer plastic bales in 2021, comprehensive DRS could be part of a wider solution to address the growing pressure on the supply of rPET and other recycled plastics – which, at present, is apparently jeopardising brands' ability to deliver corporate and legislative sustainability commitments.
TOMRA adds that the current surge in crude oil prices could lead to an increase in the price of virgin plastic. Reliance on Russian oil varies between European countries, but the uncertainty of supply due to restrictions enacted by both the EU and Russia have exacerbated already-rising costs on a global scale. The production of virgin plastics is an energy-intensive process that relies on fossil fuels, so production costs are expected to increase significantly – a factor that, according to TOMRA, could create more demand for high-quality rPET. The company says this demand could be partially met by the higher collection and recycling rates offered by DRS, implying that such systems could help to ease the escalating pressure associated with raw material costs, which has led Moody's to give some packaging companies a negative outlook rating.
At present, prices for rPET appear elevated. As ICIS explains, rising energy and transport prices will also see the cost of collection, sorting, separating, and recycling waste rise, potentially up to 70% year-on-year. This is largely linked to the energy-intensive washing process, which suggests that even if DRS enables more recycling, this may not necessarily cut costs for companies.
However, the current elevated rPET costs are also linked to demand outstripping supply. Nicholas Hodac, director general at UNESDA Soft Drinks Europe, told Packaging Europe that ramping up collection rates with "more efficient collection schemes" would be key to increasing recycling rates, bringing down the costs associated with recycled materials, and incentivising sustainability. Therefore, DRS could help to mitigate one of the factors pushing up rPET prices, although Hodac cautions that these schemes need to be implemented more quickly to meet such high demand from the beverage and other packaging industries.
Overall, TOMRA says that high-performing DRS for drink containers can achieve recovery rates of 90% and above. According to data from Eunomia, the median recovery rate for DRS in Europe is 91%, which demonstrates the potential of these schemes to significantly improve the collection of material for recycling. It will then fall to a holistic approach across the supply chain to translate collection rates into better recycling outcomes.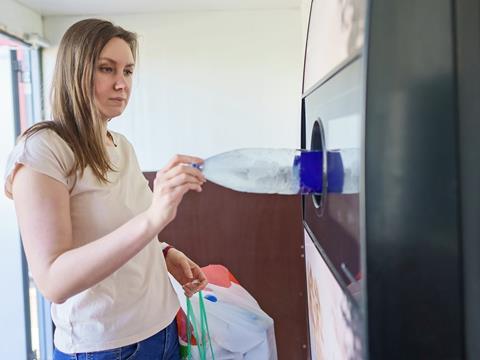 The question of engagement
DRS relies on public engagement to be successful. Consumers will need to be willing, in some cases, to pay an additional amount for containers included in DRS, which they can only reclaim by returning the packaging. In addition, they may have to go to specific sites to return the packaging, especially in the case of reverse vending machines, although TOMRA is aiming to make these as accessible as possible with, for example, ergonomic models that can fit in small supermarkets and convenience stores.
Consumer concern over plastic leakage into the environment is certainly growing, encouraging more engagement with sustainability-focused schemes. Reloopp collected data on public sentiment towards DRS between 2003 and 2020, covering seventeen countries, including those with well-established systems like Germany and those with systems still in the process of being implemented, such as the UK. The polls suggest that 82% of the public are in favour of introducing and/or expanding deposit legislation, while 84% are in favour of existing deposit legislation. Another study from Suntory Beverage & Food found that 88% of consumers reevaluated their relationship with, and the value of, plastic bottles within seven weeks of living with a DRS.
However, research from Tetra Pak suggests that some consumers are unsure about the function of DRS. In England – where a proposed DRS is expected to exclude glass despite a Defra consultation demonstrating support for an "all-in" system – 59% of people said they would be confused by DRS if it was inconsistent with household recycling collections, according to Tetra Pak. Alex Henriksen, managing director at Tetra Pak North Europe, says that "the job of industry and government" should be to make DRS as user-friendly as possible, with a range of materials included, in order to bring the public on board.
Convenience is likely to be key going forward. Research from RECOUP suggests that 56% of consumers would not travel more than a mile to return empty containers for recycling and to get their deposit back, with their preference instead leaning towards kerbside collection or returns that can be integrated with existing routines.
With high-profile brands like Starbucks, Burger King, and Coca-Cola committing to schemes that encourage consumers to return packaging for reuse via a deposit, consumers may become more used to these systems and more aware of how they can fit into everyday habits, especially in countries where DRS has yet to be implemented. It is clear from the data from trials like Tesco's Loop pilot, however, that education is needed to fully bring consumers on board and to encourage shifts in behaviour where operational optimisation is not yet possible.
TOMRA nonetheless remains optimistic about the potential of DRS, and the future of such systems. Ringel concludes: "As well as the introduction of new policies and targets driving a need for environmental initiatives, more markets are committing to introducing new deposit systems or expanding existing systems. Trade organizations and the wider public are also supporting deposit systems, with beverage producers also set to benefit from recycled content in their packaging.
"Well-designed deposit return systems have become a proven method to quickly reduce plastic waste and litter, and increase the supply of high-quality recycled material, taking us one step closer to a circular economy."