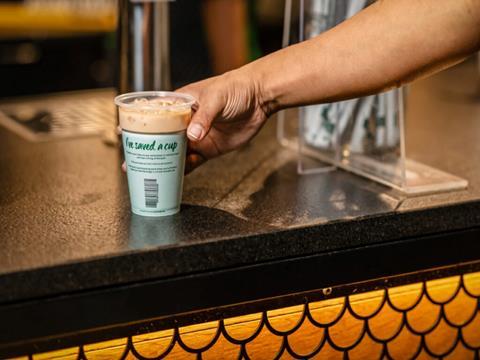 Starbucks has started the trial of its returnable cup programme in Europe, which will allow customers to purchase a hot or cold drink in a reusable cup for a £1 deposit repayable when it is returned for cleaning and reuse.
According to Starbucks, the returnable cup programme is designed to make it as easy to opt for a reusable cup as it is for a single-use equivalent.
Customers will be able to ask for their beverage in a returnable cup when ordering at the till, without needing to bring their own. Research from Hubbub found that 36% of respondents did not use a reusable option every time they bought a hot drink because they forgot their own cups, while 27% were embarrassed to ask a store to put a hot drink in their own cup – consumer concerns Starbucks is seeking to address with the returnable solution.
When opting in for a returnable cup, customers will be asked to put down a £1 deposit when ordering, which will be refunded in tender (e.g., cash, debit card, or rewards account) when the cup is taken back to the store. All customers who use a returnable cup will receive Starbucks' 25p reusable discount, which it already offers for customers bringing their own cups, while a 5p surcharge for paper cups was recently re-introduced to some Starbucks to incentivise reusable alternatives.
As part of the programme, first announced last year, Starbucks will also launch a new reusable cup incorporating a patented foaming technology that reportedly offers a rigid and durable wall structure with up to 70% less plastic than current reusable cups. The wall structure also provides insulation for both hot and cold liquids without the need for an additional sleeve, Starbucks claims.
The returnable cups will therefore be available for hot and cold beverages, as well as in three different sizes. Starbucks says the cups were tested to last for up to 30 uses.
In addition, each cup uses an identifying number linking the Starbucks reusable cup to the deposit paid, according to Starbucks. This enables customers to return the cups either via kiosk or at the point of sale.
Starbucks says that the cups will be professionally cleaned, sanitised, and quality checked before being reused again. Therefore, the cups can be returned dirty or clean by customers.
In the UK, the returnable programme began on the 21st of February with a pilot trial at stores in Canary Warf, London. A pilot scheme will also be launched in Geneva, Switzerland. Further rollouts are expected in select stores across the UK, France, and Germany, based on local operations, regulations, and customer feedback.
Ultimately, Starbucks is aiming to have a reusable solution in over 4,000 Starbucks stores across Europe, the Middle East, and Africa (ECMA) by 2025.
Duncan Moir, president of Starbucks EMEA, comments: "As part of Starbucks commitment to promote reusability and reduce waste to become resource positive, we're excited to begin implementing the first EMEA trials of Starbucks returnable cup program in EMEA.
"Our returnable cup program allows customers to opt for a reusable in the same way they would a single-use cup, breaking down barriers preventing greater reusable uptake and putting convenience front and centre to enable customers to easily transition away from single-use and make reusability the only option, long-term."
In 2020, Starbucks committed to becoming resource positive, which it defines as "giving more than it takes from the planet" by storing more carbon than it emits, providing more clean freshwater than it uses, and reducing waste. By 2030, the company is aiming to reduce waste by 50%, with the returnable cup programme intended to support this goal.
Research from Tetra Pak reinforces the importance of convenience in engaging consumers with deposit return schemes. Despite concerns over consumer trust in reusable packaging models due to the COVID-19 pandemic, which generated concern over the transmission of the virus via surfaces (updated information advises that this is low risk), consumer interest in DRS appears to be growing, including in Germany where Starbucks will trial its new scheme.
As for the sustainability benefits of reusable tableware, there is some debate as to whether they actually have a lower environmental impact compared to single-use options. While the European Paper Packaging Alliance (EPPA) claims that reusable options represent higher water, energy, and chemical detergent use because of the requirement for industrial washing systems, other studies suggest that the environmental impact of manufacturing is much higher for single-use options. In addition, single-use options marketed as recyclable can end up in landfill and contamination from food waste can reduce performance in recycling streams.
Nonetheless, a number of companies are turning to the reuse model to meet sustainability targets and consumer demand. For example, the introduction of Loop to Tesco stores means customers can purchase items in containers that can be returned, refilled, and reused for brands including Coca-Cola, Persil, Simple, Radox, and Tetley. Similarly, Unilever is trialling reusable options in Asda, Tesco, and Co-op supermarkets, while Nestlé has previously piloted refillable dispensers for its soluble coffee range.