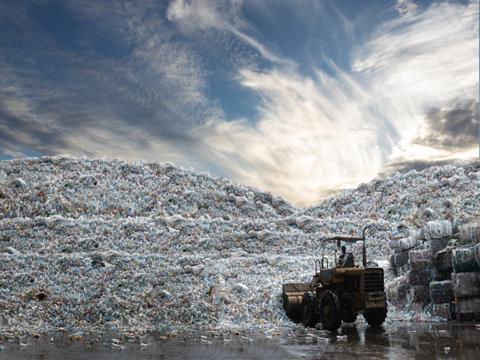 With the UN Environment Assembly (UNEA) yesterday backing a legally binding treaty on plastic waste, we examine what this might mean for the packaging industry, including how it aligns with existing goals, where industry focus may shift, and what uncertainties remain.
At the UN Environment Assembly (UNEA-5.2) in Nairobi, Heads of State, Ministers of environment, and representatives from 175 nations yesterday backed a UN resolution to create a legally binding treaty on plastic waste. An intergovernmental negotiation committee is set to commence work on the treaty in the second half of 2022, with the aim of completing it by the end of 2024.
The UNEA adopted fourteen resolutions by its conclusion. The two that are most likely to directly impact the packaging industry are 'Resolution to End plastic pollution: Towards an international legally binding instrument' and the 'Resolution on an Enhancing Circular Economy as a contribution to achieving sustainable consumption and production'.
The draft resolution on plastic pollution by the UNEA recognises that "the high and rapidly increasing levels of plastic pollution represent a serious environmental problem at a global scale, negatively impacting the environmental, social and economic dimensions of sustainable development", with specific reference to the impact of plastic pollution on marine environments and potential ripple effects of this.
The UNEA emphasises the importance of "global coordination, cooperation and governance" in addressing and taking action on plastic pollution, with "long-term elimination" being the goal. The UNEA says that it recognises "the wide range of approaches, sustainable alternatives and technologies to address the full life-cycle of plastics", acknowledging that "there is no single approach" to the issue.
Existing alignments
In January, over 70 organisations – including companies active in the packaging industry, like Amcor, The Coca-Cola Company, Mondelēz, Mondi, Nestlé, Procter & Gamble, PepsiCo, and Unilever – released a statement calling for a legally binding UN treaty that supports the transition to a circular economy for plastics to be drawn at the UNEA-5.2. With this treaty now backed by the Assembly, how might it impact the packaging industry?
The legally binding instrument set to be established by the UNEA will "promote sustainable production and consumption of plastics", which will certainly include the packaging industry as one of the largest end-use markets for plastics, representing a 40.5% share in Europe according to PlasticsEurope.
Additionally, the draft resolution underlines "the importance of promoting sustainable design of products and materials so that they can be reused, remanufactured or recycled and therefore retained in the economy for as long as possible along with the resources they are made of" – a statement mirroring some sustainability commitments already made by the packaging industry.
For example, last year, UNESDA Soft Drinks Europe pledged that, by 2030, the beverage packaging industry would use 100% recycled and/or renewable PET for its bottles where technically and economically feasible, in a bid to achieve circularity. Elsewhere in the bottled beverages segment, The Coca-Cola Company last month committed to selling at least 25% of beverages across its global portfolio in refillable or returnable containers by 2030.
This segment is also active in developing alternatives to virgin plastics, such as Coca-Cola's plant-based (bPET) bottle prototype and paper bottle technologies from Choose, recently acquired by HP, Paboco, and Pulpex; although these remain in the early stages of development, they are backed by companies including The Coca-Cola Company, P&G, and Unilever, which supported initial calls for a UN treaty on plastic pollution. Such pledges and research projects could align with the push for reuse and recycling in the UNEA's draft resolution, as well as the overall drive to keep plastic out of the environment.
Meanwhile, research and innovation are currently underway to boost recycling rates, especially for hard-to-recycle plastics, to further keep plastics within the economy, another emphasis of the UNEA's draft resolution.
CEFLEX focuses on flexible packaging, of which only around 17% is currently recycled, and has just been granted UK Research and Innovation (UKRI) funding to develop its Designing for a Circular Economy (D4ACE) guidelines that promote the redesign and collection of flexible packaging with circularity at the forefront. Styrenics Circular Solutions (SCS) has also developed super-cleaning technologies to aid the mechanical recycling of polystyrene, aiming to establish endless recycling and a closed-loop system for food-grade rPS.
The draft resolution sets out plans "to promote research and development if sustainable, affordable, innovative and cost-effective approaches". This means the packaging industry could see more investment and interest in research, in a bid to improve recycling rates and provide innovative plastic solutions where certain applications may still call for the use of plastics.
Room for improvement
However, the Ellen MacArthur Foundation – working with the UN Environment Programme (UNEP) – said in its second annual New Plastics Economy Global Commitment Progress report, published in 2020, that limited progress had been made to advance the recyclability of plastic packaging and the shift to reusable packaging, with elimination efforts apparently remaining focused on a relatively small set of materials and formats. The group urged companies to talk "bold action" on packaging types that are not yet recyclable or difficult to recycle.
This view appears to be shared by actors involved specifically with research into plastic waste and marine environments. Speaking to Packaging Europe following the publication of 'Breaking the Plastic Wave: A Comprehensive Assessment of Pathways Towards Stopping Ocean Plastic Pollution', Yoni Shiran, SYSTEMIQ associate, commented: "Current commitments and actions, while a great first step, are insufficient. Industry must increase ambition.
"For instance, only 20% of companies currently have plastic commitments. That means that 80% don't, and should catch up."
The UNEA's treaty may pressure companies that do not yet have a policy on plastics to begin introducing such policies to their operations. Importantly, the UNEA's draft resolution refers to regional and national governments, saying that "each country is best positioned to understand its own national circumstances, including stakeholder activities, related to addressing plastic pollution". This could mean the packaging industry begins to see more legislation from governments to restrict the use of plastics, as countries express their support of the UNEA's treaty, which intends to "develop, implement and update national action plans reflecting country-driven approaches".
The draft resolution's recognition that plastic pollution includes microplastics is also likely to impact the packaging industry. Some companies are beginning to shift to biodegradable and/or compostable plastics as a solution to issues like marine pollution. However, SPRING warns against the blanket use of compostable options due to the risk that biodegradation can produce microplastics. On top of this, some so-called bio-based plastics can interfere with existing, effective recycling streams.
Dr Ashlee Jahnke, director of research at Teysha Technologies, explains: "Biodegradable plastic packaging must be clearly defined for consumers. If packaging companies do not adequately outline how consumers are to dispose of these plastics, they can end up in common plastic recycling — which causes problems during the recycling process."
Alongside this, alternative technologies like chemical recycling, which aim to improve recycling rates and quality for some plastics, are considered controversial and untested by some. WWF recently argued that there is limited evidence to indicate that chemical recycling can provide additional benefits to chemical recycling, adding that it is concerned that it could lead to further issues, like feedstock competition and a lack of upstream innovation.
This touches on key arguments for ensuring that addressing plastic pollution does not result in solutions that potentially increase environmental damage elsewhere. There have been suggestions that policies introduced by governments, such as France's ban on plastic packaging for fruit and vegetables, could increase food waste, destabilise companies' abilities to plan and implement sustainability strategies, and focus more on public pressure rather than science-based evidence.
The UNEA and the packaging industry will have to reckon with these challenges as they continue to set out resolutions and eventually implement the treaty. The UNEA's treaty could renew the packaging industry's efforts to meet targets on plastic design, use, and end of life, as well as promote scrutiny and accountability.
What remains to be seen
In its draft resolution, the UNEA acknowledges that the final instrument "could include both binding and voluntary approaches". Therefore, it is not yet clear what will fall within the "legally binding" remit of the UN's treaty on plastic pollution, and how and by who this will be enforced. The intergovernmental negotiation committee will consider "obligations, measures and voluntary approaches in supporting the achievements of the objectives of the instrument" going forward, although it adds that there may be "flexibility [for] some provisions [that] could allow countries discretion in implementation of their commitments taking into account the national circumstances".
Looking at the example of the EU's Single-use Plastic Direction (SUPD), this could potentially give rise to uneven or fragmented implementation. The EuPC published a statement saying it was "very concerned" the SUPD was adopted too quickly with unclear national strategies, creating "a patchwork of packaging laws" that it suggested could undermine the EU's single market. At this point, it remains to be seen how the UN's treaty will interact with existing laws on plastic and packaging, as well as whether companies and countries may contest geographic discrepancies in implementation going forward.
In the meantime, the draft resolution "calls upon all Member States to continue and step up activities and adopt voluntary measures to combat plastic pollution", again while "taking into account their national circumstances". Therefore, until the finalisation of the treaty, countries will seemingly continue to set their own goals for managing plastic pollution.
According to 'Breaking the Plastic Wave', government action is "often narrow in focus or concentrated in low-leakage countries", and a delay of five years in implantation of a solution to plastic pollution could result in an additional 80 million tonnes of plastic entering the ocean by 2040. While measures on such a large scale as a UN treaty take time, it is important that countries and companies are not complacent, and that action is taken in advance of and alongside the development of the final treaty.