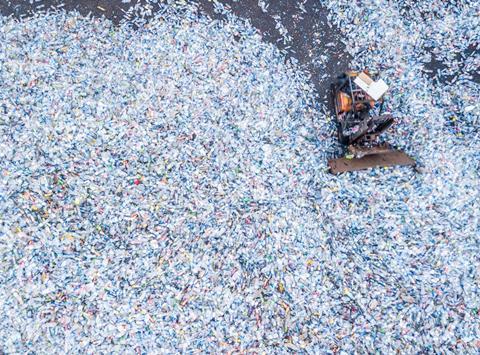 In a historic move, Heads of State, Ministers of environment, and representatives from 175 nations have backed a UN resolution to end plastic pollution and create a legally binding agreement on plastic waste.
The resolution - based on three initial draft resolutions - was adopted yesterday at the UN Environment Assembly (UNEA-5.2) in Nairobi. It focuses on the entire lifecycle of plastic, addressing the key areas of production, design, and disposal.
An Intergovernmental Negotiating Committee (INC) is set to begin work this year on a draft global legally binding agreement to be finished the end of 2024. The legally binding instrument will consider various ways to tackle the entire lifecycle of plastics, the design of reusable and recyclable products, and the necessity to boost international collaboration.
By the end of the year, the UN Environment Programme (UNEP) will organize a forum for all stakeholders to run alongside the initial session of the INC, with the aim to exchange insights and best practices and facilitate evidence-based dialogue. When INC has completed the work on the draft agreement, UNEP will hold a diplomatic conference for the adoption and signature of the outcome.
"It is absolutely worth it to say that today we wrote history," said Espen Barth Eide, the president of UNEA-5 and Norway's minister for climate and the environment. He called the adoption of the resolution "multilateral cooperation at its best", highlighting the significance of this move at a time of high geopolitical tensions. He also identified plastic pollution as an "epidemic", and the resolution as a step towards its "cure".
Inger Andersen, Executive Director of UNEP, said that this move "is the most significant environmental multilateral deal since the Paris accord". Andersen noted, however, that the INC's mandate should not be viewed by any stakeholder as an opportunity to halt current efforts. "In parallel to negotiations over an international binding agreement, UNEP will work with any willing government and business across the value chain to shift away from single-use plastics, as well as to mobilise private finance and remove barriers to investments in research and in a new circular economy," she added.
"The world has come together act against plastic pollution – a serious threat to our planet. International partnerships will be crucial in tackling a problem that affects all of us, and the progress made at UNEA reflects this spirit of collaboration," said Dr Jeanne d'Arc Mujawamariya, Rwanda's Minister of Environment. "We look forward to working with the INC and are optimistic about the opportunity to create a legally binding treaty as a framework for national ambition-setting, monitoring, investment, and knowledge transfer to end plastic pollution."
Japan's Environment Minister Tsuyoshi Yamaguchi, whose draft resolution contributed to the final resolution, echoed this statement. "The resolution will clearly take us towards a future with no plastic pollution, including in the marine environment," he said. "Together, let us go forward as we start the negotiations towards a better future with no plastic pollution."
Richard Slater, Chief R&D Officer at Unilever called the adoption of this resolution "a landmark decision by UN member states". He went on to add: "Tackling plastic pollution is not only the right thing to do; it's a catalyst for innovation and reflects what our consumers want – less plastic waste. With an ambition to conclude negotiations by the end of 2024, the hard work starts now to put in a place a robust plan to end plastic pollution."
WWF, which has supported a legally binding treaty for plastics, released the following statement from its chief conservation officer Nik Sekhran: 
 "We commend the United States delegation and the international community for their work to reach this historic agreement. As we strive toward securing a healthier future for people and the planet, today's decision sets us on an ambitious mission to solve our plastic pollution crisis and to achieve a strong circular economy. 
"In the next two years, we must work to ensure this treaty reaches its full potential. We are committed to ending plastic pollution and to working with governments, businesses and civil society to meet the commitments laid out in this impressive framework." 
If you've got opinions on this landmark news, we'd like to hear them. Get in touch with us at editor@packagingeurope.com to talk with us directly.