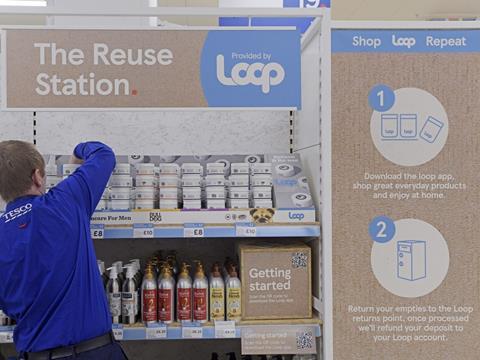 Tesco's approach to packaging sustainably revolves around what it calls the 4Rs: Remove, Reduce, Reuse, Recycle. The retailer claims to have cut more than 3,000 tonnes of packaging and 1.7 billion pieces of plastic from its UK business since 2019. In addition, the company launched a reuse scheme with Loop in 2020 that allowed customers online and in select stores to buy brands including Persil, Coca-Cola, Heinz, Radox, and Tetley in refillable packaging for a small deposit.
In June 2022, Tesco's Loop trial officially came to an end. Customers will have until the end of October to return Loop containers to designated bins in stores. Reflecting on the trial, Tesco has released a report detailing what it has learned from the Loop pilot, calling for cross-industry collaboration and consumer education to facilitate economies of scale for reuse.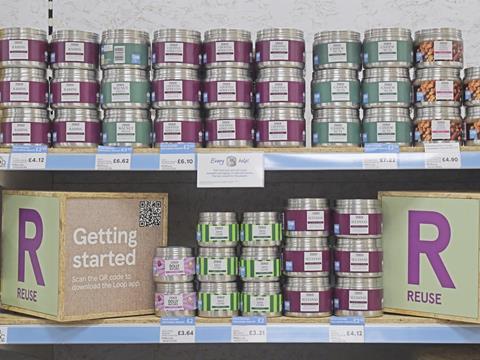 The case for prefilled reusable packaging
As part of the Loop trial, Tesco offered prefilled reusable packaging for 53 branded lines and 35 own-brand products including food staples like pasta, personal care essentials like washing liquid, confectionery, and beverages. This means that the product was provided pre-packaged in Loop containers, with the aim of making it as easy for customers to shop for products in reusable packaging as it is to shop for single-use items. After use, the customer was responsible for returning the packaging to the store, and Tesco then oversaw the cleaning and refilling of the containers via a third party for future reuse.
According to Tesco, prefilled reusable packaging has a number of benefits. This model, for example, means that fewer people have to touch, scoop, and pour food into containers, which can boost hygiene and prevent spillages. A recent poll from Hubbub suggests that 38% of people are concerned that reusable packaging may not be clean or hygienic – so this appears to be an important factor in shaping customer preference, particularly in light of the COVID-19 pandemic.
In addition, as mentioned, prefilled packaging is intended to enhance the convenience of refill options at the point of sale. Again, this is a key concern for consumers, with 73% of the respondents to Hubbub's poll agreeing that more needed to be done to make it easier to choose reusable alternatives to single-use food and drink packaging.
However, the prefilled model still requires customers to return the packaging. 26% of people worry that they might forget to return reusable containers, according to Hubbub. While the deposit may act as an incentive to return the reusable packaging, it may discourage some customers from making the initial commitment over concerns they will forget to bring back the containers. Tetra Pak's research into deposit return schemes (DRS), which also involve a deposit redeemable upon the return of the packaging, suggests that 56% of consumers would not travel more than a mile to return containers, demonstrating the extent to which convenience is key.
On this note, the burden of cleaning and refilling the packaging falls to Loop, Tesco and their collaborators as part of the prefilled model used during the trial. Additionally, during the trial, Loop packaging could be returned via courier if purchased from Tesco online. "Both the online-only and in-store trials were designed to be straightforward for customers so that they can shop in a similar way as for products in conventional packaging," the retailer explains.
To address the issue of cost, Tesco adds that it matched prices from its reusable packaging pro-rata with the original products. Emails including money-off coupons were reportedly sent to customers in the catchment areas of the stores involved in the Loop trial with the aim of encouraging participation.
Ashwin Prasad, chief product officer at Tesco, comments on the purpose of the trial and the potential of reusable packaging: "Scalable reuse solutions will not only help eliminate plastic waste and pollution, they can also help unlock a wide range of environmental benefits, including the conservation of natural resources which must go hand-in-hand with reducing greenhouse gas emissions."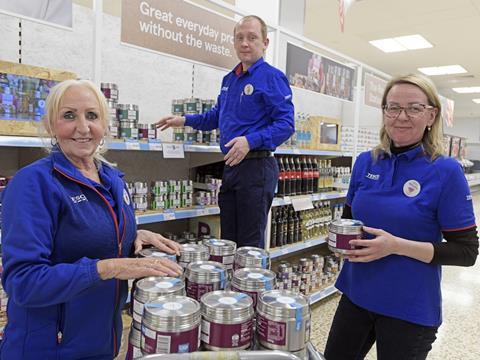 Learning points
According to Tesco, the Loop trial met targets for customer participation with more than 80,000 products purchased across the two years. Tesco says the trial was most popular with "eco-conscious shoppers who are likely to adapt their day-to-day habits based on their environmental values". 50% of customers reported that their main motivation to buy reusable products at Tesco was because they wanted "to do their bit for the planet" or wanted to reduce single-use plastic.
Other customer motivations for buying reusable products at Tesco included liking to reuse as much as possible (39%), good quality products (25%), and ease of use/shopping (21%). This suggests that customers found the prefilled packaging format convenient, with two-thirds of customers who took part in the prefill pilot in-store reporting that they found the process easy to follow. However, the clarity of deposit prices (11%) and value for money (14%) scored slightly lower – indicating more could be done to clarify this aspect of reuse models for customers.
However, Tesco says that its survey found that the general public does not yet fully appreciate the differences and benefits of reuse when compared to recycling. The retailer explains that a greater appreciation for the benefits of reuse is needed for customers to adopt the behavioural changes required to scale reuse systems. Notably, Tesco claims that customers often said they took part in the Loop trial after talking to a trained colleague who could explain the reuse process and its benefits compared to recycling, which suggests that education in stores could help to increase awareness and engagement.
As for retailers and brands themselves, Tesco claims that the Loop trial demonstrated that reuse is a workable system with collaboration at its core. The retailer says that suppliers fed back the view that the Tesco/Loop prefill proposition was the most successful model of its kind to date in the UK, with the prefill element, in particular, being well-received.
The positive reception from brands and suppliers appears to be related to the ability to offer products in reusable packaging with only minimal changes to their current production infrastructure, while labelling solutions enabled for product differentiation and branding. However, during the trial, Tesco acknowledges that some customers were unable to tell the difference between reusable and standard single-use packaging as the prefilled model allowed for on-pack branding. Therefore, some benefits of reuse for suppliers could translate to costs for consumers, and vice versa.
Tesco adds that the volume of products offered as part of Loop – with 200 items available across its online and in-store pilots, allegedly making it the largest prefilled reusable packaging scheme in the UK – helps to demonstrate the potential impact of reuse. The retailer's modelling reportedly suggests that, if rolled out to 400 stores across various retail chains, a prefill offer could be a viable business opportunity that replaces millions of pieces of plastic with reusable alternatives. Additionally, if all Tesco customers across the ten stores involved in the Loop pilot switched their ketchup, cola, and washing up liquid products to the reusable Heinz Tomato Ketchup, Coca-Cola, and Ecover alternatives, reusable packaging would be used more than two and a half million times a year, according to the retailer.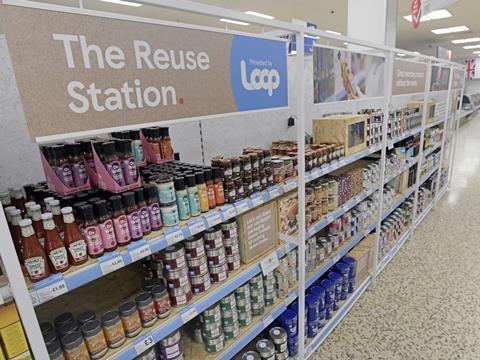 The future of reuse
"As our in-store prefill pilot comes to an end, we are currently reviewing our learnings to enable us to develop the next stage of a scaled reuse offer," Tesco explains in the report. "We want to work out how to build an even better proposition that can better integrate the operational complexities of a reuse proposition into our business and enable us to achieve greater scale, as more customers become ready for it."
Tesco says that, to scale reuse in the UK, more engagement is required from a wider demographic of consumers – not just those who are "eco-conscious". According to the retailer's survey data, customers often view reusable packaging as equal in environmental impact to recyclable packaging, but Tesco believes that reuse offers additional benefits. The retailer argues that a "cultural shift" towards reuse is therefore needed.
This shift will require consumers to change their shopping habits, which Tesco says hinges on a better understanding of the environmental benefits of reuse. The retailer notes that increasing public awareness is a task that should partially fall to campaigners, experts, and the media. Citing the issue of material substitution as requiring more widely-shared information and knowledge, Tesco explains that data from the Loop trial found that consumers generally preferred products in steel tins compared to durable reusable plastic packaging, but research suggests that plastic, in this scenario, is less energy-intensive and less expensive.
In stores, Tesco says that brands can help by increasing the visibility of reusable packaging, ensuring that it stands out in order to draw customers in. This is something that Tesco aimed to do as part of the Loop trial, with videos, signage, and leaflets explaining the reuse process and bespoke displays of the Loop products in the stores selected to take part in the pilot.
According to Tesco, simplifying the customer experience is also key to enabling this cultural and behavioural shift. Some of the specific opportunities for further simplification identified by Tesco include removing the need to download a stand-alone app to receive a refund of deposits and spending up deposit refunds. The retailer also considers exploring alternative means to remind customers to return packaging without requiring a deposit payment, although it does not specify what this may involve instead.
In addition, Tesco says that increasing the flexibility and available locations for packaging returns, and locating in-store returns stations at the most convenient points for customers, could further enhance convenience. Online shopping formats could be well-suited to prefilled packaging solutions, as the retailer is responsible for delivering and returning the packaging, Tesco notes.
As for cost, Tesco acknowledges that reusable packaging may cost more to produce per unit than single-use packaging, but that customers do not want to pay more for products in reusable packaging. The Loop pilot reportedly showed that the cost of cleaning and prefilling reusable packaging could sometimes cost more than the actual product inside. Tesco says that the investment needed to scale reuse is "significant" as it requires new processes and new production lines from manufacturers.
In the long term, Tesco says that economies of scale and improved efficiency will be key to closing the cost gap between reusable and single-use packaging. The retailer notes that investment from the industry and from governments could help to make reuse a commercially viable and competitive option at scale. Boosting convenience for consumers and the industry both could also be achieved through measures such as ensuring packaging shapes are optimised and standardised for transport, and fit conveniently into the average UK household, according to Tesco.
In the short term, Tesco suggests that better labelling and communication could help to explain to customers that a proportion of the price is a fully refundable deposit, which may break down some of the perceived cost barriers. Raising awareness of the potential benefits of reuse across multiple platforms – such as in-store, via the media, or in communications from non-governmental organisations (NGOs) – could reportedly encourage consumers to make the switch to reusable packaging if they consider the additional cost worthwhile.
Overall, Tesco says that collaboration is necessary for success: "One company cannot create a successful and scalable reuse proposition in isolation." The Loop trial relied on more than 30 businesses, including 25 brands, coming together to supply and transport products in reusable packaging. "This coalition will need to grow," Tesco says, in order to make reuse a mainstream solution in the UK. This collaborative approach will apparently need to unite policymakers, NGOs, brands, retailers, and other industry groups to explore and facilitate reuse systems at scale.
Prasad concludes: "For a prefill packaging proposition to succeed as a genuinely accessible and affordable option in the long-term, it will need scale. It will be needed to become second nature for customers across many different retailers. And it will be much easier and more efficient logistically if everyone operates it in a common way, especially if we develop and share a common infrastructure for customers to return used containers.
"Our sincere hope is that our whole industry can learn from our experiences as much as we have."