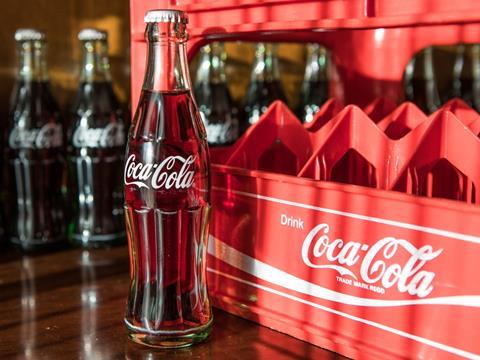 Following a pledge earlier this year to make at least 25% of its beverage packaging across its global portfolio refillable or returnable by 2030, the Coca-Cola Company says it is considering the expansion of refillable or returnable solutions in markets most impacted by rising costs and inflation. We explore how Coca-Cola plans to implement refillable and returnable packaging, and what challenges might remain for the company as it strives to meet its sustainability targets.
Introducing and expanding new initiatives
As reported by Reuters, the Coca-Cola Company says that while demand for beverages and packaged foods has so far remained resilient in the face of higher input costs and global economic uncertainty, it is expecting a drop in consumer purchasing power in the near future.
The Coca-Cola Company is therefore planning to expand its distribution of refillable or returnable glass bottles, which it says are cheaper, with a focus on emerging markets in Latin America and Africa.
In Latin America, refillable bottles for Coca-Cola products already represent around 27% of transactions in 2020, reportedly outperforming non-refillables in some countries.
The company's Universal Bottle solution, which launched in Brazil in 2018, involves consumers paying an indirect deposit in the form of a discount on their next purchase when they return the empty refillable bottle to stores. The bottles are returned to Coca-Cola by retailers when receiving their new order, and Coca-Cola then washes off the previous label and cleans, refills, and rebrands the bottle with a new label before they are distributed again.
The scheme relies on a standardised bottle design in terms of colour, shape, and size across all Coca-Cola brands, which includes Coke, Fanta, and Sprite, among others. According to Coca-Cola, this makes reverse logistics like washing and cleaning more efficient and reduces costs, while also offering lower carbon emissions.
Coca-Cola claims that, in Brazil, the Universal Bottles scheme has replaced 200 million single-use bottles per year. During its launch year, the returnable bottles were the company's fastest-growing packaging format in Latin America, and the scheme has since been rolled out to Argentina, Chile, Colombia, Mexico, Guatemala, and Panama. The company appears to be planning to expand this scheme further across the region in the future, based on Reuter's report.
Meanwhile, in South Africa, Coca-Cola is planning to further scale its refillable 2-litre and 1.5-litre PET plastic bottles, which it says can be cleaned, refilled, and reused multiple times before being recycled and made into new PET bottles.
In addition, Coca-Cola has already trialled returnable packaging in the US, having partnered with TerraCycle and Loop on reusable packaging for Burger King restaurants in New York and Portland. As part of the scheme, Burger King customers can purchase Coke and other fizzy drinks in a reusable cup for a deposit, which can be reclaimed when the cup is returned. The next target for Coca-Cola's returnable bottles in the US seems to be the southwest.
Notably, a trial of returnable Burger King packaging has since been launched in Ipswich and Newmarket in the UK, which will run until September 2022. Tom Szaky, founder and CEO of TerraCycle and Loop, commented: "Consumer demand for more sustainable options is at an all-time high and the customer response to this exciting trial will be used to inform future plans for a long-term reusable and returnable packaging scheme."
Coca-Cola is also one of the brands available as part of Tesco's launch of Loop in the UK. The scheme allows consumers in select stores to purchase various brands, including Coca-Cola, in Loop containers that can be returned for industrial cleaning and then reuse.
Understanding the drive for refillable and returnable solutions
Overall, Coca-Cola's plans to expand refillable, reusable, and returnable options seemingly respond to three interconnected trends.
The first relates to cross-industry sustainability imperatives, with other beverage companies including PepsiCo and Suntory Group making pledges to achieve 100% recycled PET content and commercialise plant-based plastic bottles. PepsiCo, following a shareholder proposal filed by As You Sow, has also agreed to set a time-bound goal for what percentage volume of its beverages will be delivered in reusable and refillable bottles by the end of 2022. Adding to this drive, legislation like the Single-Use Packaging Directive (SUPD) in Europe will require all plastic bottles on the market to contain at least 30% recycled content by 2030.
These actions from major players in the beverage industry show sustainability is being adopted both as a corporate social responsibility directive and as a way to maintain a competitive advantage as brands increasingly build identity and marketing around sustainability. This links closely with the second trend, which is that consumer demand is being driven more and more by a preference for sustainable options.
Based on recent research from Duo, 73% of Generation Z consumers (aged around 10-25) are keen to reuse packaging; while focused on the e-commerce channel, this nonetheless points to a strong desire from consumers for durable, multiple-use packaging types. This suggests that consumer demand for sustainable packaging will remain, and increase, as more of this generation become old enough to establish purchasing habits.
The third trend is that both companies and consumers alike are contending with escalating costs for energy and goods. While Coca-Cola says that suspending its operations in Russia will only impact its annual net revenue by around 1-2%, as reported by Reuters, the ripple effects of Russia's invasion of Ukraine are far-reaching.
With the US, the EU, and the UK, among others, enforcing sanctions against Russia, the availability of gas and oil is becoming increasingly uncertain, with already-high prices rising further as a result. This is likely to bring up costs for energy-intensive industries, including the production of plastic and paper packaging. Part of Coca-Cola's motivations for expanding its refill and reuse network, in this case, appears to be transitioning to packaging types that can remain in circulation for longer with the aim of reducing production and operating costs.
The beverage and food sectors are considered relatively resilient to economic shocks, as Coca-Cola acknowledges, but consumer behaviour is likely to change as inflation and the cost-of-living skyrocket. According to Reuters, Coca-Cola is looking to anticipate this change by introducing refillable and reusable options that it can offer at a reduced cost, especially in the markets predicted to be most impacted by economic uncertainty.
Addressing industry-wide challenges
Coca-Cola's refillable and returnable pledge complements a portfolio of other sustainability-focused ambitions. The company is aiming to be a net-zero business by 2040, has swapped out plastic shrink wraps for cardboard for multipacks across Europe, and already eliminated the use of virgin plastic in certain markets well in advance of the SUPD deadline.
However, like for the rest of the beverage industry, there are challenges ahead for Coca-Cola in meeting and sustaining these goals. One is the supply of food-grade recycled PET, which Ralf Peters, vice president of procurement at Coca-Cola Europacific Partners (CCEP), says is "critical to achieving" a circular economy for beverage packaging. Coca-Cola has therefore supported calls from European beverage industry representatives to ensure bottle-to-bottle recycling and avoid the downcycling of PET into non-food-contact applications, such as textiles.
Peters adds: "We believe that the industry should be able to determine how and where their material is recycled, and support investment to scale capacity.
"We are taking cross-industry action to get the right systems in place to increase the industry's access to high-quality feedstocks and scale food-grade recycling capacity where it is needed most. We are determined to help accelerate the transformation towards a circular economy for plastics."
To begin addressing this challenge, Coca-Cola says it has invested in CuRe Technology via CCEP Ventures. This recycling start-up aims to transform opaque and difficult to recycle food-grade PET into high-quality rPEt that can be used repeatedly by the food and beverage industry.
Coca-Cola is also looking for alternatives to traditional PET bottles, including a prototype bottle made from bio-based PET, which apparently comes from renewable sources. This prototype can be recycled bottle-to-bottle within existing infrastructures for fossil-based PET, according to the company, although this excludes the lid and label. While this innovation could support the use of renewables in Coca-Cola's portfolio, bio-based plastics currently have a higher cost than petrochemical alternatives, which could prove problematic in relation to current input cost increases, and there is little evidence from life cycle assessments that bio-based bottles have a lower environmental burden.
A similar issue presents for Coca-Cola's paper-based bottle trial, developed in partnership with Pabaco. Pabaco's paper bottles currently include a plastic internal layer; while the bottles are reportedly recyclable in paper streams, this means that the plastic layer cannot be recycled as part of the same process. Again, this solution does not yet provide a scalable alternative to single- or multiple-use plastic and glass bottles, although more and more companies are considering it as an option, which could help to boost its commercial viability.
Finally, there is some debate as to whether refillable options for food, beverages, and other industries like personal care can be a fully-realised, sustainable solution. In some cases, refill schemes are considered less convenient, especially as consumers increasingly turn to e-commerce, as they require consumers to come into stores and remember to bring or return containers. In addition, the deposit can be a financial barrier for some, and refillable options can sometimes be more expensive overall – another challenge with the looming cost-of-living crisis.
Going forward, these are challenges that Coca-Cola will have to continue addressing as it attempts to enact a holistic sustainability strategy, with refillable and reusable options set to play a significant role.