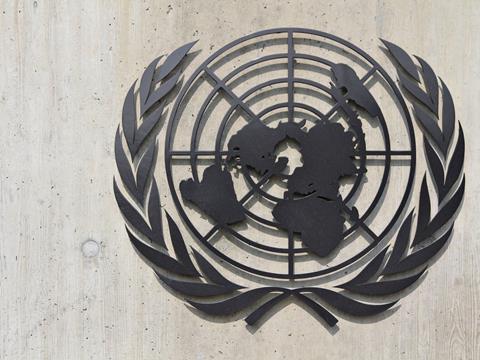 More than 70 businesses and financial institutions have today released a statement calling for an ambitious, comprehensive, and legally binding treaty on plastic pollution ahead of the UN Environment Assembly (UNEA) 5.2, where world leaders will have the opportunity to negotiate such a policy.
The statement has been endorsed by companies including Amcor, Berry, The Coca-Cola Company, Mondelēz, Mondi, Nestlé, Procter & Gamble, PepsiCo, TOMRA, and Unilever. In the statement, the group asserts that "a new UN treaty is crucial to set a high common standard of action for all countries to abide by, and to drive the transition to a circular economy for plastics globally and at scale".
Acknowledging that plastic has "significant" negative social, economic, and environmental impacts, the statement adds that the issue of plastic pollution must be tackled at its source to stop the leakage of plastic into nature, and to make progress on addressing biodiversity loss and the climate crisis.
Therefore, the group says that it is necessary to establish an Intergovernmental Negotiating Committee at UNEA 5.2 to "develop an ambitious international, legally binding" treaty.
As part of this treaty, the statement emphasises the need for both upstream and downstream policies with the aim of reducing virgin plastic production and the use of fossil resources in plastics, while also keeping plastics "in the economy and out of the environment".
Additionally, the group says that a UN treaty is needed to bring governments, businesses, and the public into alignment, ensuring a "level playing field" that sets up a circular economy for success in practice and at scale. The businesses also identify the need for a "robust governance structure" that ensures the compliance of UN member states with standardised definitions and parameters, as well as supporting different countries and industries that require additional assistance in making the required transition.
The statement concludes: "UNEA 5.2 is the decisive, most auspicious moment to turn the tide on the global plastic pollution crisis. We cannot afford to miss it."
A previous report from the Ellen MacArthur Foundation set out the business case for a UN treaty on plastic waste in 2020, outlining the importance of reducing operational complexity across markets, enhancing transparency, simplifying communication throughout the plastics value chain, and coordinating actions so as to meet targets through cohesive and collaborative action.
After COP26 last year, where the parties signed the Glasgow Climate Pact to maintain a 1.5oC target limit on global temperature increases, the Ellen MacArthur Foundation identified UNEA 5.2 as a key opportunity to establish ambitious goals for a plastics circular economy.
Andrew Morlet, CEO of the Ellen MacArthur Foundation, says of today's statement: "Plastic pollution doesn't stop at borders, it is a global problem that requires businesses and governments to work together on global solutions.
"Today marks the first time so many leading businesses have come together and called for a legally-binding, robust treaty; one that sets common rules and regulations, establishes a level playing field and creates the conditions needed to delivery coordinated global solutions.
"This statement sends a powerful signal to policymakers that they now have an unprecedent opportunity to turn the tide on plastic pollution."
The group of businesses add that international support for a legally binding treaty has been mounting. For example, over 2 million people have signed a WWF petition calling for a "global legally binding agreement that involves every country in ending this crisis by 2030".
Marco Lambertini, international director general at WWF, comments: "We need a transformation in ambition and action in how we make, use and reuse plastic.
"It is no longer a question of whether we need a treaty on plastic pollution, it's more about what this treaty must look like in order to tackle today's still rampant plastic pollution crisis."
The business statement also supports a resolution by a group of 42 countries, and led by Rwanda and Peru, to establish a negotiation mandate for a new treaty at UNEA 5.2. According to the statement, the proposed treaty's scope and ambition remain under discussion – although there are some concerns that countries which haven't joined the resolution may insist on a less ambitious mandate.
The UNEA 5.2 will take place online and in Nairobi between the 28th of February and the 2nd of March 2022.
To learn more about the thoughts of the Ellen MacArthur Foundation, Nestlé and the Norwegian Ministry of Climate and Environment on the potential of a global plastic pollution treaty, tune in to our Sustainable Packaging Summit session at 14:00 CET on 25th January.
In this panel we'll bring together diverse stakeholders to ask why this is needed, what the contents of such a treaty should look like, and to explore financial, regulatory and brand perspectives on the issue.
To watch, click here to sign up.