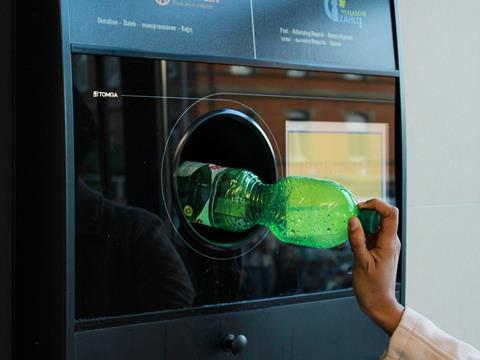 Recent research from Tetra Pak suggests that confusion over the function of deposit return schemes could undermine their success, but consumers remain willing to engage with an expanded recycling service.
In 2018, a YouGov survey fond that nearly three quarters of British consumers would partake in a deposit return scheme (DRS) for plastic bottles and aluminium cans if they had to pay a 10 pence deposit, while 85% of people participating in more recent research from Germany agreed with the principle of a DRS, an increase on earlier surveys despite the COVID-19 pandemic.
However, RECOUP's consumer research demonstrated that convenience would be a key factor in ensuring the success of a DRS, with 56% of consumers saying they would not travel more than a mile to return empty containers for recycling and to get their deposit back. RECOUP says that consumer preference appears to be for kerbside collection or returns that can be integrated with existing routines, such as weekly grocery shopping.
Tetra Pak's research points to a similar need for clarity and convenience to engage consumers with deposit return schemes. For example, 59% of people said they would be confused by the UK Government's proposed DRS if it was inconsistent with household recycling collections, while 58% remain unsure about what a DRS would actually involve.
In addition, over a third of respondents assumed that drinks cartons and HDPE plastics would be included in a UK-based DRS, according to Tetra Pak. This mirrors the results of a Defra consultation from 2019 that found the public mostly supported an 'all in' DRS. Nonetheless, at present, the UK's proposed DRS excludes HDPE and drinks cartons, which can typically be recycled through home collections, reinforcing consumer confusion.
Alex Henriksen, managing director at Tetra Pak North Europe, comments: "The limited model proposed by the Government risks confusing consumers who are used to recycling a wider range of materials via other routes.
"The British public is willing and excited to use the new Deposit Return Scheme, but confusion over which materials are included risks undermining it."
"Clearly the most straightforward, user-friendly DRS is one that includes a wide range of materials, and offers a digital option, allowing consumers to engage with the scheme from home.
"The job of industry and government should be to make that as easy as possible."
Consumers reportedly said they would be more likely to use the DRS if it included a wider range of materials, including drinks cartons, pouches, and HDPE. Similarly, Tetra Pak claims just over half of the public would support a digital DRS, which would use barcodes to identify relevant items during kerbside recycling collection.
Industry experts have put forward Denmark's DRS as a model example for countries like the UK that are in the planning and proposal stages of deposit return schemes. In Denmark, all materials, including glass, plastic, and aluminium, are eligible for the DRS and the deposit fee varies depending on the size of the container, which apparently further incentivises consumers to return them. Largely attributed to the DRS, the recycling rate for bottles in Denmark is allegedly around 92% – compared to 70% in the UK.
Other perspectives from the industry are more cautious. "Putting the deposit on all packs could create chaos on our high streets, as grocery retailers may become involved in collecting and moving billions of used packs each year," Jonathan Davison, consumer analyst at GlobalData, previously warned.
Davison adds: "The focus needs to be on single-use 'on the go' packs rather than 'take home' formats like multipack cans, so that volumes going through the deposit and return scheme can be effectively managed and existing kerbside collection schemes will not be undermined.
"A decision to include the likes of single-use glass and metal cans in the scheme also prevents a mass consumer migration away from plastic to other packaging materials."
It is also worth noting that different countries within the UK already have different recycling schemes. For example, when considering national averages, Wales places second in global rankings of self-reported recycling rates, while the UK as a whole is much lower. This could mean a variable level of success between different regions of the UK when its DRS is implemented.
Additionally, Scotland's DRS scheme will include all drinks in aluminium, steel, glass, or PET containers above 50ml and up to 3 litres. Plans for the scheme apparently incorporated elements of existing initiatives in Europe, Australia, and North America, and has received commendation from Norway's TOMRA Collection Solutions. Criticism levelled at the scheme, however, questioned whether Scotland has 'jumped the gun' by not waiting for the rest of the UK and drew on long-standing concerns about the impact on kerbside recycling.
Consumers can already engage with deposit return schemes in some regions even when government policies have yet to be implemented. In the UK, Loop has worked with McDonald's to pilot coffee cups that can be returned for a £1 deposit and 20p discount on their purchase, while Tesco customers in the East of England can return some packaging to be cleaned and reused with a fully refundable deposit starting at 20p per product.
Deposit return schemes are likely to remain a topic of both interest and concern as initiatives develop. The UK is not the only country with an upcoming DRS; TOMRA will help with the roll-out of Latvia's scheme from February 2022, with 12 European countries overall pledging to introduce a DRS by 2023.