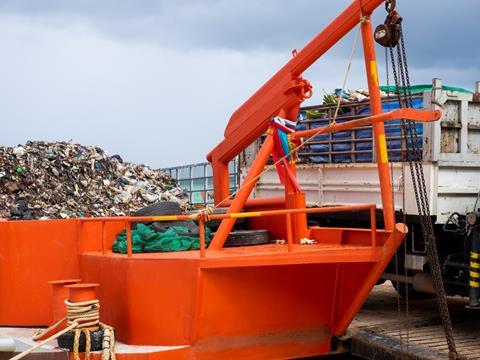 In a statement released by Greenpeace, the Basel Action Network (BAN) and Zero Waste Europe, the organisations say that Germany has been exporting plastic waste illegally and failing to take action to ensure its return and proper disposal.
According to the organisations, action was taken to prevent 37 containers of plastic waste from Germany being loaded in the port of Piraeus in Greece after Greenpeace and BAN alerted Greek customs. The containers were reportedly confiscated by the Greek authorities on the 2nd of December 2021.
The organisations further claim that Germany was responsible for exporting 114 containers of plastic waste to Turkey in 2020, which was allegedly rejected by the Turkish government on the basis that it was "illegal to import". While there are reports that the Turkish Ministry of the Environment asked German authorities to recall the plastic exports as early as May 2021, Germany has supposedly failed to take action, leading Turkey to begin the process of exporting the containers of plastic to so-called developing countries.
As a result, the organisations say that approximately 37 containers had already been shipped to Vietnam, while others have apparently been tracked to Croatia, the UK, and the USA. There appears to be concern from Greenpeace and other environmental organisations that the containers of plastic now seized in Greece may also be exported elsewhere, with Germany allegedly continuing to evade responsibility for its disposal.
Manfred Santen from Greenpeace Germany comments: "The plastic waste has to be disposed of properly in Germany and should never even have been allowed to go to Turkey.
"And, now it is imperative to urgently call back the German trash before it is loaded on any more ships to be distributed further around the world. Germany must take responsibility for its own waste."
The reason given by Turkey for rejecting the containers of plastic was that they had a "high level of contamination".
The environmental organisations refer to the Basel Convention, a multilateral agreement with the aim of protecting human health and the environment against "hazardous wastes", which was ratified in the early 1990s in response to deposits of toxic waste from abroad being found in places such as Africa; Article 8, in particular, apparently regulates the cross-border transport of waste. Along with the European Waste Shipment Regulation (Articles 22 and 23), the organisations say that countries are obliged to reimport illegal shipments or shipments that cannot be completed by the terms of the contract.
Jim Puckett of Basel Action Network explains: "Germany should have recalled these deliveries within 30 days of notification by Turkey.
"It is regrettable that the German authorities failed to do so. The new environment minister can now correct this serious mistake and order the containers back at once."
In an open letter to Germany's Federal Environment Agency, BAN and Greenpeace have stated that the export of the plastic waste is illegal and can only be "solved by political leadership on the part of Germany looking to take responsibility". The letter adds that the waste was largely collected from households and should be returned in its original containers to Germany, with contact arranged between Turkey, Greece, and other involved countries.
The statement raises questions over the challenge of plastic waste and its connection with the packaging industry. A report by SYSTEMIQ and The Pew Charitable Trusts released in 2020 suggests that, despite pledges by organisations like the EU, there is not enough action being taken to ensure targets are met and to reduce the amount of plastic waste ending up in oceans.
Speaking to Packaging Europe last year, Andrew Almack, CEO and founder of Plastics for Change, said of initiatives to reduce plastic waste: "I believe Western Countries have a responsibility as we created a lot of these business models and then exported them to emerging economies before they had the waste management systems in place."
Louise Edge, senior oceans campaigner for Greenpeace UK, adds that "in terms of the argument that the responsibility for ocean plastic waste sits with countries in Asia who have inadequate waste systems, this does not stand up". Edge claims that some of the plastic waste that finds its way into the oceans in Asia originates in or was exported from North America and Europe, but that responsibility for this is often overlooked.
There continues to be a great deal of debate surrounding who is responsible for the disposal of plastic waste, and what counts as 'responsible' disposal in the first place. In particular, there are calls from across industries and organisations for the potential of plastic as a long-lived material to be recognised and used to the advantage of all.
On the issue of the containers of plastic waste from Germany currently in Turkey and Greece, Pierre Condamine of Zero Waste Europe concludes: "Both from a moral and a legal perspective, this is not acceptable.
"The law is clear and the recent European's ambitions to finally take responsibility for its own waste, are even clearer."