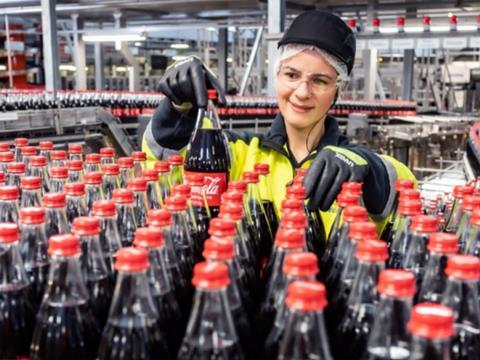 Coca-Cola Europacific Partners has invested over €40 million into its refillable bottling infrastructure in Germany – a move hoped to optimise the sustainability of its value chain and increase consumers' access to drinks sold in returnable glass bottles.
It is anticipated that the investment will contribute towards a new filling line in Lüneburg, which plans to shorten the distance between the production line and end consumers in the north of Germany – thus reducing carbon emissions during the transportation process. The plant is scheduled to begin its operations in the summer of 2024.
The money is also expected to fund a new packaging machine for glass bottles in Mönchengladbach. This development aims to increase the production and availability of reusable glass bottles as a sustainable means of meeting growing market demand.
Furthermore, Coca-Cola Europacific Partners aspires to reach net zero by 2040 and reduce emissions across its value chain by 30% by 2030 as part of its This is Forward sustainability action plan. By investing in refillable solutions, the organisation aims to eliminate packaging waste and lower its own carbon footprint.
Last year, Coca-Cola Europacific Partners previously announced that its Fuze Tea, Tropico, Sprite, Fanta, and Minute Maid brands would become available in universal 250ml bottles than could be returned, cleaned, and refilled for use in French hotels, restaurants, and cafés.
More recently, its innovation investment arm, CCEP Ventures, provided funding for research conducted by Universitat Rovira i Virgili and the University of Twente into carbon capture technology – a method expected to convert the captured emissions into packaging materials.