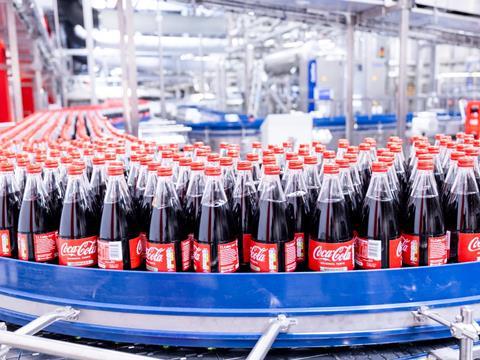 Coca-Cola HBC has invested €12 million into opening a new, high-speed line for returnable glass bottles at its Edelstal plant – an expansion hoped to assist the company in reaching net zero emissions by 2040.
A €4 million grant from the Austrian government has also supported Coca-Cola's fund, which seeks to facilitate a circular economy for packaging from beverage companies and retailers.
It is claimed that the new line is more water- and energy-efficient, and it is set to produce 400ml returnable and resealable glass bottles for on-the-go market and at-home consumption. Across an area of 2,100m2, it can reportedly bottle up to 50,000 bottles every hour, depending on their size.
The bottles will initially go on sale in Austria as one of Coca-Cola HBC's twenty-nine markets. They will join the one-litre glass bottles currently available for its Coca-Cola, Coca-Cola Zero Sugar, Fanta Orange, and Sprite drinks – said to help simplify production and logistics, as well as reduce the sorting and reverse logistics in the market.
With packaging apparently constituting 34% of Scope 3 emissions across its supply chain, the company expects the investment to contribute towards its goal of achieving zero emissions across its value chain by 2040. It states that it has already lowered its Scope 1, 2, and 3 emissions by 30% in the last twelve years.
Furthermore, 62% of Austrian consumers are said to consider sustainability an important factor when choosing products to purchase; a wider range of returnable bottles is expected to meet rising consumer demand. Customers can also use the packaging to meet upcoming quotas for returnable packaging in retail, the company says.
Zoran Bogdanovic, CEO of Coca-Cola HBC, explains: "For some years now, Coca-Cola HBC Austria has been at the forefront of pioneering new sustainable solutions, and we're delighted that our focus on investment, innovation and partnerships are helping us to meet our goal of delivering our drinks in more sustainable ways," he says.
"Austria is already one of our fastest-growing markets for reusable packaging and this new line will further accelerate this packaging type, which is in demand by our customers and consumers alike. As returnable packaging options offer a reduced carbon footprint, this new line in Austria further supports our Net Zero by 2040 goal.
"We're grateful for the partnership with the Austrian Government as we work together towards a common goal of a greener business model and a better environment."
In early 2022, The Coca-Cola Company revealed its intention to transition 25% of all beverage packaging across its global portfolio into refillable or returnable glass or plastic bottles and containers by 2030.
Additionally, Coca-Cola Europacific Partners' Fuze Tea, Tropico, Sprite, Fanta, and Minute Maid brands were sold in universal 250ml bottles in hotels, restaurants, and cafes. These could then be returned, cleaned, and refilled for further use.
Also in Austria, The ALPLA Group collaborated with mineral water company Vöslauer to create a returnable PET bottle that is expected to remain in use for three to four years.
If you liked this article, you might also enjoy:
The L'Oréal approach to packaging sustainability
What steps is Apple taking to make its packaging more sustainable?
How did Brazil achieve its 100% aluminium can recycling rate – and can it be replicated in the EU?
Experts have their say on the EU's Packaging and Packaging Waste Directive revisions