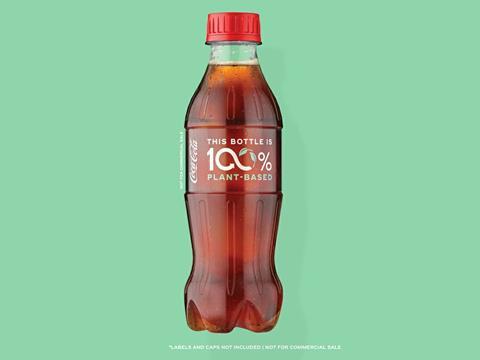 The Coca-Cola Company today revealed its first prototype bottle made from 100% plant-based plastic (bPET), produced using technologies that the company says are now ready to be commercially scaled across the industry.
This builds on Coca-Cola and UPM's technological breakthrough announced earlier this week for the first planned commercialization of technologies to convert second-generation biomass to plant-based monoethylene glycol (bMEG), one of two molecules necessary to create bPET. The other molecule used is PTA, comprised of bPTA and Virent's bPX.
The new prototype announced today (barring its label and lid) exclusively uses materials from renewable, plant-based sources, removing all petroleum-based content from the bottle. According to the company, it represents a significant technological step forward in the reduction of virgin oil-based PET across commercially produced bottles.
A limited run of approximately 900 of the prototype bottles has been produced. Coca-Cola says that the pack is recyclable and can be recycled bottle-to-bottle within existing recycling infrastructures, alongside PET from oil-based sources.
Speaking exclusively to Packaging Europe, Ben Jordan, senior director for environmental policy at The Coca-Cola Company, let us know what the future holds for this innovation. "Scaling these technologies is the critical next step," he said, "not just for us, but for the wider industry.
"We expect UPM will be producing their next-generation bio-MEG commercially in 2023 and we'll be following news from Virent on the licensing of their technology closely.
"There is… a clear and critical role for plant-based PET, by providing virgin material to help maintain quality of the overall PET feedstock. "
Regarding the mechanical properties of bPET and how they compare to regular PET, Jordan told us: "bPET is identical in molecular structure to virgin fossil-based PET, which is why it is a key part of our strategy. It can be mixed with rPET and virgin oil-based materials interchangeably including in the recycle stream."
In line with its ambition to become a net-zero carbon business by 2050, Coca-Cola recently announced a goal to use three million tonnes less virgin plastic from oil-based sources by 2025. Depending on business growth, this would reportedly result in approximately 20% less virgin plastic derived from fossil fuels worldwide than today.
In order to achieve this goal, the company says it will invest in new recycling technologies, make packaging improvements such as light-weighting, explore different business models such as refillable, dispensed and fountain systems, and develop new, renewable materials.
Coca-Cola has also set a goal to make 100% of its packaging recyclable and ensure that 50% of its packaging is made from recycled material.
In Europe and Japan Coca-Cola, with its bottling partners, aims to eliminate the use of oil-based virgin PET from plastic bottles altogether by 2030, using only recycled or renewable materials.
Renewable technologies are reportedly set to play a key role in supporting this goal. While the majority of the company's plastic packaging material will come from recycled content, some "virgin" material will apparently still be needed to maintain packaging quality.
This is why Coca-Cola, as it works towards its goal to collect and recycle a bottle for every one that it sells, says that it is also investing to boost the supply of feedstock from renewable technologies, as well as from enhanced recycling technologies.