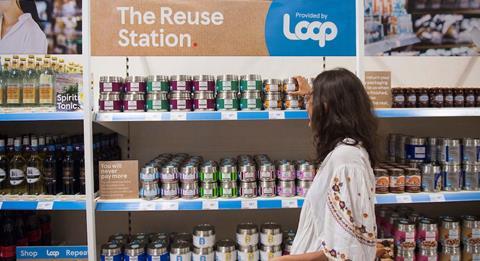 Reuse packaging platform has potential to change the way we shop, claims Ken Murphy, Tesco Group CEO.
Tesco has launched a new model for its customers to shop that allows them to buy a wide range of food, drink, household and beauty products in reusable and durable packaging. Libby Munford, Editor, joined the live launch on Monday 13th September 2021 to hear from key experts and partners sharing insight and participating in a live panel discussion.
In partnership with global reusable packaging platform, Loop, customers in ten large Tesco stores in the east of England will be able to buy products in reusable packaging that can be returned to store when finished so it can be cleaned, refilled and used again.
Packaging Europe pressed the live panel on the significance of the launch amidst the increasing awareness of our shared climate crisis. Kate Norgrove, director of advocacy and campaigning, WWF answers: "Natural disasters and extreme weather from forest fires to floods during the last couple of years has made us acutely aware of consumer concerns with the climate crisis. In context we believe that consumers now more than ever want to take personal action to contribute to the future of our environment." If stores switched their recyclable tomato ketchup, cola and washing up liquid bottles to the reusable Heinz Tomato Ketchup, Coca Cola and Ecover alternatives, the packaging would be used and reused more than two and a half million times a year.
In the wider context of the coronavirus pandemic, Libby Munford asks how the launch has been impacted and whether this has raised hygiene issues amongst a more anxious consumer backdrop. Tom Szaky, founder and CEO of Loop and TerraCycle answers: "A year-long online pilot of Loop was launched near the beginning of the pandemic in July 2020 that allowed customers to order and return products in reusable packaging to and from their doorstep.
"So far we have resonated with consumers and received a good response. To reassure shoppers on hygiene concerns, we are partnered with EcoLab – a global leader in hygiene and infection prevention solutions – with Loop we believe that we have set new standards in hygiene and cleaning standards."
Giles Bolton, responsible sourcing director, Tesco, adds, "Although the pandemic did set us back on the timescale of the launch, there has been no room for compromise on hygiene and safety levels."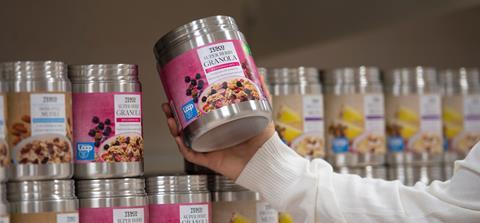 The new reusable range of 88 products will include some of the UK's biggest brands, including Persil, Fever-Tree, Carex, Tetley Tea and BrewDog. Tesco has included 35 own brand essentials in the range, such as pasta, rice, oil and sugar, with even more products set to be added to the range throughout the year.
By including an iconic brand such as Persil, Sebastian Munden, executive vice president & general manager, Unilever UK & Ireland hopes, "This will encourage shoppers to Reuse for the first time."
He adds, "Of course there have been challenges along the way of this scheme, but these will help us plan for the future. It's still early days."
Customers wishing to opt for reusable packaging visit the Loop fixture in the store and add the products they want into their trolley as a part of their shop. The Loop range comes ready prefilled in the right container for that product, so there's no need for customers to bring their own containers or refill themselves.
Prices for the contents of each item are comparable to the original. A fully refundable deposit starting at £0.20 is paid on each reusable product at checkout and this is refunded via an app when the customer returns the packaging to a collection point in the store.
To help customers include Loop products in their shop, Loop Ambassadors will be on hand to explain what Loop is and how it works.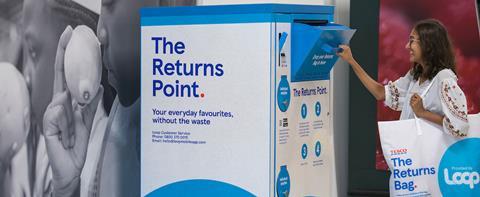 Ken Murphy, Tesco Group CEO, says, "We are determined to tackle plastic waste and one of the ways we can help is by improving reuse options available to customers. Bringing Loop to our stores is a significant milestone in this journey. With 88 everyday products available, we're giving customers a wide range of options and we'll learn as much as we can from this to inform our future packaging plans."
Tom Szaky, founder and CEO of Loop and TerraCycle, comments, "The consumer reaction to Loop in these first Tesco stores will prove pivotal in refining the Loop offering and ultimately we hope to scale reuse across more stores and the number of product lines available. Tesco is the perfect partner to bring Loop to retail in the UK due to its commitment to sustainability, in combating plastics waste and in its operational scale as the UK's biggest grocery retailer."
The full list of brands available in store at launch are: Alberto Balsam, Bisto, BrewDog, Bulldog Skincare, Carex, Coca Cola, Dr Will's, Ecover, Fever-Tree, Finish, Good4U, Hardys, Mackays, Heinz, Meridian, Mud House, Naked Noodle, Original Source, Persil, Quaker Oats, Radox, Simple, Sipsmith and Tetley.
Tom Szaky shares what's next for Loop: "Right now our focus is fundamentally about driving scale, access, and operational cost to go as low as possible. The second major priority is adding more variety of products so consumers can live a life of reuse.
"Where else can this model be relevant? And how far can we push the limits?"