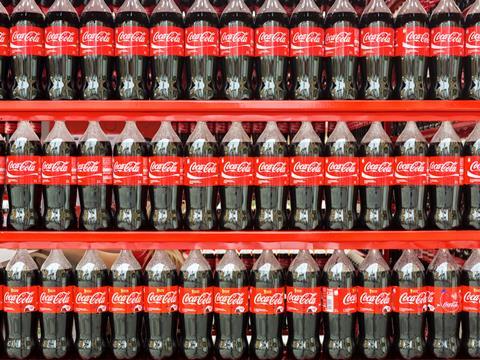 Coca-Cola European Partners (CCEP), the world's largest independent Coca-Cola bottler, today committed to reducing absolute greenhouse gas (GHG) emissions across its entire value chain by 30% by 2030, alongside setting a path to becoming a net-zero business by 2040.
CCEP plans to reduce GHG emissions across all five areas of its value chain – ingredients, packaging, operations, transportation, and refrigeration. The company has also put a focus on reducing scope three emissions via a commitment to support strategic suppliers to set their own science-based carbon reduction targets and use 100% renewable electricity.
The delivery of the plan will be supported by a €250m investment which will provide targeted financial support with the aim of decarbonising the business. This includes sustainable packaging initiatives, such as the progression of CCEP's 100% rPET roadmap and investing in the scaling of depolymerisation technology.
These ambitions are underpinned by the inclusion of a GHG emissions reduction target in CCEP's long-term management incentive plan (LTIP) for its employees – 15% of the monetary incentives awarded in 2020 will be based on the extent to which CCEP reduces GHG emissions over the next three years.
CCEP's 2030 GHG reduction commitment has been approved by the Science-Based Targets initiative (SBTi) as being in line with a 1.5˚C reduction pathway as recommended by the Intergovernmental Panel on Climate Change (IPCC).
As part of its journey to net-zero, CCEP will look to invest in projects which remove carbon from the atmosphere or verified carbon offset projects. However, the company also says that it will focus on reducing emissions as far as possible, and will only offset where essential and where it can't reduce emissions any further.
Damian Gammell, CEO of Coca-Cola European Partners, said: "Our vision has always been to deliver loved brands, done sustainably, and today we recognise the even greater urgency to address climate change, one of the most serious and complex challenges facing society and our planet. We have developed an ambitious plan to reduce greenhouse gas emissions which uses absolute science-based carbon reduction targets to underpin our ambition and chart our progress.
Joe Franses, vice-president of sustainability at Coca-Cola European Partners, added: "The world is at a critical point and we must all play our part to cut greenhouse gas emissions, to limit global temperature increase to 1.5°C and protect the future of our planet. Climate change may be bigger than all of us, but it is not beyond us. That's why CCEP is working towards a net-zero future.
"It's why we're taking action now to reduce greenhouse gas emissions across our entire value chain, from the ingredients we source, the packaging we use, to the drinks we sell. As we move through our first three-year plan, we will continue to adapt and solve key challenges to help set new milestones to achieve our longer-term reduction vision."