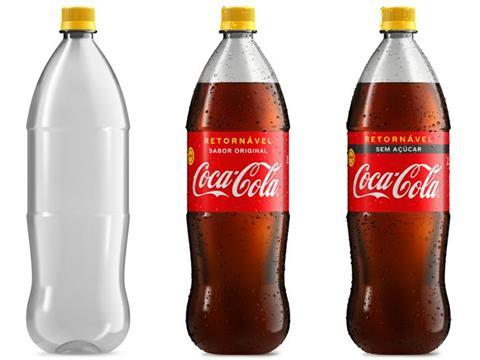 Coca-Cola Brazil's returnable bottle initiative is certainly unique – but how does it work, and what environmental and commercial benefits does it offer?
In a circular system, customers pay an indirect deposit when purchasing soda in a refillable bottle by receiving a discount on their next purchase when they return the empty bottle to the store – a reward feature that reportedly ensures a return rate of above 90%. The company argues that this feature also creates a strong attachment to the brand, as well as an increased likelihood of repurchase.
Retailers then store the empty bottles and give them back to Coca-Cola upon delivery of a new order. Next, Coca-Cola brings the multi-branded mix of bottles back to a bottling facility where paper labels are washed off and bottles are cleaned, refilled, and rebranded with a fresh label before being redistributed.
The bottles apparently last up to 25 cycles and are recycled at the end of their useful lives, along with their 100% recyclable labels.
This initiative was made possible by collaboration across the numerous Coca-Cola Brazil soda brands. In 2018, they invested $25 million in unifying the design of their reusable PET bottles and $400 million in expanding their reuse infrastructure (bottle cleaning and refilling facilities) as part of their aspiration to significantly scale up reusable packaging by 2030.
The company says that creating a universal bottle design across all brands significantly reduces washing, filling, and costs in terms of reverse logistics, while at the same time lowering carbon emissions. The reusable model reportedly replaces 200 million single-use bottles per year in Brazil and was Coca-Cola's fastest-growing packaging format in 2018 in Latin America.
By the end of 2020, Coca-Cola Brazil is aiming to have invested a total of R$ 1.6 billion in the expansion of returnable lines, factory equipment, container purchase, consumer engagement and support to recycling cooperatives.
Thais Vojvodic, Sustainability Manager at Coca-Cola Brazil comments: "A bold commitment such as collecting and recycling 100% of what we sell by 2030 demands a step change on 'business as usual'. Refillable bottles have become one of the core strategies to help Coca-Cola Brasil meet our zero-waste goal, as it is a high-value asset that delivers significant benefits to the business and operates under a circular economy model."