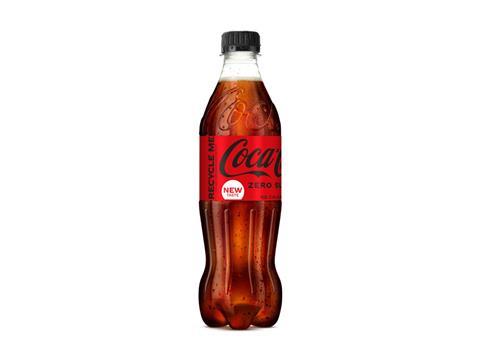 Coca-Cola Great Britain, in partnership with Coca-Cola Europacific Partners, has today announced that it is set to reach a significant milestone by using 100% recycled plastic in all on-the-go bottles across its entire range.
The move means that all plastic bottles of 500ml or less in GB are to be made with 100% recycled plastic and will continue to be recyclable. The rollout commences in September when the first 100% recycled 500ml bottles will start appearing on shelves.
This step will cover the entire portfolio of brands, including Coca-Cola Original Taste, Coca-Cola Zero Sugar, Diet Coke, Fanta, Sprite, Dr Pepper, and Lilt
As a result of this step, Coca-Cola Great Britain will increase the amount of recycled plastic material in smaller bottles from 50% to 100%. Coca-Cola projects that its use of recycled plastics in Great Britain now saves 29,000 tonnes of virgin plastic each year – the equivalent of 2,292 double-decker buses.
The company identifies this change as another step on its journey towards 100% recycled or renewable plastic in all its bottles, and the creation of a circular economy for its PET packaging.
It is also close to completing the transition from plastic shrink wrap to cardboard secondary packaging across all its multipacks. This action will mean that more than 30 million packs sold to consumers each year will no longer be wrapped in plastic.
Coca-Cola admits that while its bottles have been recyclable for years, too many are still not being recycled. With the aim of making it easier to recycle plastic bottles, the company says it has been working closely with the Scottish and Westminster governments and industry partners on a Deposit Return Scheme (DRS).
An effective DRS is planned for implementation in Scotland by July next year, with England and Wales following thereafter.
Stephen Moorhouse, general manager at CCEP GB, says: "Increasing the amount of recycled plastic we use is a critical point in our sustainable packaging journey and reaching 100% rPET puts us one step closer to achieving our ambition of a world without waste - collecting and recycling a bottle or can for every one that we sell by 2025."