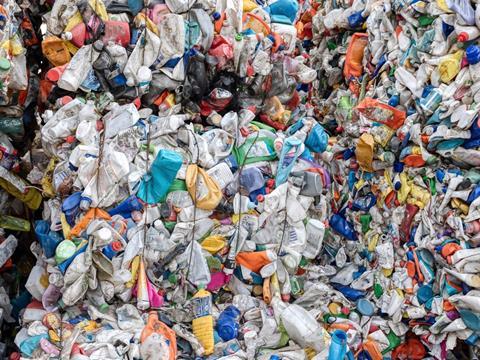 A new synthesis study by SYSTEMIQ has suggested that the scaling up of chemical recycling to work in tandem with mechanical recycling technologies will lead to 'very high' recycling rates and lower carbon emissions for PET and polyester packaging solutions.
With only a quarter of Europe's PET plastics and polyester textiles currently being successfully recycled, according to SYSTEMIQ, the study examines the outcomes of using depolymerisation alongside mechanical recycling and reuse for PET and polyester packaging and textile solutions. It aims to evaluate whether such solutions would reduce dependence on fossil-fuel-based feedstocks, increase resource efficiency, and lower greenhouse gas emissions, and is apparently the first in a series aiming to explore the possibilities for circular systems involving PET and polyester.
The results state that the current PET/polyester system functioning in Europe is not a circular solution and largely depends on virgin production using fossil-fuel-based feedstocks. Chemical recycling for PET and polyester can reportedly increase circularity when it complements mechanical recycling and the upcycling of hard-to-recycle plastic waste into high-quality recycled PET and polyester; furthermore, this outcome can potentially optimise environmental and socioeconomic benefits, SYSTEMIQ claims.
"Mechanical recycling of PET plastic bottles is a great success story in some parts of Europe," said Ben Dixon, partner and head of Materials and Circular Economy. "Despite this fact, the study shows that we are still dealing with high volumes of waste from PET packaging and polyester textiles across our continent. Research suggests that PET/polyester may be particularly well-suited to complementary solutions, with chemical recycling playing a significant role alongside mechanical recycling and reuse."
Professor Kim Ragaert, Full Professor, Chair of Circular Plastics at Maastricht University, continued: "Bottle PET has long been king of mechanical recycling, due to its unique combination of advantages. However, PET trays and polyester fibre are more complicated and of different qualities, and the conventional bottle segment is increasingly used in non-food applications like cosmetics.
"We must therefore seriously consider how to complement the mechanical recycling of PET with other technologies to avoid large volumes of precious polymer cascading out of the system via a "last stop" recycling into non-recovered textiles or incineration. This report gives us a much-needed overview of the tools available to us."
"This study underscores the importance of innovation and collaboration in the recycling space," added Sandeep Bangaru, vice president of Circular Economy Platforms at Eastman Chemical Company. "We believe mechanical recycling should be used, when possible, but to keep more raw materials in the loop, chemical recycling is a necessary complement. It's going to take leaders throughout the value chain—including policymakers, NGOs, mechanical and chemical recyclers—to work together to address this global challenge."
"The world is facing a plastic waste crisis with far too little plastic waste being recycled, either from lack of collection or because it simply cannot be recycled by traditional methods," concluded Jacco De Haas, chief commercial officer at Interzero. "The combination of mechanical and chemical recycling is a critical step closer toward a world without waste."
The study is said to refer to over 80 published reports, research, and advice from industry experts, and is expected to provide useful insight as changes in European and North American legislation are expected to increase demand for recycled PET and polyester. The next addition is anticipated to come in the coming months.
A previous report by SYSTEMIQ warned that agreed climate goals, circularity policies, and the European Green Deal would not be met by existing efforts to adapt the European plastic system. It pushed for innovation, investment, and policy support across the value chain, rather than relying entirely on recycling to achieve full circularity and reduce carbon emissions.
Furthermore, a recent study has concluded that, while mechanical recycling has the lowest environmental impact of the closed-loop recycling technologies examined, it generates a lower quality of recyclate. Dissolution, enzymatic hydrolysis, and methanolysis reportedly improved standard recyclate quality by between 2% and 7%.
Nevertheless, the global chemical recycling industry should be careful not to become economically dependent on a continual plastic waste stream, according to AMI in its own report.