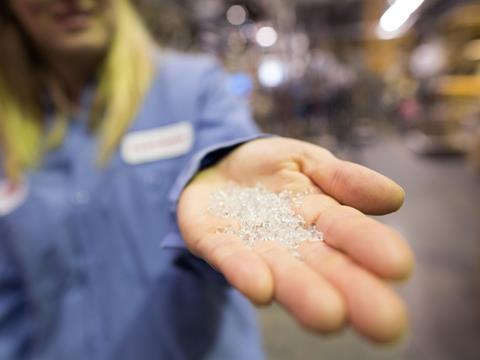 Eastman has announced plans to invest up to $1 billion in a material-to-material molecular recycling facility in France, where the company's polyester renewal technology could be used to recycle up to 160,000 metric tonnes of hard-to-recycle plastic waste annually.
The multi-phase project includes units that would prepare mixed plastic waste for processing, a methanolysis unit to depolymerise the waste, and polymer lines to create a variety of virgin-quality materials for speciality, packaging, and textile applications.
Eastman says the project will focus on hard-to-recycle plastic that is currently being incinerated. Its polyester renewal technology breaks waste down into its molecular building blocks, which are then reassembled reportedly without compromising performance, potentially allowing materials to be kept in production through multiple lifecycles.
In addition, Eastman is planning to establish an innovation centre for molecular recycling, with the aim to advance alternative recycling methods and applications to curb plastic waste incineration and reduce the use of fossil-based feedstock. The company claims that the facility and innovation centre would "enable France to sustain a leadership role in the circular economy".
Due to the focus on molecular processes, Eastman will use the term 'molecular recycling' to refer to the project, although this can be considered chemical recycling – a growing area of investment, but also a contested technology.
Barbara Pompili, France's Minister for Ecological Transition, comments on the announcement: "Accelerating the transition to a circular economy is one of the main challenges in the years to come. France has always been at the forefront of this journey, and together with Eastman, is giving itself the means to achieve its ambitious plastics recycling targets set for 2025."
Mark Costa, CEO and board chair at Eastman, adds: "The announcement has been made possible thanks to the support of President Macron, the French government and its agency Business France, who have worked with impressive urgency to enable and incentivize this large and complex project.
"The plan to build the world's largest plastics recycling facility in France is an important part of our overall circular economy strategy.
"This announcement is a key milestone towards our commitment, and we expect to achieve additional milestones in the coming months, including agreements related to securing the plastic waste that will be raw material supply, securing government incentives, and the site location decision."
Brands including LVMH Beauty, The Estée Lauder Companies, Clarins, Procter & Gamble, L'Oréal, and Danone have expressed support of the project by signing letters of intent for multi-year supply agreements from Eastman's molecular recycling facility.
The plant and innovation centre are expected to be operational by 2025, creating employment for approximately 350 people and leading to an additional 1,500 indirect jobs in recycling, energy, and infrastructure.
Last year, INEOS Styrolution stated that it would be investing in a chemical recycling facility for polystyrene based on Recycling Technologies' fluidised bed reactor technology, with the pilot plant expected to be operational in Swindon, UK, by the second half of 2022. At the time, the company claimed that this would be the first facility of its kind to be operational in Europe.