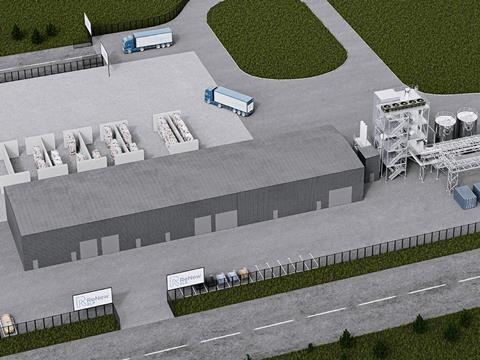 Unrecyclable and hard-to-recycle plastics pose a big obstacle to reaching a circular economy for plastics. Chemical recycling may offer a solution to this problem, operating alongside mechanical recycling to tackle plastic waste.
Mura Technology use chemical recycling to manage plastics that would otherwise end up in the environment. We spoke to them to learn more about their HydroPRS™ (Hydrothermal Plastic Recycling Solution) process and the launch of their first commercial scale plant in Teesside, UK.
Can you tell our readers a bit about what you do at Mura Technology?
Mura Technology is an advanced plastic recycling company aiming to become the world's leading producer of recycled hydrocarbons, creating a circular economy for plastic, whilst helping to decarbonise the petrochemical industry and eliminate global plastic pollution.
Many types of plastic, such as flexible films and multi-layered materials, are currently considered 'unrecyclable' via traditional mechanical processes due to their composition, and so instead are sent to incineration and landfill, and can of course end up as environmental pollution. In addition, the existing linear model of produce-consume-dispose, associated with single-use plastics and packaging, is leading to increased CO2 emissions and a plastic waste problem - with a lack of value associated with waste plastic, and extraction and use of fossil resource for the manufacture of new materials.
Mura have developed a new advanced recycling process to target those plastics deemed unrecyclable. Also called 'chemical recycling', advanced recycling refers to a group of technologies that convert plastics into raw materials to create new feedstocks.
Mura are pioneering HydroPRS™, a uniquely scalable hydrothermal advanced recycling process that utilises supercritical water (water at increased temperature and pressure) to convert waste plastics into valuable, fossil-replacement hydrocarbon products for use in the manufacture of new plastics and other materials. By deploying HydroPRS™ at global scale, waste plastic is diverted away from incineration, reducing associated carbon emissions, keeping carbon in circularity, and preventing millions of tonnes of plastic from entering the natural environment every year.
The value of the lost resource of plastic waste is estimated by the World Economic Forum to be $120 billion annually. Mura want to change how plastic waste is perceived – not as a waste material, but as a ready-resource to decouple plastic manufacture from fossil reserves and create a much wider scope for recycling plastic waste.
Our ambition is to have 1,000,000 tonnes of plastic recycling capacity in operation or development by 2025.
How does the HydroPRS™ (Hydrothermal Plastic Recycling Solution) process work?
HydroPRS™ is different in that we use supercritical water - an advantage of which is scalability - by surrounding the plastic with water in the HydroPRS™ reactors, the process achieves even conversion, stable and high yields of hydrocarbons and makes the process inherently scalable.
Target feedstock is post-consumer, contaminated plastics – such as plastic packaging, which may include organic residues such as food or paper labels. We're also able to process agricultural and industrial plastic waste, alongside ocean plastics.
To begin, mixed waste plastic bales are shredded and processed to remove any contaminants like stones, glass, and metal. The mix is then combined with the supercritical water and heated to reaction conditions. Once inside the reactor, the supercritical steam acts a bit like 'molecular scissors', cutting the bonds in the plastic and donating hydrogen to form new, stable shorter chain hydrocarbons – the conversion process takes just twenty-five minutes. Flash distillation then separates the mix into four saleable products, which are sold into the petrochemical industry as fossil-replacement feedstocks, including naphtha, for the manufacture of new plastics and other products.
Your first commercial scale plant is going to be in Teesside, UK. Can you tell me a bit more about it?
The first site to use the HydroPRS™ process is under construction by ReNew ELP in Teesside, Northeast England. This 80,000 tonnes per annum capacity recycling plant is located at Wilton International, an established industrial site with readily available utilities and potential for laboratory, scale-up and pilot facilities. The site will comprise of four 20,000 tonnes per annum recycling lines which are being constructed in phases, with the first 20,000 tonne per annum line having begun construction in April 2021 and due to be operational by late 2022.
There are several benefits that come with locating the first site here – including having key companies in the petrochemical industry based at Wilton, access to established freeport and transport links and a skilled local workforce due to area's industrial heritage.
What was the need for this type of new technology?
There are several key factors that indicate the need for new, innovative technologies for recycling a broader scope of plastics.
Plastic pollution has a huge environmental impact and globally we're creating more and more plastic each year. Annually, approximately 350 million tonnes of plastic are produced, with half of it becoming waste in less than a year and approximately 8 million tonnes of plastic enters the world's oceans annually, leading to sobering footage and reports of environmental impact in the media in recent years.
With Net Zero now a key focus for many industries and regulatory bodies, CO2 emissions from the extraction of fossil resource for the manufacture of plastic, and the current linear economy for plastics needs to be addressed. Processes are needed that can utilise the existing resource of plastic waste, ensuring carbon is retained in circularity and emissions from fossil extraction for the manufacture of new plastics are reduced.
In addition, the value of plastic waste is not being recognised as many types are not recycled and so are disposed of. The US, as an example, is the highest producer of plastic waste per person in the world, sending approximately 70% of plastic waste to landfill - this is a ready-resource that is being lost.
There's a definite need for additional processes to be able to support mechanical recycling and process the waste that is ultimately going into the ground or being burned. Mura's HydroPRS™ is a complementary process, designed to sit alongside traditional mechanical methods.
What have been the main challenges in developing this technology?
Recognition of the sector from regulatory and political bodies has been a challenge for the industry, although the last six months to a year have seen increased visibility for the advanced recycling sector. Many companies within advanced recycling are working hard to highlight the role it can play to recycle waste plastic, and reduce plastic pollution, carbon emissions and dependence on fossil feedstocks.
Stronger regulation around global recycling to include advanced recycling in waste strategies is needed, with focus on increasing recycled content of plastics, rates of recycling as a whole and the scope of materials collected for recycling, whilst ensuring that the infrastructure to process all generated plastic waste is supported. It needs to be recognised that without further investment into recycling infrastructure, a large proportion of plastic packaging will be unable to use recycled content due to a combination of issues including regulatory barriers, technical barriers and lack of supply.
Can you tell our readers a little bit more about your partnership with KBR and how you think it'll enable you to achieve your vision?
Mura announced the alliance with KBR, a leading provider of science, technology and engineering solutions, in January this year. KBR will act as Global Licensing Partner to Mura, supporting global development plans for HydroPRS™, enabling the identification of new markets for the technology and providing engineering, technical services and equipment for global clients.
KBR's position at the forefront in the provision of innovative, game-changing technologies offers Mura world-class development opportunities within the global petrochemical sector. With a substantial network of employees across the globe, the partnership allows for increased exposure of Mura's process to KBR clients, which are already looking to fulfil and exceed sustainability goals.
This partnership has already seen its first success with the sale of a HydroPRS™ license to Mitsubishi Chemical Corporation, which has plans to develop a plant at the Ibaraki site in Japan.
Is there anything else you would like to tell our readers?
Partnerships are key to global deployment of the HydroPRS™ process. ReNew ELP, the first HydroPRS™ site, is already under construction with 80,000 tonnes annual capacity on completion. Mura have four 100,000 tonnes per annum sites under development in Germany and four of the same capacity under development in the USA, and our first licence sale was completed in June 2021 to Mitsubishi.
Partnerships with Dow, KBR and igus have been key to supporting this global development and Mura would like to continue to form new and exciting alliances with companies along the entire plastic recycling value chain, including consumer brands and manufacturers, for which access to recycled feedstocks and the ability to recycle products and packaging are some of the biggest sector issues, the waste management industry, which faces incinerating, landfilling or exporting problematic plastics and the resin production industry, which seeks sustainable feedstocks as a replacement for fossil-derived petrochemical products.