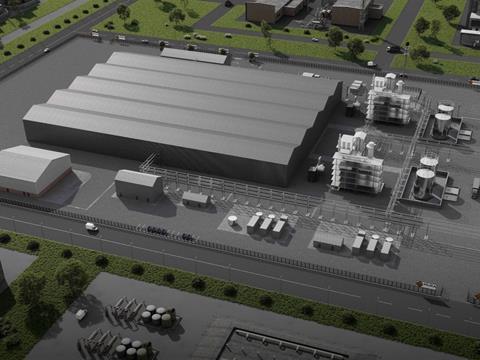 Dow and Mura Technology have announced plans to build multiple advanced recycling facilities in the US and Europe, which the companies say could add as much as 600 kilotons (KT) of aggregate advanced recycling capacity by 2030 and will apparently enable the HydroPRS technology to be scaled globally.
In 2021, Dow and Mura initially announced plans to collaborate. The companies say they are now aiming to scale the advanced recycling of plastics with multiple new facilities in both Europe and the US, which could each offer 120 KT in annual advanced recycling capacity. Overall, the project could reportedly offer up to 600 KT in annual advanced recycling capacity by 2030, which the companies claim is the largest commitment of its kind.
As part of the partnership, Dow will become a key off-taker of Mura's feedstock, which is reportedly derived from plastic waste that would otherwise be sent to landfill or incineration. Dow claims this will allow it to use recycled plastic feedstock for the development of new, virgin-grade plastics and to reduce reliance on fossil-based feedstocks.
Marc van den Biggelaar, Advanced Recycling Director for Dow, explains: "The strengthening of Dow and Mura's partnership is another example of how Dow is working to build momentum around breakthrough advanced recycling technologies.
"By investing in new applications, Dow is working to meet the increased demand for recycled material from its customers and make a meaningful impact on the supply chain, helping to close the loop on plastic waste.
"Dow is committed to accelerating a circular economy for plastics and our expanded partnership with Mura marks a significant step on this journey. As a long-term partner, we are excited about the potential of this process to recycle plastics and help solve the plastic waste challenge."
Diego Donoso, president of packaging & specialty plastics for Dow, adds: "This partnership continues to create momentum for Dow as we move towards feedstock flexibility and diversification, which is essential if we wish to advance a circular economy for plastics. And a fully circular business model for plastics will also enable decarbonization and support us on the road to net zero."
According to Mura, the partnership with Dow also marks an important milestone in the scaling of its HydroPRS (Hydrothermal Plastic Recycling Solution) advanced recycling process, which is aimed at recycling all forms of plastic, including flexible and multi-layer plastics like films, pots, tubs, and trays that have previously been deemed unrecyclable.
Mura says that HydroPRS breaks down plastics using water in the form of supercritical steam, which is water at elevated pressure and temperature that acts like "molecular scissors". This reportedly cuts the longer-chain hydrocarbon bonds in plastics to produce the chemicals and oils from which the plastic was originally made, which the company adds can be used to produce new, virgin-grade plastic through numerous lifecycles.
According to Mura, supercritical steam imparts energy from the inside, unlike other methods, which provides efficient conversion of plastic waste. The HydroPRS process can take as little as 25 minutes and can be maintained regardless of scale, the company claims.
The world's first plant using Mura's HydroPRS process will be located in Teesside, UK, and is expected to be operational in 2023 with a 20 KT per year production line. Dow adds that its global reach will enable the scale-up of Mura's technology through multiple projects in the US and Europe, with these plans including potential co-location opportunities and integration benefits for Mura's plants.
Dr Steve Mahon, CEO of Mura Technology, comments: "The global plastics issue is one of the most pressing environmental issues to date – there is simply no time to waste.
"Mura's technology is designed to champion a global circular plastics economy, and our partnership with Dow is a key enabler to bringing HydroPRS to every corner of the globe. This next step in our partnership and the resources provided by Dow will allow us to finance and dramatically increase recycling capacity and enable circular plastics to enter global supply chains at scale."