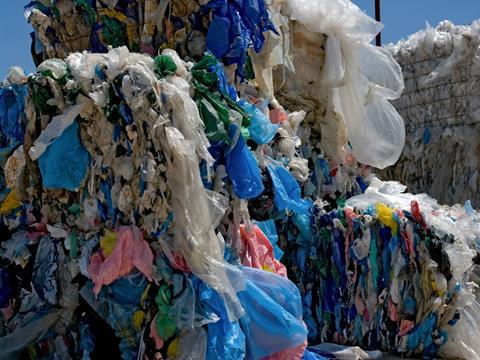 A new report from the Ellen MacArthur Foundation emphasises its position on single-use flexible packaging: elimination first, upstream innovation second, and widescale investment in collection, sorting and recycling infrastructure where this is not yet possible. The report covers the "urgent actions" required by both businesses and policymakers to facilitate the transition to a circular economy for flexible packaging – with an intensification of measures needed across the flexibles value chain if it is to meet some of the targets already set.
A challenging context
Combining input from over 100 experts, the new report from the Ellen MacArthur Foundation "aims to support organisations in achieving their circular economy for plastics goals by providing a practical direction forwards for flexible packaging". The organisation provides 21 actions that it says are necessary for meeting plastic packaging targets for 2025 and beyond, with a specific focus on flexible plastic packaging, which it claims represents between 30 and 40% of all plastic packaging by weight.
The organisation begins the report by acknowledging that while flexibles are the fastest-growing plastic packaging category – with their low weight, low cost, and high functionality properties helping to contribute to the category's 5% annual growth globally between 2019 and 2020 – they are largely single-use. This corresponds with low recycling and high leakage rates. The organisation notes that flexibles account for 80% of plastic waste leakage into the ocean globally, a "disproportionate share".
The report covers business-to-consumer (B2C) flexible packaging, which includes any flexible packaging that is used and disposed of by a consumer in the home or on the go. According to the Ellen MacArthur Foundation, very few plastic B2C flexibles are recycled anywhere in the world, with less than 8% recycled in Europe – the highest figure globally. The recycling of flexibles is largely limited to PE, which is generally downcycled into lower quality material for items such as garbage bags or rigid furniture items.
The priority: removing single-use flexible packaging from the equation
"Eliminating and innovating away from single-use flexible packaging must be the first and foremost part of any flexible packaging strategy," explains the Ellen MacArthur Foundation, "because as soon as single-use flexible waste is generated, regardless of material or geography, it is very hard to deal with."
The organisation claims that current efforts to move away from single-use flexibles through elimination and reuse are surface level, failing to harness the reduction potential available. There needs to be more effort from the design stage onwards, according to the organisation, to move away from a packaging model based on single-use flexibles.
Therefore, the Ellen MacArthur Foundation calls on the direct elimination of unnecessary flexible packaging as one of the actions signalled by the report. This would mean "immediate elimination" where there would be no "unintended consequences" and in such a way that limits the impact on the product itself and its supply chain.
For businesses, the organisation says that this would involve identifying opportunities for direct elimination of unnecessary flexibles, which reportedly make up to around 5% to 10% of flexible packaging portfolios on average. In addition, when developing new products, the organisation encourages businesses to embed a critical assessment of the need for flexible packaging during its design.
For policymakers, this would apparently involve collaboration and cross-sector initiatives to align plans on priority flexibles for elimination and to drive ambition across the industry.
Another requirement for deconstructing the single-use flexible packaging system, the organisation explains, is upstream innovation that aims to identify and scale ways of delivering products without such materials. This would encompass packaging design, as well as thinking about production and business models to examine the potential for initiatives like reuse.
The Ellen MacArthur Foundation emphasises the need for businesses to introduce a high-priority, well-resourced research and development agenda as the central component of every strategy on flexible packaging. This would simultaneously require businesses to acknowledge that current efforts are "well below where they need to be" in addressing the flexible packaging challenge.
Meanwhile, policymakers should "create a supportive policy landscape for innovation", argues the organisation. This could involve a suite of measures such as subsidiaries, bans, and extended producer responsibility (EPR) – some of which are already being implemented in some countries.
What about single-use flexibles that cannot be eliminated yet?
As the Ellen MacArthur Foundation notes, it is not yet possible to move away from single-use flexible packaging without negative unintended consequences. The solution, the organisation says, is "unprecedented efforts across packaging design, infrastructure, and policy", to be "commenced immediately".
For single-use flexibles that cannot be eliminated, there will need to be decisions made on which specific materials to use to best support a circular economy, the organisation claims. On the one hand, this may involve retaining plastic flexible packaging, but designing for recyclability and scaling collection, sorting, and recycling systems. The organisation notes that transitioning multi-material flexibles, which represent approximately 40% of flexibles, to mono-materials would be an important step in boosting recyclability.
On the other hand, businesses could consider substitutions to other materials, such as paper-based or compostable plastic flexibles – which would again need to be designed with circularity and end-of-life at the fore. Early in the product's lifecycle, businesses also need to account for reduction and regeneration when sourcing materials for paper-based flexibles, avoiding driving up demand for virgin paper, according to the organisation.
Similarly, before compostable flexibles are considered, the organisation points to the need to demonstrate the mechanisms required to define compostability and to prevent the contamination of recycling streams with food waste. The issue the organisation identifies with the composting of flexible paper or plastic packaging is that, by definition, it means the materials are lost from the market (as they cannot be recycled or reused) and could potentially increase virgin material input requirements.
To provide the collection, sorting, and recycling systems needed to support these measures, the Ellen MacArthur Foundation recommends separate recycling targets for flexibles. In addition, it suggests raising EPR fees for flexibles to around €1,100 and placing significant investment in infrastructure. This would address sticking points such as over 40% of Europe's population not having access to a separate collection for flexibles.
However, the Ellen MacArthur acknowledges that the recycling of plastic flexibles has "significant and inherent" quality or yield losses for mechanical recycling and chemical recycling respectively. The recycling of paper flexibles apparently presents a similar challenge. Overall, the organisation says that elimination and upstream innovation must be the priority to mitigate or eradicate these downstream losses.
CEFLEX support
Graham Houlder, project coordinator CEFLEX, commented on the report: "Urgent action to improve the circularity of flexible packaging is needed and CEFLEX welcomes the Ellen MacArthur Foundation stating it loud and clear.
"We have many of the solutions and know what to do. CEFLEX will continue to give focus and urgency to the in-depth technical and business changes needed - working to ensure all flexible packaging materials are returned to the economy at a competitive price and quality to replace virgin materials.
"It requires industry, policy makers and investors to pull together to accelerate progress around a sustainable business case to create real momentum and scale."
In a statement responding to the report, CEFLEX stated that its' vision involves a circular economy for flexible packaging by 2025. It believes that the actions presented by the Ellen MacArthur Foundation are achievable "in a relatively short time frame" so long as the industry acts on the "tangible opportunities" for making flexibles circular.
One of the major initiatives developed with the goal of meeting these targets includes CEFLEX's Designing for a Circular Economy Guidelines (D4ACE). A recently announced collaboration with UK Research and Innovation (UKRI) to further develop the guidelines will involve Queens University Belfast, the University of Maastricht, and the University of Ghent peer-reviewing CEFLEX's existing data and further testing to be conducted into flexible packaging structures that are not yet widely sorted or mechanically recycled.
CEFLEX says it has also worked with the 4evergreen alliance on design guidelines for fibre-based packaging, while it is in talks with Flexible Packaging Europe, the European Aluminium Foil Association, and other key players to develop design guidelines for aluminium-based flexible packaging. The group adds that it would "welcome a legal requirement for packaging to meet design-for-recycling guidelines".
Like the Ellen MacArthur Foundation, CEFLEX also emphasises the need for an extensive and effective collection system. In a position paper released last year, CEFLEX called for all flexible packaging to be targeted for collection and sorting in a separate stream that does not involve mixing with paper, board, or glass, which could reduce recycling quality.
CEFLEX echoes the Ellen MacArthur Foundation's call for an investment in infrastructure of at least €2 billion to achieve a four-fold increase in recycling capacity by 2025. Alongside this, CEFLEX calls on EU Member States in particular to "ensure that the obligation to separately collect waste is implemented", as well as to introduce or enhance EPR schemes.
Finally, CEFLEX notes that its Quality Recycling Process (QRP) aims to address the issues raised by the Ellen MacArthur Foundation by "developing a modular and responsible sorting and recycling approach". Trials of the QRP have demonstrated "good yields and delivered recyclate quality suitable for replacing virgin polymer grades in a number of demanding film and flexible packaging applications", according to Dana Mosora, workstream lead at CEFLEX. The commercial launch of CEFLEX's next-generation waste processing plant based on its QRP is expected in 2023.