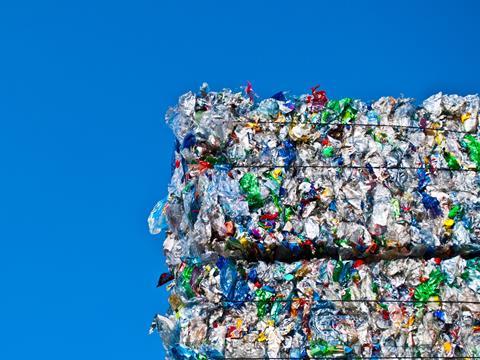 Ignacio Gavilan, Sustainability Director at The Consumer Goods Forum (CGF), and Sander Defruyt, Lead of the Ellen MacArthur Foundation's Plastics Initiative, outline the ongoing work of their respective organisations on extended producer responsibility schemes, and explain the key role these schemes play in a circular economy for packaging.
What are EPR, or extended producer responsibility, schemes?
The aim of EPR is to make producers responsible for a product after its use by consumers, to ensure the proper management of products after their use. EPR policy can be implemented for all types of products and materials.
EPR for packaging transfers some or all of the responsibility of dealing with discarded packaging from local governments to the "producers" of that packaging. In most cases, the producers are consumer goods companies and retailers, who are required to partly or fully fund the cost of collection, sorting and recycling of packaging.
EPR schemes for packaging already exist around the world, in, for example, Japan, South Korea, Chile and in 25 of the 27 EU Members States, and are growing in prominence worldwide. South Africa, Kenya and Vietnam, for example, are in the early stages of setting up new EPR schemes for packaging.
Why is EPR a key policy tool to create a circular economy for packaging?
Despite existing ambitious goals, innovations, and investments from companies and governments around the world, ocean plastic pollution is set to quadruple by 2040. Given the systemic and embedded nature of plastic in our global economy and supply chains, it is clear that new approaches and greater collaboration are needed to create a circular economy for packaging.
According to Sander Defruyt, The Ellen MacArthur Foundation's Plastics Initiative Lead: "To solve the packaging waste and pollution crisis, we need a comprehensive circular economy approach. We must: eliminate the packaging we don't need; innovate so all packaging is reusable, recyclable or compostable; and circulate all the packaging we do use, keeping it in the economy and out of the environment.
Circulation of packaging that can't be eliminated or reused requires collection, sorting and recycling. But, for the majority of packaging, this process costs more than the money it makes. EPR schemes are the only proven and likely pathway to provide dedicated, ongoing and sufficient funding to close this gap. Alternatives, including funding from public budgets or voluntary contributions, fall short of being dedicated, ongoing and sufficient, therefore don't provide a solution in the long term."
Ignacio Gavilan, Sustainability Director at The Consumer Goods Forum adds: "Members of The Consumer Goods Forum Plastic Waste Coalition of Action, made up of 40 manufacturers and retailers of packaged goods, also recognise the importance of improving the performance of waste management and recycling systems to progress towards a circular economy for packaging.
EPR schemes, when well-designed, can play a critical role in accelerating this progress. In developed markets, such as in Europe, EPR is primarily used to provide the funding required to improve recycling rates. Whereas often in developing markets, an additional challenge is low collection rates and underdeveloped waste management infrastructure.
Well-designed EPR can be a vital mechanism for channeling funding into underfunded solid waste management systems. And, unlike most public sources of funding, EPR funds have no competing funding pressures beyond waste management."
EPR is not a silver bullet to address the plastic and packaging pollution crisis. We also need complementary policies, industry action and innovation to achieve a circular economy for plastic.
What have the CGF and the Foundation done to support the implementation of EPR for packaging?
Over the last two years, both the Ellen MacArthur Foundation and the CGF have published position papers on EPR, highlighting the role that well-designed EPR policies can play in a circular economy for plastic. While there are important differences between these papers, the fundamental point is the same. According to both organisations, EPR schemes have the potential to catalyse system-level changes toward a circular economy.
The Ellen MacArthur Foundation published a statement and position paper in June 2021, laying out the need for fee-based, mandatory EPR for packaging and why it is the only proven way to provide dedicated, ongoing and sufficient funding to fix recycling economics.
The statement calls for EPR implementation globally, recognising that without such policies, packaging collection and recycling is unlikely to be meaningfully scaled, and was endorsed by more than 150 organisations around the world, including some of the largest consumer good companies (a full list is available on the website).
The CGF paper, published in 2020, provides recommendations on the optimal design of EPR programmes, demonstrating how EPR can be implemented most effectively. Through this paper, 32 endorsing companies, all members of the CGF's Plastic Waste Coalition of Action, provide constructive recommendations on the design of EPR policies for stakeholders working on their implementation. The CGF also published a further paper on Ecomodulation last year, highlighting key principles to effectively incentivise better plastic packaging design through EPR fees.
These globally applicable statements must now be deployed to support the implementation of effective EPR policy worldwide. The Ellen MacArthur Foundation, through the Global Commitment and its Plastic Pacts network, has mobilised more than 1,000 organisations behind a common vision for a circular economy for plastics. Meanwhile, members of the CGF are using the CGF principles of well-designed EPR as a basis for constructive dialogue with policymakers that are implementing or improving EPR policy.
Members of the CGF have also directly supported the Packaging Recovery Organisation (PRO) in Indonesia, a voluntary EPR scheme, to bring international support to local industry players who are working to implement an effective EPR system in the country.
How important is the design of EPR policies?
The way EPR schemes are designed and implemented is crucial for their effectiveness. Well-designed EPR systems have the greatest potential for strong environmental outcomes, cost-effectiveness for industry, government and consumers and potential for harmonisation across markets. That said, while there are many existing EPR systems to draw design and implementation learnings from, EPR schemes must be adapted to their local context and no existing system is perfect.
A badly designed or implemented EPR scheme risks a lack of proper enforcement and accountability, a lack of transparency and monitoring, and may even disincentivise circular outcomes. Therefore, new EPR schemes should be carefully designed and existing ones should be continuously monitored and refined.
The publications from the Ellen MacArthur Foundation and the CGF outline key considerations for the design of effective EPR schemes. The Ellen MacArthur Foundation publication identifies a few key elements that must be taken into consideration when designing EPR schemes.
In a complementary fashion, the two CGF papers set out key principles and design parameters on firstly, the design of optimal EPR policy and secondly, ecomodulation systems. These recommendations serve as a starting point for productive dialogue between industry and other stakeholders involved in setting up or refining EPR schemes around the world.
The concept of EPR is more than just a funding mechanism, when designed well. It can also deliver benefits such as increased transparency, efficiency, and incentivising upstream solutions, further strengthening its contribution to achieving a circular economy for packaging.
What's next?
In the journey towards a solution to waste and pollution, consumer goods companies and other stakeholders in the packaging value chain are facing up to ambitious targets for packaging circularity set by either policymakers, or through voluntary commitments such as the Global Commitment led by the Ellen MacArthur Foundation in collaboration with UNEP.
Both the CGF and The Ellen MacArthur Foundation are committed to working with organisations in their network and other stakeholders to advance this topic by collaborating to develop and improve EPR schemes globally, and to amplify and progressively align all the different existing voices.
With the United Nations Environmental Assembly recently mandating negotiations to develop a global treaty on plastic pollution over the next two years, there is even more momentum globally for policies to tackle plastic pollution. With this in mind, accelerating action through system-level shifts will be critical to achieving targets and responding to the global policy agenda.
Well-designed EPR policies have a necessary role to play in supporting such a system-level change as they can catalyse the scaling of collection and recycling systems, better design of products and business models to enable a circular economy for plastic.
More information on the Ellen MacArthur Foundation EPR statement and position paper can be found here.
More information on the CGF EPR position papers can be found here.