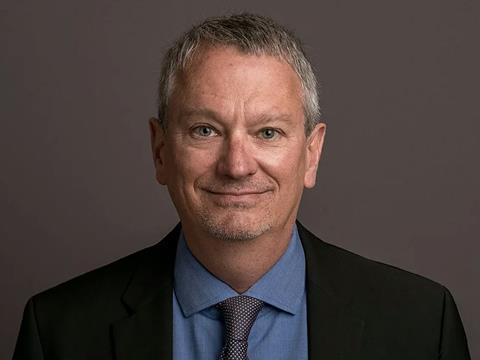 In October Chemical Recycling Europe appointed John Sewell as its new Secretary General. We spoke with John to get his thoughts on the biggest challenges facing his industry, as well as his responses to some of the criticisms that are often levelled at it.
To start us off, could you introduce yourself, talk a bit about your background, and tell us more about your new role?
I was educated as a chemical engineer, and have been working in the plastics industry for thirty years. I started in process R&D working in a pilot plant for Dow Chemical USA in Freeport TX. After some years I moved to Europe and joined Neste Chemicals which later became Borealis. I began my European career implementing the forerunner polyolefin production technology to what is today Borstar. I moved on to product development, technical service and business development.
I joined AspenTech in 2000 as market director chemicals in EMEA providing engineering design, process control and production management and supply chain management solutions to the chemical industry (mainly polymers). In recent years I have licensed thermoplastic honeycomb core technology to automotive, reusable transport packaging, building and construction, and commercial transportation.
All this said, the importance and value of plastics in our modern world is clear to me. Also clear to me are the challenges presented by the leakage plastic to the environment, the need to shift to lower carbon footprint outcomes for plastic "waste" where possible, and the work needed to implement circularity in the plastics value chain.
Chemical recycling is essential for implementing circularity in the plastics value chain and for meeting the recycling targets ahead of us in 2025, 2030, and beyond. These are very important times for the chemical recycling industry and the plastics value chain. I am pleased to be a part of this and embrace my role of Secretary General for Chemical Recycling Europe with full gusto.
What have you identified as the key challenges you'll be confronting in your new role?
The need to build up capacity in order to meet the recycling targets set in Europe and to satisfy the market demand for recycled content in plastic products is a big one. Here in Europe these days, on a near-daily basis, there are significant developments in chemical recycling, be it on the policy front, the technologies, on the communication front, and on the capacity landscape. Over the past few weeks alone there have been several announcements in various forums regarding new plants to be built and new partnerships along the value chain.
Implementing proven methodologies to enable the robust adoption of circularity in the plastics value chain is also key. The mass-balance approach, proven for the adoption of "green energy", for example, accounting for the energy from renewable sources while sharing the same grid as those used for fossil-based energy.
The same methodolgy for chemical recycling is essential to bring circularity to plastics, reduce carbon footprint, replace fossil-based plastic, and contribute to reducing the amount of plastic leakage to the environment. I will point you to the mass-balance position paper that Chemical Recycling Europe just published.
Communicating the value of chemical recycling to all stakeholders is another important challenge. On the one hand, we endeavor to help in solving a problem that is in front of us all, the problem of plastic leakage into the environment. On the other, we are implementing technologies that have complexity, and this can make the communication of their value and importance a real challenge. Chemical Recycling Europe is working on this, and you can expect something more from us in the coming weeks and months to help di-mystify the technology and effectively communicate its value.
Could you give us a brief overview of the chemical recycling industry as things stand in 2021?
Focusing on Europe if I may, the landscape for chemical recycling is very dynamic during these times. As I have already mentioned, announcements of new capacity being planned and built here in Europe are occurring at a pace that it is hard to keep up with. That being said, the demand before the industry is great considering the millions upon millions of tons of plastics appearing on a yearly basis and needing better than the current end-of-life options prevalent today.
Better in terms of lower carbon footprint, replacing fossil-based plastic with circular plastics, and the reduction of plastic leakage to the environment. The investments in chemical recycling are well into the billions of euros and more is needed and will take place to match the scale of the challenge before us and the plastics value chain.
A recent report from the European Patent Office claims that chemical recycling methods generated twice as many patent applications as mechanical recycling between 2010-2019. What do you think has caused this disparity, and why is mechanical recycling still more prevalent?
This indicates the dynamism in chemical recycling more than anything else. It is an indication of the importance of chemical recycling being an essential part of the solutions bringing forth a circular economy for plastics.
In the same report, the EPO identifies techniques that involve the use of living organisms and plastic-to-monomer recycling as presenting new opportunities for the industry. Could you introduce these concepts to our readers and talk a bit about their potential?
During my graduate studies many years ago I focused on biochemical reaction engineering technology and how microorganisms with their capabilities can be applied to solve problems and create opportunities. Today Chemical Recycling Europe sees a family of technologies including depolymerization, pyrolysis, hydrothermal treatment and gasification. Bringing biochemical engineering technology into the mix is something thst's fascinating to consider. We will have to look more into this topic.
How is the chemical recycling industry looking to address concerns regarding lack of traceability in its value chains?
I mentioned mass-balance methodology for chemical recycling. This is key for bringing transparency and an audited traceability process. The chemical recycling industry encourages and embraces this.
Critics of chemical recycling have alleged that some of the industry's technologies are unproven, too costly, and have a worse-than-advertised environmental impact. How would you respond to these claims?
Of course there exists a family of technologies within which some are commercially established and others are at earlier stages of development. This is a good thing, it shows dynamism and innovation. The value of what chemical recycling brings, and will only bring more of as new capacity comes online, the value of implementing circularity in the plastics value chain is clear to me and I will be happy to talk more with anyone interested.
Innovation comes with costs, yes. This is normal and also a good thing, it indicates value. And over time, as the chemical recycling industry reaches its full potential, the market will help to drive the technology towards greater competitiveness.