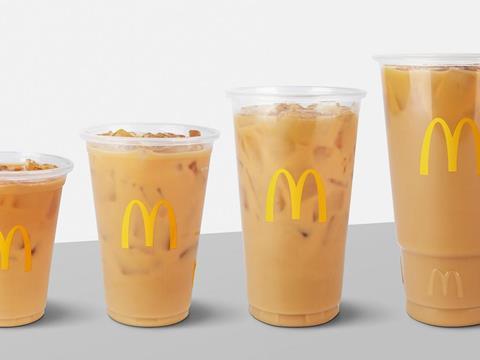 McDonald's, along with its partners Pactiv Evergreen, INEOS, Neste, and LyondellBasell, will trial clear plastic cups sourced from post-consumer plastic and biobased materials such as used cooking oil, using a mass-balance approach to produce the recyclable solution.
The collaborative cup trial
According to McDonald's, the test cups are sourced from a 50-50 mix of post-consumer plastic material and biobased material. The company defines biobased materials as those derived from biomass, such as plants, and adds that its used cooking oil will be included in this portion.
McDonald's says that the materials will be combined to produce the cups through a mass-balance approach, which will allow it to measure and trace recycled and biobased inputs being used in the process while also including traditional fossil-fuel sources.
The new cups will be available in 28 select restaurants in Savanah, Georgia. For local consumers, McDonald's advises that the cups can be rinsed and then placed in any recycling bin. However, the lids and straws accompanying the new cups are not currently recyclable.
The company notes that its goal is for the cups to be recycled to create more post-consumer material for use in other items.
McDonald's adds that the new clear cups are made with the intention of being nearly identical to the company's existing cups. Consumers are unlikely to notice any difference between previous and new McDonald's cups, according to the company.
The trial is being overseen by TMS-HAVI, and McDonald's partners in developing the cups include INEOS, Neste, Pactiv Evergreen, and LyondellBasell. "Each partner provided a piece of the puzzle that made this test possible," McDonald's says of the collaboration.
McDonald's intends for the trial to signal that, as one of the world's largest restaurant companies, it is willing to invest in and support the production of biobased and recycled materials. In addition, the company is reportedly working to increase the accessibility of the material used in the cups on a wider scale.
Mike Nagle, CEO at INEOS Olefins & Polymers USA, comments: "We believe the future of packaging materials needs to become more circular wherever possible. Working together with our customers, we can help them to meet their pledges and commitments in this area.
"To take plastic waste back to virgin plastic is the ultimate definition of recycling and will create a truly circular approach."
The bigger picture for McDonald's packaging sustainability
McDonald's has tested several sustainability-focused changes to its packaging, and in particular its cups, in recent years. By 2025, McDonald's is aiming for 100% of its guest packaging to be sourced from renewable, recycled or certified materials, with initiatives like its 'Better M' platform intended to facilitate the transition to more sustainable and circular packaging.
As part of a partnership with Huhtamaki, McDonald's launched a Sundae cup and lid – which can also be used for sauces and toppings – made from 100% wood fibre, without any plastic additives.
"The product needed to be engineered to very high performance tolerances, demonstrate superior functionality and organoleptic properties and also provide the consumer with a highly evolved level of sensory perception in use," Neal McCone, category director QSR and speciality coffee for Huhtamaki Fiber Foodservice Europe, Asia, Oceania, told Packing Europe about the wood fibre cup. "We see this product not as a 'good replacement for plastic', but as a fantastic sustainable design and a beautiful piece of packaging in its own right."
Meanwhile, in Germany, Essity's Tork brand and its logistics partner HAVI are overseeing a recycling project to recycle McDonald's beverage, milkshake, and ice cream cups into hygiene paper. The companies say that the paper cups can be shredded and used as material in some of Essity's mills, which apparently allows it to be used to make Tork-branded toilet paper.
McDonald's has also collaborated with TerraCycle's circular packaging service, Loop, to test a reusable cup model for beverages. The cups, which are made from used single-use coffee cups by Circular&Co, can be purchased by McDonald's customers for a deposit of £1 in the UK, which is redeemed when they return the cup to a participating McDonald's restaurant with Loop-branded collection bins. Customers are also 'rewarded' with a 20p discount on their purchase when they opt for the reusable cup. The returned cups will then be washed as part of the Loop system and reused in McDonald's restaurants.
Jenny McColloch, vice president of global sustainability at McDonald's, said of the scheme: "We're on a journey to rethink how we package products to give customers options that reduce waste, maintain the highest safety standards, and enhance the McDonald's experience they expect and enjoy.
"Our commitment to communities is one of our core values as a company, and this pilot will generate important local insights and lessons to share along the way. We're excited to assess how new reusable packaging models could work within our system as we accelerate circular packaging solutions with our partners around the globe."
Conrad MacKerron, senior vice president of As You Sow, notes that McDonald's has been part of the non-profit's "numerous previous successful engagements on packaging sustainability with major brands". As part of As You Sow's shareholder advocacy model, McDonald's agreed to stop using Styrofoam beverage cups and packaging globally, reportedly taking 1 billion polystyrene foam cups off the market.
A cross-industry effort
McDonald's is not the only international foodservice chain to trial recycled, recyclable, or reusable packaging.
Last year, Starbucks announced plans for all of its stores in Europe, the Middle East, and Africa to offer reusable cups by 2025. The company is currently in the process of trialling the reusable cup scheme in London, where customers can purchase a hot or cold drink in a reusable cup for a £1 deposit that is refunded upon the return of the cup for cleaning and reuse. The aim of the trial is to ensure that opting for a returnable cup is as convenient as possible, encouraging customer engagement.
A spokesperson from Starbucks reports that the scheme has already experienced success: "Following an incredible uptake with customers borrowing 5,400 cups in the first few weeks, the London trial is now being extended beyond the initial intended 8 weeks, meaning more customers can get involved in the trial while Starbucks continues to test how we make the scheme as convenient as possible.
"This take-up is promising as we continue to expand the program across the region. By breaking down barriers preventing greater reusable uptake and by putting convenience front and centre, we can enable customers to easily transition away from single use."
Also in the UK, earlier this year, Pret A Manger was the first food-to-go retailer to join the Podback scheme, which aims to recycle coffee pods into new products like beverage cans. Customers will be encouraged to recycle Pret's two aluminium at-home coffee pod blends, either through kerbside recycling if it is available in their area or at specific drop-off points as long as the pods are placed in Podback collection bags.
The Coca-Cola Company is also supporting foodservice retailers as part of its pledge to sell at least 25% of all beverages across its global portfolio in refillable or returnable glass or plastic bottles and containers. In select US cities, for example, the company will work with Burger King and TerraCycle to offer reusable food containers and beverage cups.