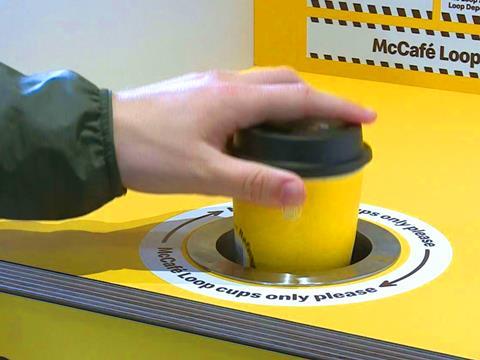 In partnership with Loop, six McDonald's restaurants in the UK are set to pilot a returnable coffee cup scheme – a 'world first' for the company.
For a £1 deposit, customers can choose to have their hot drink in a returnable Loop cup. As a reward, they will receive a 20p discount on their purchase.
Once enjoyed, customers are encouraged to bring their cup back to one of the specific Loop branded collection bins, at participating restaurants, for it to be sent for cleaning and to be used again.
Those that do will receive 20p off their next medium hot drink order – meaning that after five returns and subsequent orders, customers will break even and will continue to receive 20p off every time they pick a Loop cup.
The scheme is available in restaurants and at the drive-through. Customers are able to rent a cup for the duration of their visit and return it at a time that suits them. If a customer forgets their cup at their next visit, they can pay another £1 deposit and return both cups next time.
The cups are made from previous single-use coffee cups by circular design brand Circular&Co. The packs include engineered polypropylene (PP) plastic, as this is durable and easily cleaned, but the amount of plastic has been reduced by using recycled paper cup material in the outer insulation layer.
Alongside saving material, this also gives the cups a unique look and feel. Then, when the reusable cups eventually reach their end-of-life usage they are recycled, with the resulting material being used to make the next batch of reusable cups.
Over the last few years, McDonald's says that it has saved more than 4000 tonnes of plastic each year by removing plastic Happy Meal toys and by switching from plastic straws, McFlurry lids and salad boxes to what it describes as "more sustainable options".
The company reports that almost 90% of its packaging comes from recycled or renewable sources, and says that it is working to increase that number.
The Group also plans to move away from plastic wherever possible and, where it does need to use it for safety or functional reasons, it says that it will only use 100% recycled or plant-based plastics.
McDonald's also aims to make all its packaging materials fully recyclable or compostable, eliminating waste that must go to landfill.