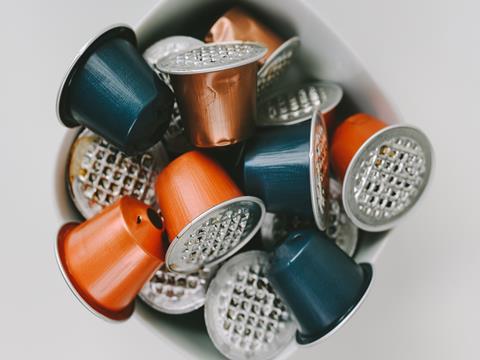 Consumers will be able to return Pret A Manger's aluminium at-home coffee pods via drop-off points or kerbside collection in select locations in collaboration with the not-for-profit Podback scheme, which aims to recycle coffee pods into new products like beverage cans.
Podback is a collaboration between Nestlé and Jacobs Douwe Egberts UK. As the first cross-industry collaboration of its kind for the coffee segment in the UK, the scheme launched in 2021 and allows coffee pods from brands including Nespresso, Nescafé, and Tassimo to be recycled when consumers return them via drop-off or kerbside collection, depending on location and availability.
Pret A Manger is the first food-to-go retailer in the UK to sign up for the Podback scheme, according to the companies. The scheme will encourage consumers to recycle the retailer's two aluminium at-home coffee pod blends, Espresso and Classic, which are compatible with Nespresso coffee machines and available to purchase from Pret shops, Ocado, Sainsburys, Tesco, and Amazon.
Through the Podback scheme, consumers will be able to drop off Pret's at-home coffee pods in recycling bags at Collect+ points in local stores across the UK, facilitated by Yodel. Pret customers will be able to order recycling bags alongside their regular coffee pod order via Ocado, while Collect+ recycling bags will apparently be available in Pret stores later this year.
The Collect+ bags are also available, for free, in Morrisons supermarkets. Podback asks consumers to use different colour bags for aluminium and plastic coffee pods respectively, with the Collect+ bags featuring a special seal design to prevent the leakage of fluids.
In addition, kerbside collection of Pret's at-home coffee pods via Podback is offered by Cheltenham Borough Council, South Derbyshire District Council, Chichester District Council, Oxford City Council, Ipswich Borough Council, Exeter City Council and the London Borough of Waltham Forest.
Consumers in the areas where kerbside recycling is available will need to register for a different type of collection bag. This reportedly means consumers can have their used pods collected alongside other household waste and recycling, with the company claiming that the service will be expanding to new areas in 2022.
Podback says the post-consumer aluminium pods are then turned into ingots and used in the manufacture of new products, such as beverage cans. The company notes that the coffee grounds do not need to be removed from the pods before they are placed in the bags, as they undergo anaerobic digestion to produce a combination of biogas and soil improver during the recycling process.
However, both the Collect+ and kerbside recycling bags are not recycled by Podback due to their contact with liquids and labels as part of the collection process. Podback claims the bags are recovered from waste and used to create energy, while it is allegedly looking to use recyclable options in the future.
Rick Hindley, executive director of Podback, comments: "Pret is the first food-to-go retailer to join Podback as a member.
"Expanding the scheme to include more brands has been one of our priorities since launching last year, so we're thrilled to have Pret on-board.
"We welcome other retailers and brands to join to make the scheme even more inclusive for consumers."
Guy Meakin, UK managing director of Pret A Manger, adds: "We're always looking for new ways to reduce our impact on the environment, whether through introducing coffee cup recycling stations in-shop or our 50p reusable cup discount.
"Now that our coffee is increasingly enjoyed in homes around the country, we wanted to find a solution that would help our customers recycle their Pret coffee pods easily. We're excited to join the Podback scheme to make this possible."